Quebec - Canada's Next Mountain Biking Powerhouse
Bike|May 2016
Quebec's building revival is turning 'La belle province' into a mountain biking powerhouse.
A trail name can say a lot. About who built it, the history and culture of its region, the pain and joy to come, or where it will take you. La Yable, a trail at Mont-Sainte-Anne in Quebec, tells more than most.
It starts off spooky: on a bench, thick with spruce trees blocking just about any light, the trail name spelled in moose bones. The foreshadowing would be creepy if I knew what yable meant, but I don't yet. Instead, I forget the sign and concentrate on chasing local Christian Marchand and photographer Ryan Creary toward the light, where the trail emerges from the gloom.
One, two, three. We drop over the lip, down the slope and pick up speed ripping across a deep, in-cut section to the first banked corner. One after another, we rail along the lip, flyout the bottom and pop off a couple tabletops. Another banked corner and we're whipping the other way. Small drop, tabletop, small drop, corner. Repeat. The spindly maples, beach and birch trees blend into a blur. The trail begs me to go faster. I oblige, hang on, sit back and focus on the wheel ahead. A couple turns later we roll out of La Yable onto a road, with Joker smiles on our faces.
"So, what does La Yable mean?" I ask as we spin toward our next adventure.
"It's Quebec slang," says Marchand, a smile shifting his salt-and-pepper goatee. "It comes from the devil, lediable. But in Quebec yable means good. Really good."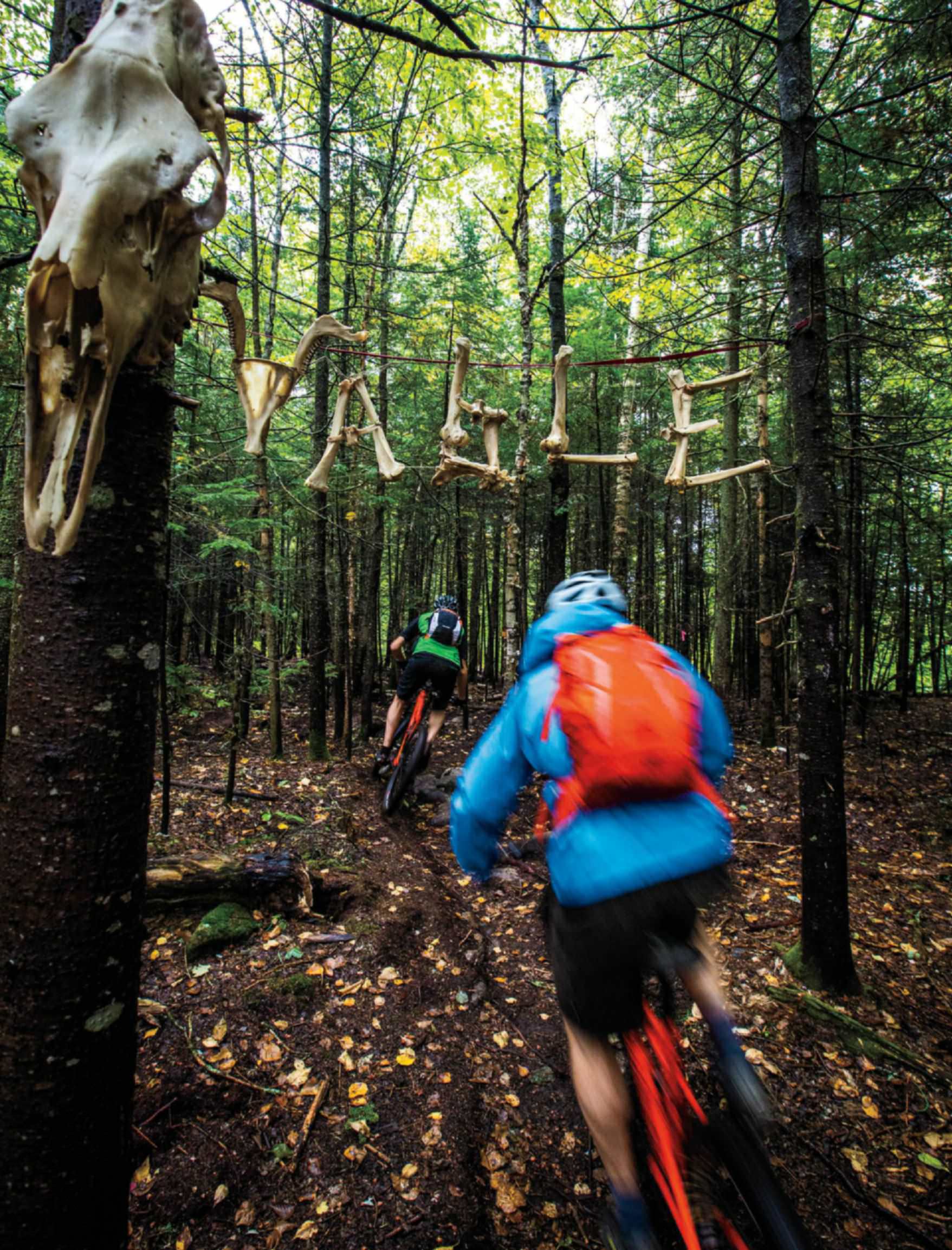 That trail was definitely yable. As was our entire week of mountain biking in Quebec.
As the word suggests, Canada's French-speaking province is unlike anywhere else. It's a little bit France, a little bit Canadian and only an hour by air from New York City. So, while visiting most of Canada is not that different from visiting a distant state, traveling in 'La Belle Province' feels foreign.
But La Yable is not only a tip to Quebec's distinct culture, it's physical evidence of a renaissance in Quebec mountain biking. The newest trail at Mont-Sainte-Anne is one of dozens built last year around Quebec City. Since 2008, trail builders buffed out more than 100 miles of wicked new singletrack near the provincial capital, establish ing three brand-new mountain biking areas in the process. And they're not even close to being finished.
POUTINE DREAMS
Living on the west coast of Canada, I struggle to get excited about anything east of the Rockies. So it surprised me–just as much as everyone I told–that I was going to fly to Quebec City to mountain bike. I knew Quebecers were passionate cyclists–they host World Cup road and mountain-bike races every summer and thousands of recreational riders turn out for some of the biggest events. Plus, Francophones are fixtures of Canada's national ranks. I knew Mont-Sainte Anne had a large trail network. But what else was there? I figured it was time to find out. Plus, I love poutine.
That's the first thing I order after Creary and I arrive in Quebec City. Quebec invented and perfected the heaping bowl of fries and fresh cheese curds smothered in gravy. Quebec's cuisine typically melds French and new world cooking with dishes like tartar, perfectly seasoned raw fish or beef. But it's poutine that fuels provincial pride. Over the next week I see it on every menu, at city fine-dining restaurants and truck stops alike, served straight up or topped with moose meat or duck.
I'm still digesting the gooey goodness the next morning when we roll into the gravel parking lot at Sentiers du Moulin. Thirty minutes north of downtown, this is the closest mountain biking to the city. It's also where the mountain biking revival began a decade ago. In 2006, Quebec City was a mountain biking wasteland. There were trails, but beyond Mont-Sainte-Anne, they were illegal or private.
"We started losing trails we had," says Éric Gagnon, a biologist and rider. "We started to realize we had to do something to guarantee the riding." He saw potential at Moulin. The two rounded summits at the busy cross-country ski and snowshoe area sat unused most of the year. "I knew we needed money to build trails, so I wrote a proposal," he says. The community-run facility–eager to expand its season–jumped on board. Donations big and small, from the province, bike shops and private citizens, started pouring in. By the end of 2015, they had collected more than $500,000. A bike club formed, which now numbers 400, and its members chipped in building trail. At one recent trail-building event, more than 75 people showed up to shape the dirt.
I'm getting this history lesson as I follow Gagnon up a climb called Ravage. It was the downhill run until they opened three new descents the month before we arrive. Now it's the climb and a good one, mixing tricky rock and root bits, smooth and easy sections, banked uphill corners, steep pitches, then short flats that are just long enough to catch my breath. The variety keeps the climb fresh instead of a brainless grind.
You can read up to 3 premium stories before you subscribe to Magzter GOLD
Log in, if you are already a subscriber
Get unlimited access to thousands of curated premium stories and 5,000+ magazines
READ THE ENTIRE ISSUE
May 2016