SLAM DIEGO BACK TO BASICS
Baseball America
|
October 2020
How the Padres executed a textbook four-year rebuild to become baseball's most exhilarating team
The Real Value Of A No. 1 Farm System
Headlined by Fernando Tatis Jr., the Padres entered 2019 with the No. 1 farm system in baseball. In 2020, they had one of the most dynamic, young, talented teams in the major leagues.
While it might appear that the Padres' prospects developed together as big leaguers to form the core of a playoff team, the reality is quite different.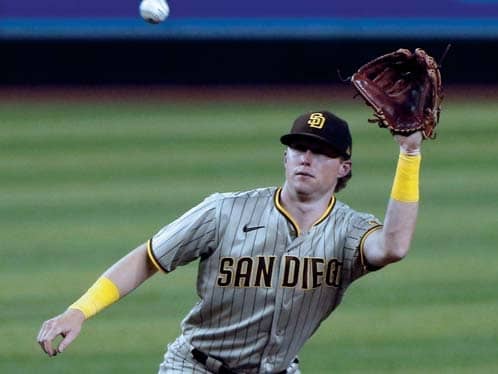 Following the 2019 season and continuing through the 2020 trade deadline, the Padres dealt more than a dozen players from their farm system, including one-time top 10 prospects Luis Urias, Taylor Trammell and Josh Naylor. They also traded Cal Quantrill, Hudson Potts, Eric Lauer and Xavier Edwards, all of whom had recently been top 50 overall draft picks.
San Diego turned those prospects—and many others—into big leaguers who directly impacted the 2020 team. The most prominent examples were starting pitchers Mike Clevinger and Zach Davies, closer Trevor Rosenthal and regular position players Trent Grisham, Jake Cronenworth, Tommy Pham, Jurickson Profar, Austin Nola and Mitch Moreland.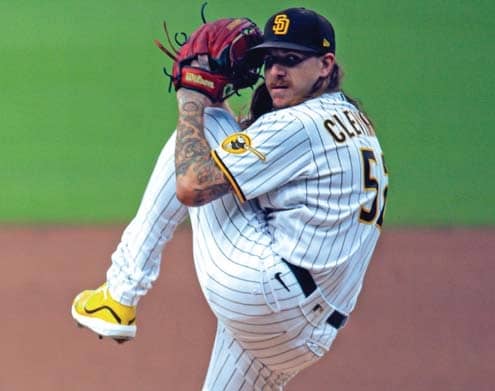 Last fall, following his club's third last-place finish in five years, Padres general manager A.J. Preller and his staff gathered in a freezing, sub-level meeting room beneath Petco Park.
The Padres normally hold their end-of-season staff meetings in a spacious auditorium on the upper floors of the ballpark. But this time, for reasons no one can quite remember, the auditorium was unavailable.
Instead, members of the Padres front office, pro scouting department and research and development group put on their winter wear, walked down a ramp to below field level and took their seats in a frigid room with no direct sunlight. There, they plotted the course for the 2020 season.
"It started in the basement of Petco and went from there," Preller said, laughing. "It was about 30 degrees when we were down there for three days. (If) that spurred on good or bad ideas, I don't know."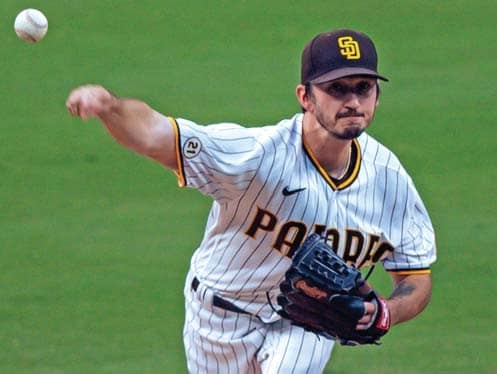 The Padres had not made the playoffs since 2006 or had a winning record since 2010. They had suffered five straight losing seasons since Preller took over as GM. Andy Green, Preller's first managerial hire, was fired with eight games remaining in 2019. The day after the season ended, Padres executive chairman Ron Fowler told a group of fans "heads will roll" if the team did not show marked improvement in 2020.
After a failed attempt at playoff contention in 2015, Preller steered the team into a rebuild in the summer of 2016. From the outset, he circled 2020 as the year the Padres would start to contend.
He oversaw the construction of the game's No. 1 farm system to that end. Under his watch, the Padres set a new record for the largest contract in franchise history three years in a row—Wil Myers' six-year, $83 million extension in 2017, Eric Hosmer's eight-year, $144 million contract in 2018 and Manny Machado's 10-year, $300 million deal in 2019—to create a veteran core to lead those up-and-coming prospects.
But after graduating six of the top 10 prospects from their vaunted farm system in 2019, including No. 1 prospect Fernando Tatis Jr., and adding them to a crop of young, homegrown players and big-dollar signees, the Padres' win total increased by just four games, from 66 to 70.
In order to win in 2020 and meet Preller's timeline, he and his staff were going to have to make some changes. The time to trade their prospect depth to reshape the major league roster had come.
In that frigid, below-ground meeting room, "Slam Diego" was born.
"We were all bundled up just talking baseball for hours, trying to put together some target lists," Preller said. "Some of the pieces that are on the field right now came out of those conversations, for sure."
From the time a team sheds the final established pieces of its roster, it generally takes four years until they are ready to contend for the postseason.
The Pirates kicked their rebuild into overdrive in 2009 and began a run of three straight postseason appearances in 2013. The Astros stripped away the final veteran pieces of their roster in 2011 and were back in the playoffs in 2015. The Cubs charted a similar course, bottoming out in 2012 and then winning the World Series in 2016. The Braves and Athletics tore it all down after the 2014 season and returned to the postseason in 2018.
Not all rebuilds work, but when they do, four years is the general timeline.
By that standard, the Padres are right on schedule. They began rebuilding in earnest when they traded James Shields, Fernando Rodney, Drew Pomeranz, Matt Kemp, Andrew Cashner and B.J. Upton in the summer of 2016, and now they stand among baseball's best teams in 2020.
More than that, the Padres have become one of baseball's most exhilarating teams.
San Diego ranked among the major league team leaders in runs, home runs and stolen bases from start to finish. They became the scene for dugout dance parties and wild comebacks, notching 20 of their first 32 wins in come-from-behind fashion.
In their signature moment, they hit a grand slam in four consecutive games in August, setting a new major league record. Just over a week later, the Padres made six trades involving 26 players at the trade deadline, cementing their place as baseball's most buzzworthy team.
"It's the most exciting team in baseball by far right now," righthander Mike Clevinger said after the Padres acquired him from the Indians on Aug. 31. "This is definitely kind of the place to be right now."
For San Diego to be the "place to be" in the baseball world is remarkable. The Padres had just five postseason appearances in their first 51 seasons and, only recently, had a stretch lasting more than three years—from June 2015 to March 2019—where they didn't have a winning record for even a single day.
Now, in a season rife with anxiety and set against the backdrop of the coronavirus pandemic, they have become one of baseball's powers.
You can read up to 3 premium stories before you subscribe to Magzter GOLD
Log in, if you are already a subscriber
Get unlimited access to thousands of curated premium stories, newspapers and 5,000+ magazines
READ THE ENTIRE ISSUE
October 2020