HIGH VOLTAGE
Baseball America|May/June 2020
Spencer Torkelson sparked an Arizona State revival and showcased the type of power that could make him the first college first baseman ever drafted No. 1 overall
The end to the 2020 season came without warning for Spencer Torkelson, as it did for players around the country. On March 12, the day the coronavirus pandemic led the NCAA to take the unprecedented measure of canceling the College World Series, Torkelson and Arizona State were preparing to open Pacific-12 Conference play the following day with a series against Utah.
Coach Tracy Smith gathered the team early in the day and said it looked like the weekend series would be canceled. Disappointed and a little confused, the Sun Devils returned to their homes around campus. A few hours later, the news came out of NCAA headquarters in Indianapolis that the CWS, as well as the rest of the NCAA's winter and spring championships, had been canceled.
"I was sitting on the couch, not sure what to do because there was no practice," Torkelson said. "I was on Twitter and saw it. I was like, 'Oh my gosh, did they just do that?'
"Everything else fell from that."
Within the next few days, the regular season was officially canceled. Torkelson stayed in Phoenix and worked out at the Sun Devils' facility until the school locked the weight room and batting cage.
Torkelson's brother Matthew was visiting Spencer during his spring break when his school in New York closed its campus. With Torkelson's workouts limited to running, the brothers started golfing every day.
"A couple days later, golf was getting old," Torkelson said. "So we decided to drive home to Petaluma."
With that, it was over. Torkelson packed up and went home to California, his Arizona State career all but done. The junior is the favorite to be the No. 1 overall pick in the draft thanks to his elite raw power and hitting ability. He was perhaps the best player in the country but will leave college with so much of his promise unfulfilled due to the incomplete 2020 season.
Torkelson dominated pitchers throughout his college career. He hit .337/.463/.729 with 54 home runs, 110 walks and 104 strikeouts in 129 games. He was hitting .340/.598/.780 with six home runs and 31 walks (15 intentional) in 17 games when the season was canceled. He was just two home runs away from breaking ASU's career home run record, held for the last 42 years by Bob Horner, and was drawing walks at a rate that would have set the NCAA's single-season record of 112 if Arizona State had reached super regionals.
Individual accomplishments aside, Torkelson and his Sun Devils classmates were also halted in the midst of the season they had been building to since they arrived on campus. One of college baseball's bluest blue bloods, Arizona State fell on hard times a few years ago, and Torkelson's class were freshmen in 2018 when it went 23-32, an almost unthinkable second straight losing season for the Sun Devils.
Coach Smith's plan was always for the young Sun Devils to grow from there, developing into a national championship contender. That plan was working. Arizona State made regionals in 2019 and was a top 10 team in 2020.
But the final payoff will never come. Torkelson's career will end without the home run record, without having played in Omaha.
Without a chance to finish what he started.
"It doesn't seem like we did it for nothing, but we went through it and didn't have chance to show everyone that's why we didn't do as well freshman year," Torkelson said. "That's why we took the bullet freshman year, built sophomore year and then junior year, this is the best shot at it.
"To not share it with those guys who I spent three years with is something that hits hardest."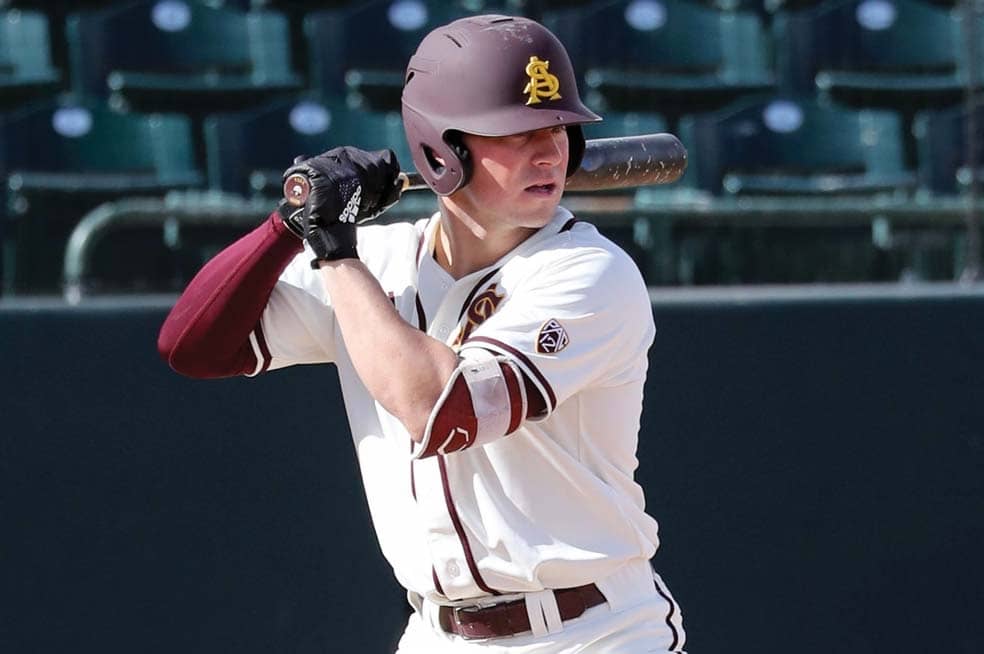 You can read up to 3 premium stories before you subscribe to Magzter GOLD
Log in, if you are already a subscriber
Get unlimited access to thousands of curated premium stories and 5,000+ magazines
READ THE ENTIRE ISSUE
May/June 2020