Dubai Delight
Athletics Weekly|November 21, 2019
HANNAH COCKROFT, SOPHIE HAHN AND MARIA LYLE AMONG THE WINNERS AS WE BRING YOU REPORTS FROM THE FINAL FOUR DAYS IN DUBAI
THE decision to hold the 2019 World Para Athletics Championships in Dubai, United Arab Emirates, was as controversial as the IAAF's award of its World Championships to Doha. One consequence was the need for the event to take place in November when temperatures were more reasonable. The event featured 1359 athletes from about 120 nations. These included Russia, which is not banned from para sport. A record total of 528 women competed, while the host country had 17 athletes, one of whom won three medals.
The event took place in the Dubai Club for People of Determination. In the UAE, people with special needs or disabilities are referred to as 'people of determination' in recognition of their achievements in different fields. The 2000-seater stadium was largely empty with tickets not on sale online and with no evidence of marketing of the event. This was my fourth IPC World Championships and the most underwhelming. With ticket sales of 300,000, London 2017 was always going to be a hard act to follow but Dubai did seem a step backward for disability sport.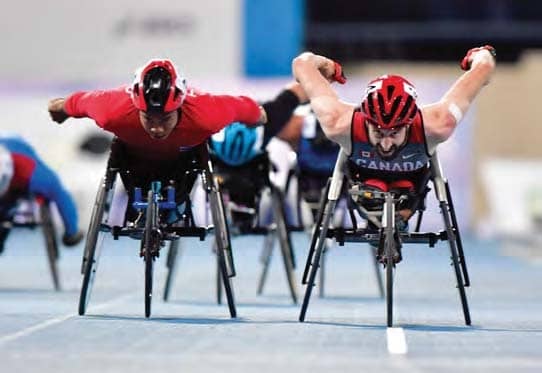 The event was saved by the large number of athletes attending sessions and creating noise and atmosphere. At times, though, one felt for an athlete winning a gold medal and setting a world record in an empty stadium, then walking through an empty mixed zone with no journalists there to interview the athlete in their career highlight moment.
Doha 2019 was criticised for its lack of souvenirs. Dubai had outdoor cafes and merchandise and brica-brac stalls. One was playing music and running competitions throughout the evening, offering spectators the chance to win prizes.
There were a number of British and some American visitors. All those I spoke to were related to a competing athlete. The Brits would have felt at home listening to Geoff Wightman as stadium announcer and groaned with me hearing yet again that a green card shown to athletes allowed them to work in the USA!
Among the spectators I saw Ed Warner, former UKA chairman and still involved at the IPC, Niels de Vos, the former UKA CEO now working for the IAAF 2021 Worlds, and Anne Wafula Strike, UKA board member and former Paralympic wheelchair racer.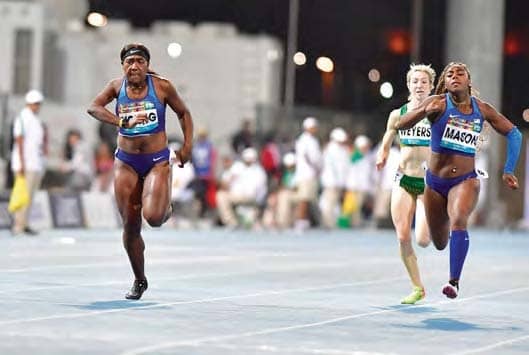 IPC para athletics is a complex sport with the different classifications hard for the nonexpert to penetrate. There are, for example, 33 different 100m races for amputee, visually impaired, race-runners who run holding a frame, cerebral palsy and wheelchair classes. What shines through it all is what magnificent athletes are competing, such as leg-amputee Markus Rehm of Germany winning the long jump with 8.17m – which would have got him sixth place in Doha.
One of the events that amazes me is the blind long jump, where an athlete sets off at full speed down the runway before taking off and jumping into the sand, landing nearly five metres away. Imagine the courage it must take to launch yourself without being able to see where you're going – talk about a leap in the dark!
Another amazing event is the amputee high jump, where some athletes remove a prosthetic and literally hop to the bar and dive over it. It's just a shame there were not more spectators there to see it.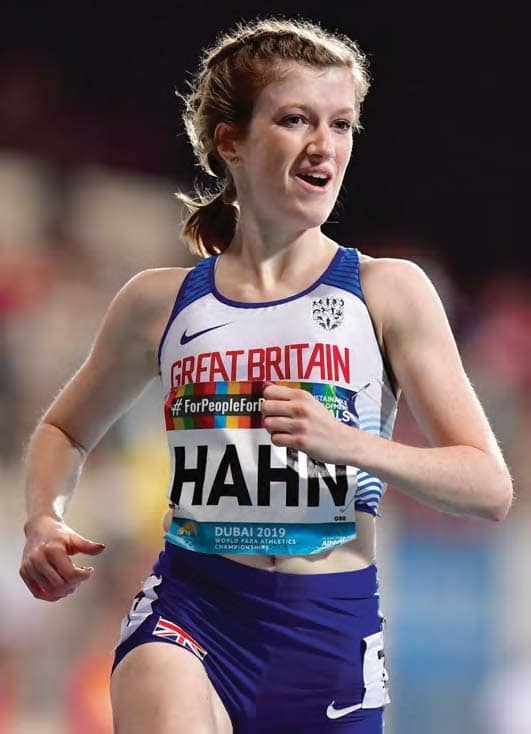 Day six
AHEAD of competing at the World Para Athletics Championships in Dubai, Sophie Hahn told AW that her focus was on maintaining her grand slam of major titles by gaining another gold and that a world record would be a bonus.
On the sixth day of the championships she achieved both, storming to a time of 12.38 to improve her own global best of 12.43 recorded in May and gain a fourth consecutive T38 100m title.
"It was incredible. I did not expect to run that time," she said. "I wanted to win the gold but I didn't know if the world record was possible.
"I'm so happy that all the work I have put in has paid off," added the 22-year-old, who has been coached by 2010 Commonwealth 200m champion Leon Baptiste for the past year. "It is just amazing.
"This medal is very special to me. I need to rest up now to be ready for my 200m and make that final. It's going to be another tough challenge but I'll give it my all."
Hungary's Ekler Luca was second in 12.89 and Australia's Rhiannon Clarke third in 12.94 as Hahn's British team-mates Olivia Breen and Ali Smith finished fourth and sixth respectively.
Another world record-breaker on day six of the championships was Brittni Mason as she ran 11.89 to win the T47 100m and improve on the record mark of 11.92 set by her fellow American and T46 class athlete Deja Young in the heats.
This time Young ran 11.94 to take the silver as South Africa's 400m winner Anrune Weyers was third in 12.36.
Both world record-holders got gold in the T53 800m events as Canada's Brent Lakatos claimed his 13th world title in 1:40.59, while Australia's Madison de Rozario broke the championship record with 1:52.15 to win the women's final.
You can read up to 3 premium stories before you subscribe to Magzter GOLD
Log in, if you are already a subscriber
Get unlimited access to thousands of curated premium stories and 5,000+ magazines
READ THE ENTIRE ISSUE
November 21, 2019