New Discovery: Manta Ray Nursery
Asian Diver
|
Issue 02 - 2019
One of Asia's most popular big animal havens is the focus of a fascinating new study on the movements and behaviours of its iconic residents. Bali's Nusa Penida is turning heads once again, as new research digs deeper into the manta ray population, revealing little by little the secrets of these ocean giants
Scientists from the Marine Megafauna Foundation and Murdoch University are reporting a large number of juvenile manta rays in the waters of Nusa Penida, a small island 18 kilometres (11 miles) southeast of Bali, suggesting the area may be a nursery for this threatened species. The finding is exciting for ocean lovers as few studies have uncovered such a large number of juvenile manta rays before, including significant numbers of newborns.
Reef mantas (Mobula alfredi), which grow up to five metres (15 feet) in disc width, tend to reside and feed in shallow, coastal habitats. They also visit "cleaning stations" on coral reefs to have parasites or dead skin picked off by small fish. In Nusa Penida, they are present year-round making the recently appointed marine protected area (MPA) a snorkelling and diving hotspot. But divers have known this for decades. What is truly surprising is how the animals use and organise themselves around the well-known dive sites Manta Point and Manta Bay.
Manta Bay is described in this new study as predominantly frequented by juvenile males looking for food. Some are as small as 1.5 metres in disc width on first sighting, which still might sound pretty big, but is in fact within the known range of newborns (1.3–1.6 metres or 4.2–5.2 feet). This is strong evidence that the site forms part of a nursery habitat and foraging ground for the local reef manta population. Interestingly, most individuals have been seen repeatedly across multiple years, in some cases recording individuals right up to maturity.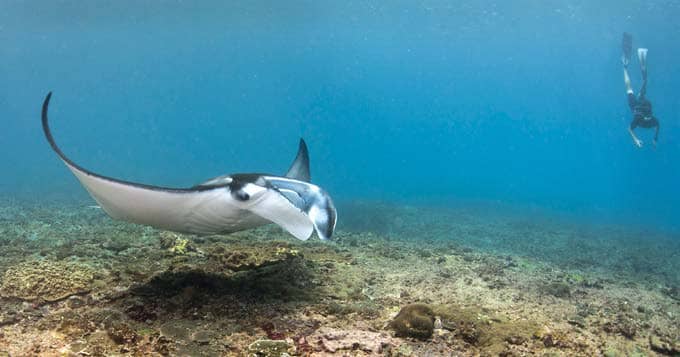 "Where manta rays are born and grow up still baffles us. Our research in Indonesia suggests there might be a reef manta nursery in the Nusa Penida area and possibly also in the famous Raja Ampat archipelago," says lead author Elitza Germanov, a manta ray researcher at Marine Megafauna Foundation and PhD student at Murdoch University. "It's really important for us to know where these nurseries are. They provide a safe space for young, vulnerable manta rays to grow and develop away from the reach of predators."
You can read up to 3 premium stories before you subscribe to Magzter GOLD
Log in, if you are already a subscriber
Get unlimited access to thousands of curated premium stories, newspapers and 5,000+ magazines
READ THE ENTIRE ISSUE
Issue 02 - 2019