Could Breath-Hold Diving After Scuba Cause Decompression Sickness?
Asian Diver
|
Issue 02 - 2019
Recreational divers sometimes practise scuba and breath-hold diving on the same day.
Some are concerned that breath-hold diving after scuba may increase their risk of decompression sickness (DCS). Their worry is that repeated descents and ascents might change the ultimate destination of venous gas emboli (VGE) – or bubbles – possibly present in their blood after scuba diving and make them more likely to suffer DCS. Another reason for their concern is the possibility that breath-hold dives build up dissolved inert gas in addition to what remained in the body after scuba and thus may create conditions for DCS. But is DCS feasible in breath-hold diving at all?
Modelling the risk of DCS after freediving in humans provided a hypothetical scenario in which DCS could occur after a single extreme dive, but the mechanisms that cause DCS seem unlikely in breath-hold diving. Cumulative effects of many repeated dives with short surface intervals could theoretically produce conditions for the occurrence of VGE, but so far there have been very few reports of bubbles observed in breath-hold divers. Some argue that DCS in breath-hold diving may be different than in scuba diving and that it may occur independent of VGE.
DCS-like symptoms in breath-hold divers have been reported. Symptoms of brain affliction have been observed in extreme diving done by harvesters, spearfishermen using scooters and in freedivers repeatedly doing very deep dives. DCS is one possible cause of these symptoms, but other causes include oxygen depletion, brain bleeding (due to extreme changes in blood pressure observed in breath-hold diving), arterial gas emboli caused by lung damage at depth, repeated micro-injuries to the brain and other factors. Pre-existing medical conditions like small vessel disease could also be involved.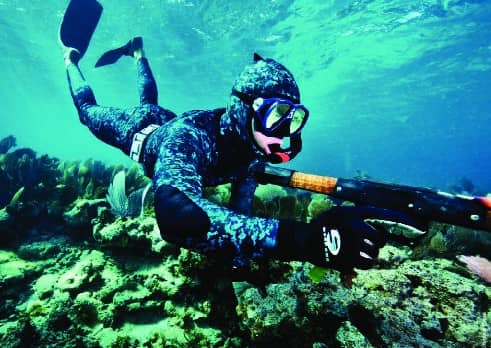 Regardless of whether breath-hold diving produces VGE by itself, the concern that breath-hold diving after scuba may cause the redistribution of VGE seems rational, but the risk remains very small. Despite uncertainties about their causes, neurological accidents in extreme breath-hold diving have been observed and cannot be dismissed.
Here, two experts address questions regarding DCS in breath-hold diving.
Q: Is the occurrence of DCS in breath-hold diving a real risk?
You can read up to 3 premium stories before you subscribe to Magzter GOLD
Log in, if you are already a subscriber
Get unlimited access to thousands of curated premium stories, newspapers and 5,000+ magazines
READ THE ENTIRE ISSUE
Issue 02 - 2019