Caves: The Hidden Plastic Problem
Asian Diver
|
Issue 02 - 2020
Even the deepest of areas have been plagued by plastic
Over the last few years, plastic pollution has become a major issue that has gained a lot of traction across the world. Plastic floating in the Pacific Ocean; a snorkeller swimming in plastic; turtles, sharks, whales in plastic detritus – images of all these things have been popping up on our social media feeds, reminding us of the tragic cost of our wasteful consumerist society. The damage wrought by plastic pollution on ocean life has raised awareness and motivated action. Various global projects and initiatives are trying to working to reduce our plastic consumption and prevent more plastic from entering the ocean.
However, one aspect of the plastic problem has been quite neglected. Less noticeable due to it being underwater, cave pollution, or in other words the pollution of one of our biggest freshwater supplies: underground water.
The sum of all waters on Earth is called the hydrosphere, "is a dynamic mass of water that is continually on the move, evaporating from the oceans to the atmosphere, precipitating to the land, and running back to the ocean again" (Lutgens, Essentials of Geology, 13th Edition, 2017). Our oceans cover around 71 percent of our Earth's surface and account for about 97.5 percent of Earth's water (including saline groundwater and lakes). The hydrosphere also includes the freshwater found underground and in streams, lakes, and glaciers, for a total of 2.5 percent of Earth's water, divided as follows: 1.72 percent in glaciers, 0.03 percent in streams and lakes, and 0.75 percent in groundwater.
Although fresh groundwater represents less than 1 percent of the hydrosphere, it accounts for 30 percent of all freshwater and about 96 percent of all liquid freshwater. In short, it is a vital resource for humankind. To take an example, each day in the US, 1,158 billion litres of freshwater is used. "Groundwater represents the largest reservoir of freshwater that is readily available to humans. Its value in terms of economics and human well-being is incalculable."
Some regions across the world have access to several supplies of freshwater. Apart from groundwater, lakes, rivers, rainwater collection also serve as water supplies. Some regions don't have such great fortune and are pushed to rely either on their groundwater resources or on freshwater importation – very often promoted by some major global companies like Nestlé, Danone, PepsiCo, Coca-cola, etc. Southeast Sulawesi (Or Sulawesi Tenggara in the local language), Indonesia, is one such region.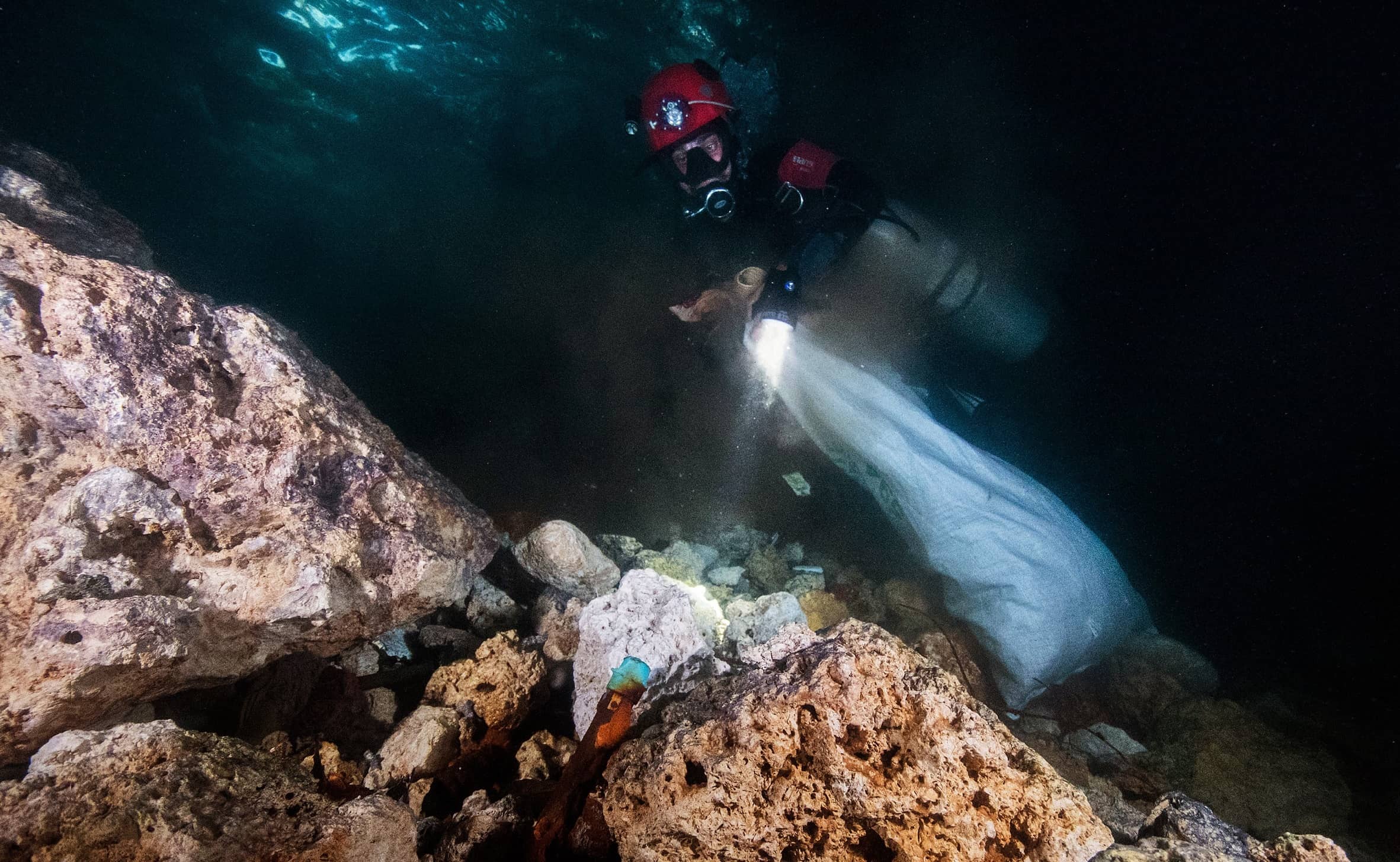 Sitting on a bed of limestone, Sulawesi Tenggara does not have many lakes, rivers or other features to collect rainwater, especially in the south, where the islands of Muna, Buton and Wakatobi lie. However, when you start looking underground, you observe that this region is ridden with thousands of caves, from minuscule to massive openings on the ground, giving us access to its invaluable resource: underground water. Some caves are just a single water point layered in the Earth's crust, whilst others are openings to an extensive network of caves stretching several kilometers. Often, this lies even beneath the aforementioned cities.
Moreover, when you superpose maps of cave entries and those of cities, one can easily see that cities have been carefully built around these caves. This seems logical as at the time it was the only route to freshwater for drinking, cooking and cleaning.
I began exploring Southeast Sulawesi in 2016, looking for underwater caves. My love of diving and exploration made me quickly realise the scale of the growing problem of plastic in
You can read up to 3 premium stories before you subscribe to Magzter GOLD
Log in, if you are already a subscriber
Get unlimited access to thousands of curated premium stories, newspapers and 5,000+ magazines
READ THE ENTIRE ISSUE
Issue 02 - 2020