THE "GREATEST GENERATION" CARBINE
Airsoft Action|July 2020
IT SEEMS THAT LEZ LEE HAD BEEN WAITING AGES BUT FINALLY HE MANAGED TO GET HIS HANDS ON ONE OF THESE BAD BOYS... BUT WAS IT WORTH THE WAIT?
It is almost like the term "carbine" was created for this little lead launcher but before I rattle on about the pros and cons, there is a wealth of history that, out of sheer respect, needs to come first.
HISTORY
The M1 carbine is a lightweight, easy to use, .30 cal. semiautomatic carbine that was a popular and well-respected firearm for the U.S. military during World War II, the Korean War and well into the Vietnam War, fielding a service life of a little over 30 years.
Borne of the Winchester family, this compact firearm was the outright winner from a party of 11 guns put through their paces at the request of the United States Army in 1938 while looking for a more compact, practical and user-friendly firearm to fill a void where a typical "long rifle" would prove to be cumbersome and less practical for certain elements of the military. A weapon that sat somewhere between a pistol and a rifle and, working alongside the M1 Garand, this carbine had a tough act to shadow. You might think that at a total length of just 35 inches, 4 twists in the barrel and muzzle energy of just under 2,000 feet per second with the.30 pistol calibre round, offering an effective range of around 200 metres (or yards in those days) would not appeal to many, but that was not the case as it was actually favoured by most due to its size-weight ratio, manoeuvrability and the pure ease of use.
Some 6,500,000 carbines were eventually produced at $45 a pop, which was half the cost of its big brother, the M1 Garand, which includes the M1A1 Para folding stock version (obviously favoured by paratroopers due to its compact stature), the M2 select fire model which ultimately necessitated a larger 30 round "banana" magazine and even an M3 infra-red sighting system for night-time ops.
"I WAS DEFINITELY HAVING "A MOMENT" WHEN I LIFTED IT FROM THE CARDBOARD BOX AND IT FELT SOOOO GOOD! FINALLY TO HAVE AND TO HOLD, FOR RICHER, FOR POORER UNTIL DEATH DO US PART!"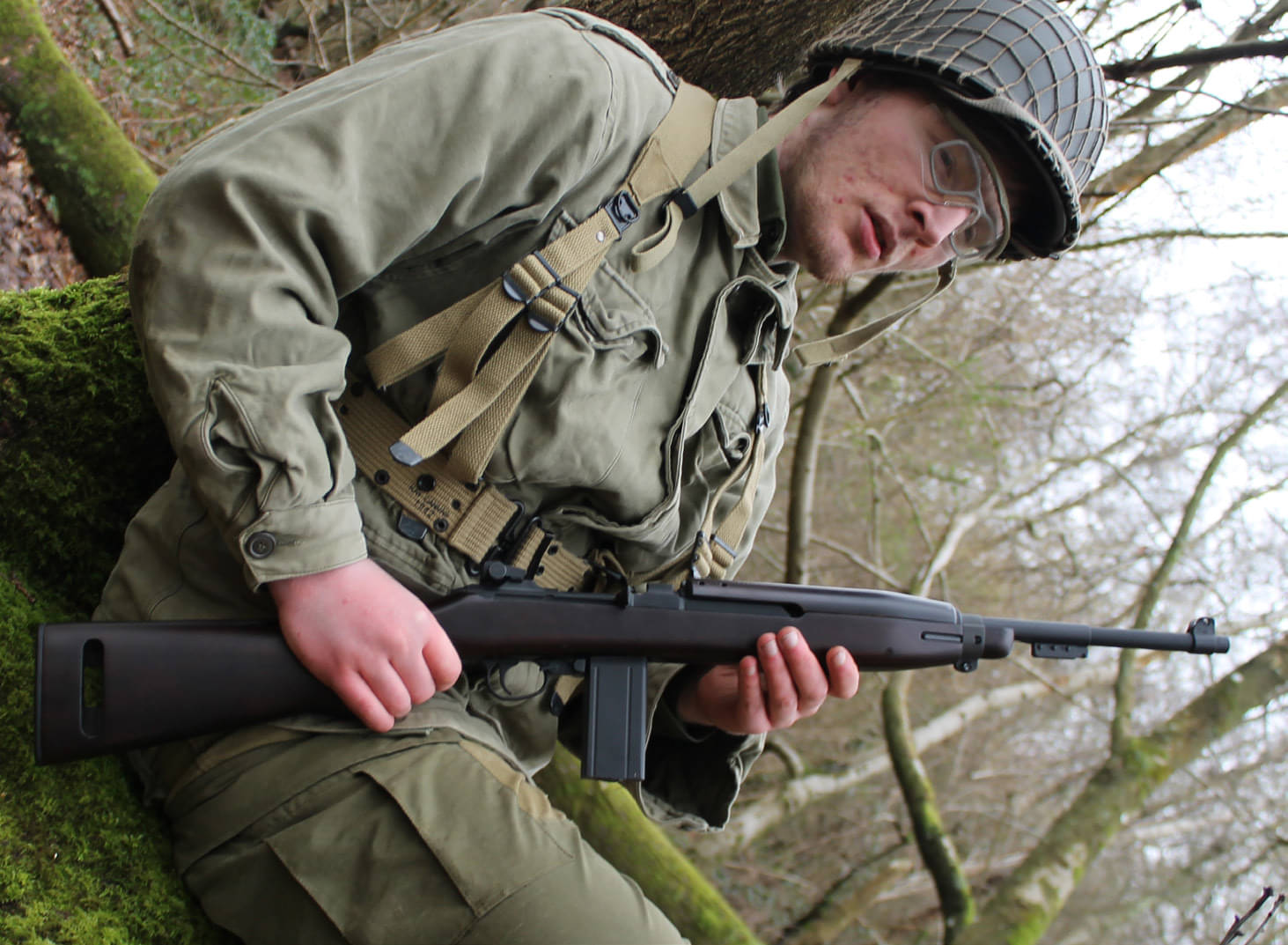 KING ARMS
King Arms was founded in 2004 with a vision and determination to ensure absolute customer satisfaction by providing precision products and outstanding service. In 2015 King Arms moved from Hong Kong to Taiwan, the airsoft capital of the world, where they have continued to provide excellent products of the highest quality, coupled with competitive price points. Their work with leading firearms manufactures allowed (and encouraged) them to provide their customers with a level of innovation and authenticity that is now a world-class leader in the airsoft industry. King Arms' sole mission is to create premium airsoft replicas in response to the ever-evolving industry, ultimately to the flawless satisfaction that customers have come to expect in the 21st century.
FROM TAIWAN TO A SKIRMISH FIELD NEAR YOU
You can read up to 3 premium stories before you subscribe to Magzter GOLD
Log in, if you are already a subscriber
Get unlimited access to thousands of curated premium stories and 5,000+ magazines
READ THE ENTIRE ISSUE
July 2020