ARMY ARMAMENT OLD SKOOL NEW KOOL
Airsoft Action|July 2020
SOME AIRSOFT LOADOUT IDEAS GO ON FOR YEARS UNTIL THE RIGHT ELEMENTS CAN BE ASSEMBLED AND BILL IS FINALLY DRAWING CLOSE TO COMPLETING A "PET PROJECT" HE'S BEEN WORKING ON FOR A WHILE. IN THE PROCESS HE DISCOVERS A NEW MODERN PISTOL DESIGN FROM ARMY ARMAMENT THAT HAS REALLY GOT HIS ATTENTION!
Inspiration for a loadout comes from many directions, doesn't it? These days many loadouts are driven by movies, TV shows, and games and there's absolutely nothing wrong with that if dressing up as your favorite "insert character here" adds to your enjoyment of the game!
I've been a bit of a sucker for this over the years, with loadouts for Nimsoft, WWII US D-Day Airborne, and USMC Pacific, along with 80's BAOR, modern USN SEAL and UKSF to mention but a few and, although these days my delight in playing an OPFOR role has led me in yet another new direction, I still like things to be "right" when I'm doing a loadout properly. My personal "man cave" is a bit of a treasure trove and although some of the loadouts have gone, many are still with me… just in case!
To date though, there are two loadouts that I've wished to do that have eluded me, either because certain key items weren't available at the time, or down to the fact that I didn't feel I should be spending money on an esoteric whim! One of these, that I will get round to completing one day, is WWII "French Resistance" (another extension of OPFOR for me) but my real "pet project loadout", a labor of love for many years, is for the character of "John Rourke" in "The Survivalist" series of books from the 1980s.
And weirdly, this is where fact meets fiction! Jerry Ahern was a science fiction author best known for his post-apocalyptic survivalist series "The Survivalist" and the books in this series are heavy with descriptions of the weapons the protagonists use to survive and prosecute a seemingly never-ending war amongst the remnants of the superpowers from pre-apocalypse times. Interestingly, Ahern also wrote for firearms magazines and, in later life, he produced a series of gun holsters of his own design and became the President of a gun company called Detonics USA!
"A WEAPON OF WHICH I AM EXTREMELY FOND IS MY DETONICS BLACK COMBAT MASTER .45 …THE GUN I CARRY VIRTUALLY EVERY DAY… SOME THINGS, GUNS, KNIVES, AND OTHER INANIMATE OBJECTS, JUST SEEM TO FIT ONE'S HAND AND ONE'S LIFESTYLE SO WELL, THEY BECOME INDISPENSABLE." – JERRY AHERN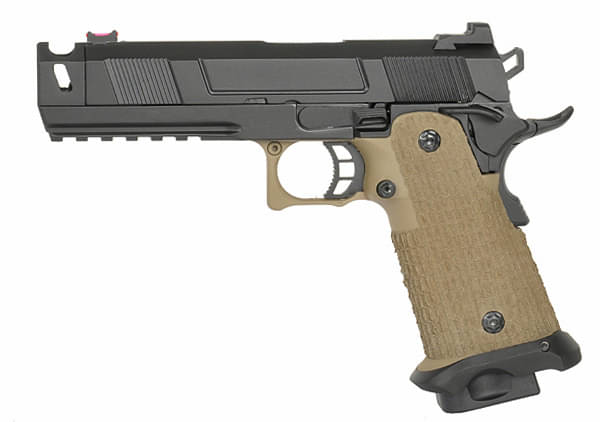 In the books (there are 27, or 35 in the entire series if you count add-ons!) protagonist Dr. John Thomas Rourke, a retired CIA operative, weapons expert, trained physician and "The Survivalist" of the title, always carries two Detonics Combat Master pistols (talk about product placement!). In the books, they are stainless steel models but that always glared a little to me as a bit "bling" for a combat shooter. Yes, I understand that there are technical reasons why they are stainless steel but in general, I've always preferred my personal "classic 1911 derivatives" plain black with wood grips, as did Jerry Ahern.
PATCHY HISTORY
You can read up to 3 premium stories before you subscribe to Magzter GOLD
Log in, if you are already a subscriber
Get unlimited access to thousands of curated premium stories and 5,000+ magazines
READ THE ENTIRE ISSUE
July 2020