Review - Umarex Walther PPQ
Airgun World|January 2020
Jef Lockyer of the UBC brings us a hands-on review of the Umarex Walther PPQ
As part of an Umarex factory tour, we visited their basement firing range to try out a 9mm semi-automatic pistol, the Walther PPQ, and I've wanted to own one ever since, so I was pleased to discover that Umarex made a CO2-powered, pellet-firing version of the PPQ Classic variant.
It arrived in a cardboard box complete with a manual, two magazines, and a bit of bubble wrap, but there was no moulded plastic case unfortunately, as supplied with Umarex's older CO2 models.
REASSURINGLY HEAVY
At first sight, the pistol seems a little disappointing, being almost completely covered in plastic, but this is faithful to the original 9mm model built around a glass-reinforced polymer frame with a HI-GRIP surface finish to the grip area. The classic model features a twin-lever magazine release along the trigger guard, and this is accurately moulded in the CO2 version. The take-down catch and extractor are less convincing, but are present. The slide stop lever on the left, and safety catch on the right, are both fully functional, the slide stop lever assumes the role of slide release.
The PPQ is reassuringly heavy to pick up, indicating more than just plastic in the build, and at 618g is only 77g lighter than the real thing. A prominent feature is the sights, with their bright yellow 'dayglo' dots, again, just like the real thing, which promised quick target acquisition, but more about these later. The slide is well-engineered with no slop or play when closed, and the whole pistol feels businesslike in the hand. Forward of the trigger guard, the underside of the frame is moulded as a short length of Picatinny-type rail to which a torch or laser sight can be fitted.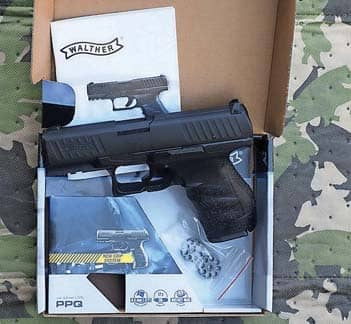 NO TARGET PISTOL
This pistol uses a standard 12-gram CO2 capsule fitted in the grip. Pulling down the bottom cover exposes the CO2 screw and allows the backstrap to flip up to access the CO2 capsule. A quick half-turn twist of the CO2 screw pierces the capsule with a muted 'psst' and we're ready to go, and when the backstrap is closed, it automatically engages the bottom cover and snaps it shut. The magazines are Umarex's standard 8-shot rotary magazines as used in most of their .177 calibre CO2 pistols and the Lever Action rifle. Umarex claim the (rifled) barrel is 86mm long, but it measures nearer 80mm. So, no target pistol then.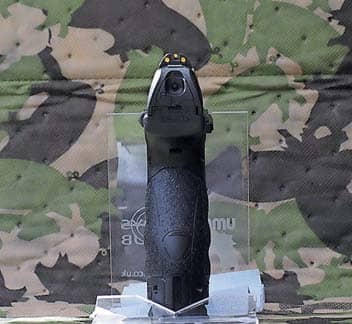 A LITTLE AWKWARD
You can read up to 3 premium stories before you subscribe to Magzter GOLD
Log in, if you are already a subscriber
Get unlimited access to thousands of curated premium stories and 5,000+ magazines
READ THE ENTIRE ISSUE
January 2020