Ten Of The Best
Air Gunner|June 2020
Dave Barham finally gets his hands on one of the new Swarm 10X rifles from GAMO, and instantly falls in love
You may have noticed in recent issues that during visits to the SHOT Show and The British Shooting Show, I reported on the relaunch of a ten-shot, mag'-fed break-barrel concept from GAMO. Well, the Swarm 10X system is now being rolled out across all the GAMO break-barrel rifle range, and I've managed to lay my hands on one.
It's not a new rifle by any means; in fact, it's been around for a few years now, but as far as the relaunch of the concept goes, it's the perfect choice to review. From the moment I took it out of the box, I just knew I was going to have some fun with this month's test rifle.
THE SWARM 10X CONCEPT
Until now, there has only been a couple of springers on the market that offered the ten-shot rotary magazine facility. The concept flew under the radar for most people, but a few airgun enthusiasts did pick up on it at the time it was launched. Now, thanks to a new initiative from GAMO, they are rolling the concept out across most of their break-barrel rifles over the coming year, including both springers and gas-rams.
I must say I have been quite excited to have a go with one of these rifles ever since I saw them at the SHOT show, purely for the fact that having a magazine-fed springer seems alien, but because we're all so used to the idea in PCP rifles, I wanted to see if indeed the concept could travel across reliably.
Just like with a PCP, you can now take ten shots as quickly as you can break the barrel – doesn't that sound like fun?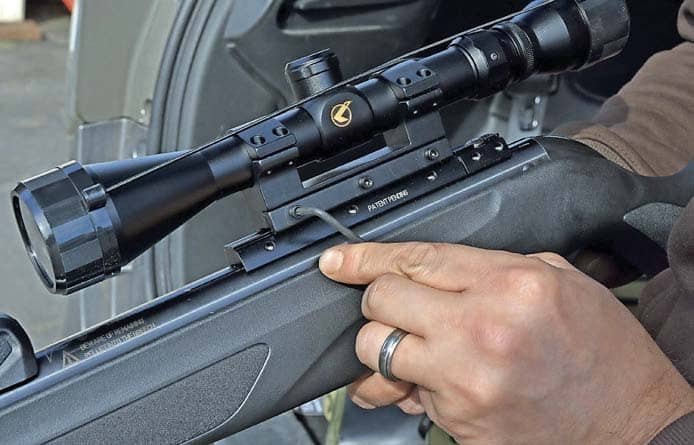 HOW IT WORKS
There's a large, rather clumsylooking, moulded synthetic mechanism that holds the rotary magazine situated at the rear end of the barrel where a rear sight would normally live, and each time you cock the action it delivers a pellet from the mag' into the barrel. It's really clever stuff, and something that many manufacturers have been trying to achieve for years.
Pressing the small button directly in front of the mag' pops it out with a very satisfying 'click', and once reloaded you simply push it back in with another noticeable 'click'.
Being able to break the barrel, knowing that your pellet is there and you're ready to go is great, and I can see this being a real plus point in the winter months when gloves no longer need to be removed to load a pellet into the breech!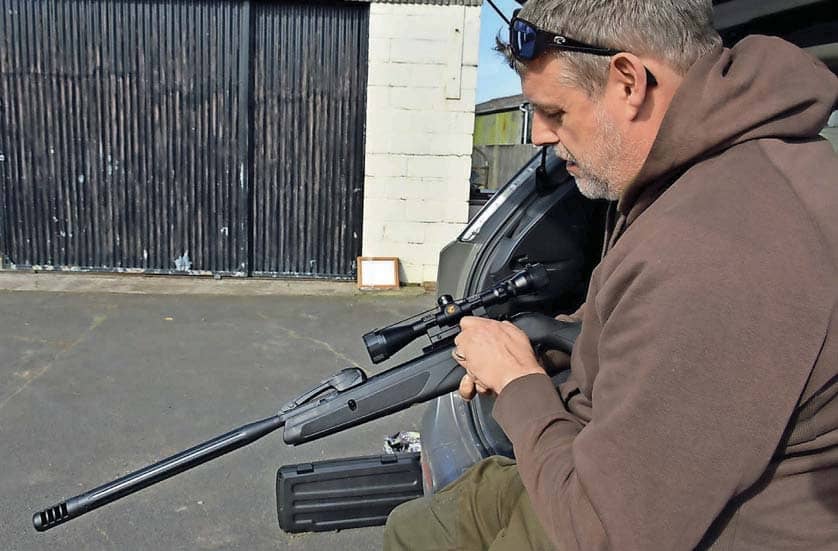 QUALITY DESIGN
GAMO has long been a name associated with the budget end of air rifles, but a few years ago they really started making waves around the world with improved quality control and more bespoke rifles. I'm very pleased to say that this 'budget' air rifle combo carries on this newfound tradition, and the Maxxim is a really well-finished piece of kit.
You can read up to 3 premium stories before you subscribe to Magzter GOLD
Log in, if you are already a subscriber
Get unlimited access to thousands of curated premium stories and 5,000+ magazines
READ THE ENTIRE ISSUE
June 2020