PART 2: Air Arms HFT500
Air Gunner|June 2020
Mark Camoccio puts Air Arms' HFT special back in the spotlight
Last month, we reminded ourselves how the HFT500 came about. This month we continue the tour, and see just why it's proved so popular
SIDE ISSUE
Air Arms have used the full-length, extended air cylinder – fitted as standard to the HFT500 – originally on their FAC models, and I competed for some time with a custom S400 that the legendary Nick Jenkinson, three times World FT Champion, and consultant to Air Arms, put together a few years back. This proved a super-successful rifle, and I was intrigued when I first saw the HFT model. Balance, with that extra front weight, is impressive, whilst slick features and technical advantage are here in abundance.
Time to focus on the grey satin breech block, and that exquisite sidelever. Air Arms have used this lever on the S510 for a while, where it works a magazine system. Here, pulling back the lever takes minimal effort to cock the hammer and set the trigger, and as the HFT500 is single-shot, rolling a pellet across the loading channel is the next easy task. Nudge the lever closed and the final bit of travel is automatic as the 'over centre engineering' takes effect. All very subtle and smooth in operation.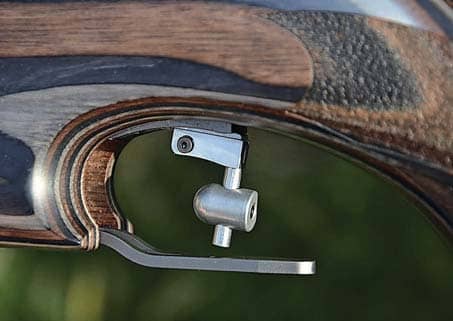 As for the two-stage trigger, I've always felt it looked a bit of an afterthought on this model, perhaps since the stock started life on the Ultimate Sporter model. The HFT gets the thumb shelf, yet the pistol grip is just a little stretched, which could pose a problem for shooters with smaller hands. Reaching the trigger comfortably without straining is critical, and many shooters obviously manage it without issue. All I'm saying is, try to handle this model before making a purchase – something you're likely to do anyhow given the cost – just to double check that all feels good in the aim. As it stands, the trigger gets an adjustable and reversible button blade and sits in a sliding carrier, so position can be altered.
You can read up to 3 premium stories before you subscribe to Magzter GOLD
Log in, if you are already a subscriber
Get unlimited access to thousands of curated premium stories and 5,000+ magazines
READ THE ENTIRE ISSUE
June 2020