AIR PISTOL Training, Training, Training
When it comes to any form of shooting it's always 'practice makes perfect', as Gary Chillingworth explains
If you check out this month's 'Blast from the Past' you'll see me talk about my trip to Florida and my experience shooting the Colt 1911, Glock17 and the 44 Magnum revolver. To prepare for this trip, I purchased, borrowed and trained with some air pistols and this training has stood me in good stead over the years. So, I'm going to write about two of my favourite pistols, and also look at some of the skills I have learned since going to Florida.
STANCE
Before you even pick up a pistol, you need to learn how to stand. Air rifle shooters stand side-on to a target, but in pistol shooting this is not the norm. The two main stances that I learned are the 'isosceles', and the 'Weaver'. To break it down; the isoceles stance is where you stand slightly side-on to the target and if you are right-handed, your right hand will drive the gun forward and be fully extended, and the left arm will be slightly bent and will help to absorb the recoil. This type of stance also normally requires the shooter to keep his or her non-dominant eye shut.
For the Weaver stance, you stand square on to the target, slightly bend the knees and drive both hands out equally. You will keep your arms slightly bent because this helps to control the recoil, and you can keep both eyes open – handy if you are cross-eye dominant. Cross-eye dominant means right-handed, but left-eye dominant, and vice versa, and it also increases your peripheral vision – very handy if someone is shooting back at you)
I've found that for accuracy the isosceles stance is better, but for speed shooting, the Weaver stance is king.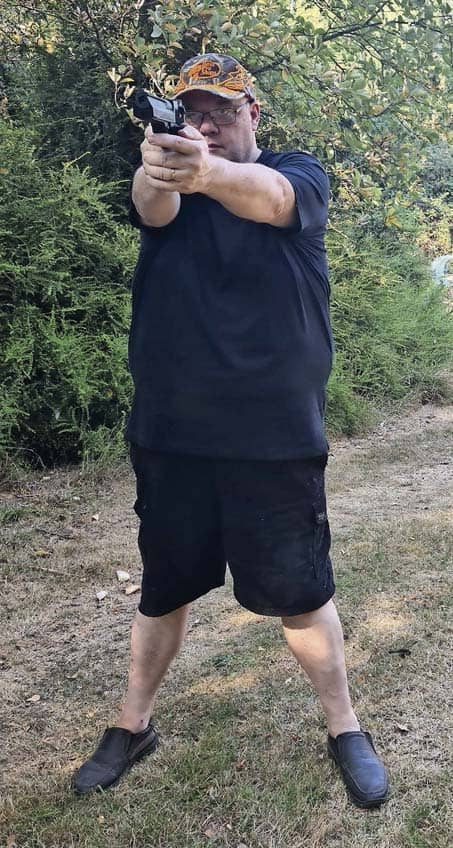 GRIP
You can read up to 3 premium stories before you subscribe to Magzter GOLD
Log in, if you are already a subscriber
Get unlimited access to thousands of curated premium stories, newspapers and 5,000+ magazines
READ THE ENTIRE ISSUE
October 2020