HOME GROWN FIORDLAND
Adventure Magazine
|
August 2020
SOME OF THE MOST WILD AND DRAMATIC SCENERY IN NEW ZEALAND CAN BE FOUND IN FIORDLAND, TUCKED AWAY IN THE SOUTH WEST CORNER OF THE SOUTH ISLAND. FIORDLAND IS ONE OF THE LARGEST NATIONAL PARKS IN THE WORLD AND A WORLD HERITAGE AREA. HERE THE SIMPLE POWER OF NATURE IS SPECTACULAR, FROM ITS WATERFALLS TUMBLING HUNDREDS OF METRES INTO VIRGIN FORESTED VALLEYS OR POURING INTO THE DARK WATER OF THE SOUNDS. THERE ARE LONELY FIORDS, ENDLESS STRETCHES OF SHIMMERING LAKES AND MAJESTIC GRANITE PEAKS. FIORDLAND IS THE LARGEST NATIONAL PARK IN NEW ZEALAND WITH A STAGGERING 1,260,288 HECTARES OF THE BEST OF WHAT NEW ZEALAND HAS TO OFFER.
In the late 1800's the route between Piopiotahi Milford Sound and the head of Lake Te Anau was re-discovered by the two intrepid explorers Quintin McKinnon and Donald Sutherland. The trail was subsequently developed into what we now know as the Milford Track. It took only a matter of years for this walk to be hailed internationally as "The Finest Walk in the World". Over 100 years on and the Milford Track still holds its own as an internationally recognized hiking trail.
Of course, for hundreds of years before then the route was known to Maori as a pathway for transporting takiwai, a unique form of pounamu greenstone from Piopiotahi Milford Sound inland so it could be traded. Having walked this track several times and having been exposed to the elements and ailments you can experience I am in awe of the human spirit that took on the exploration of places such as Fiordland.
Fiordland was designated as a National Park in 1952. It covers about 12,000 square kilometres and is one of the largest National Parks in the world – larger than Yellowstone and Yosemite combined. Interestingly the adventures that beckon many to these northern hemisphere destinations can be found in Fiordland. There is something for every level of adventurer from those who aspire to scale big walls to those who have never set foot in the wild. Fiordland is as safe, accessible and comfortable as you want it to be.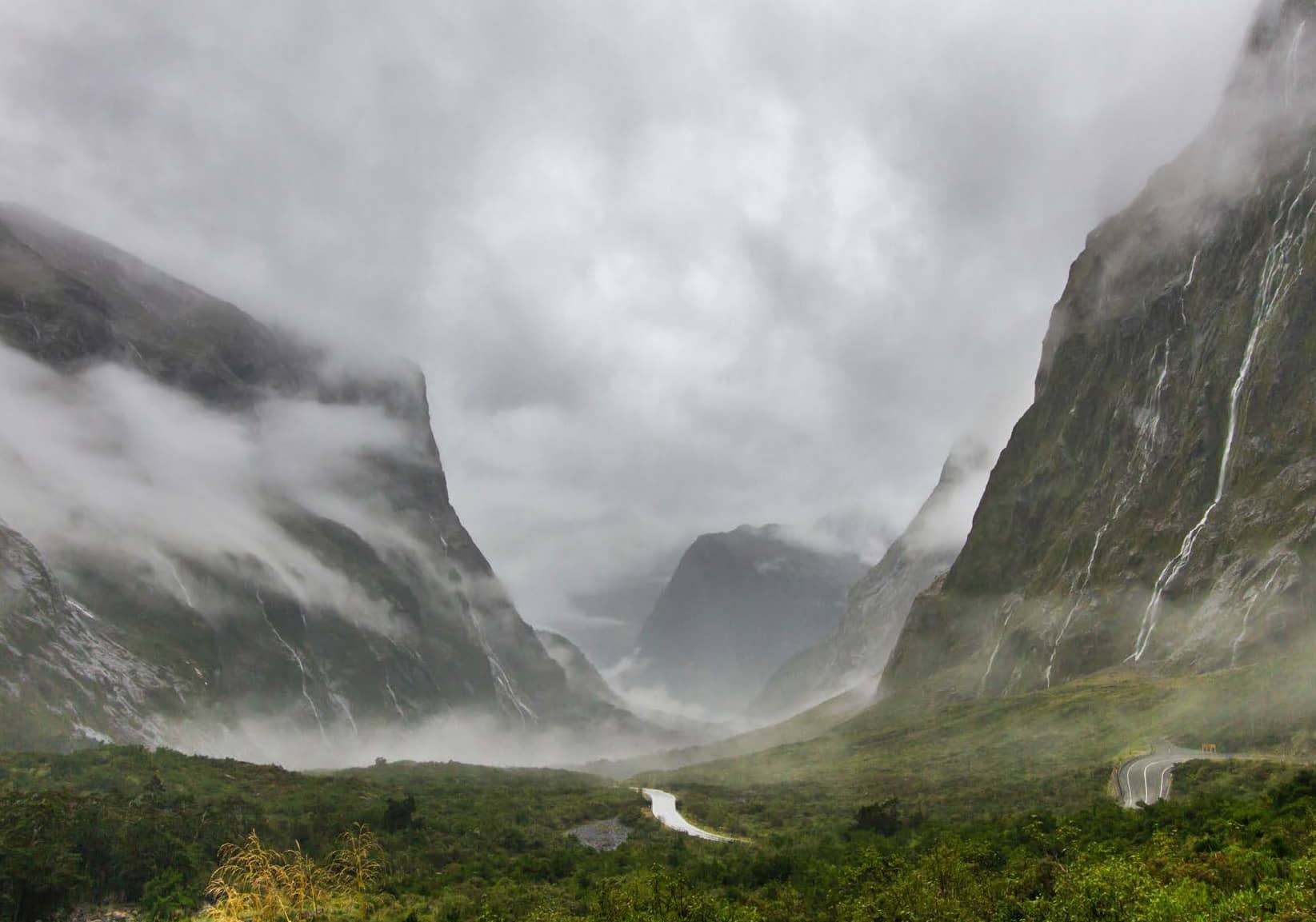 Tramping New Zealand has nine Great Walks, three of these are found in Fiordland; the Routeburn Track, Kepler Track, and Milford Track. And in 2021 we will welcome the Hump Ridge Track to our 'fleet' of Great Walks. Great Walks are immensely popular with international visitors as they provide a degree of reduced risk associated with backcountry adventuring. But with international visitors being scarce for the time being there has never been a better time to head to Fiordland and see why it is described as the "Walking Capital of the World".
Milford Track
I first walked the Milford Track when I was ten years old. It was a birthday present from my parents. I walked it with my dad who was managing the track for the Department of Conservation at the time. Being a child of Fiordland, even at that young age, I knew that there was something special and significant about the Milford Track. I would go into those mountains and I would test my ten-year-old self against mother nature. But best of all, I would go with dad. Four whole days away with my hero in what I was sure was the greatest place on earth.
There was no special treatment for this little person. I carried my own pack, sleeping bag, clothes. We stayed in the warden's quarters at the three huts - Clinton, Mintaro, and Dumpling. I walked the full 53.5 km of the Milford Track in my flimsy cotton shoes, along with the "gin clear" Clinton River spotting trout, up and over the Mackinnon Pass, down the Arthur Valley, pack on back, keeping stride with dad. Stopping for chocolate breaks along the way.
With the right preparation and equipment, the Milford Track is a great walk (excuse the pun) for families that have had some experience in New Zealand outdoors. It is a multi-day hike, with walking times ranging from 2 hours on the first day to about 6 hours on the last day – of course allowing longer for little legs. The track is well-formed as Great Walks are but there are still some rough walking conditions in places.
Be prepared for rain! Milford Sound can receive up to 9 meters of rain a year (Auckland gets about 1.3m/ year). Good raincoats are essential, as are good hiking boots, a sturdy pack and bug spray for the notorious Namu, sandfly.
On all the Great Walks if you choose to do it independently you will need to carry your own sleeping bag, food, cooking utensils (gas hobs are provided during the Great Walk season), and clothing. Nothing beats the comradery that you find in a tramping hut. I have always experienced a culture of sharing stories, food, and space. There is always someone to help if you find yourself with a broken bootlace or a bad blister. And although there are no showers, there are a couple of lovely rivers to swim in.
Alternatively, you can take the guided option which has the advantage of carrying less, hot showers at the end of the day, home-cooked meals, and a well-stocked bar. This is certainly an attractive way to tramp the Milford Track and having done it twice I can highly recommend it.
Either way, spend a night or two in Te Anau preparing for your walk before taking one of several boat transport options to the head of Lake Te Anau. On the last day, you will be picked up by boat again and transported the short distance to Milford Sound. From there you can stay the night in Milford Sound or head back to Te Anau for another night or two of relaxation and recovery. And from there you may wish to take on the Kepler and Routeburn Tracks!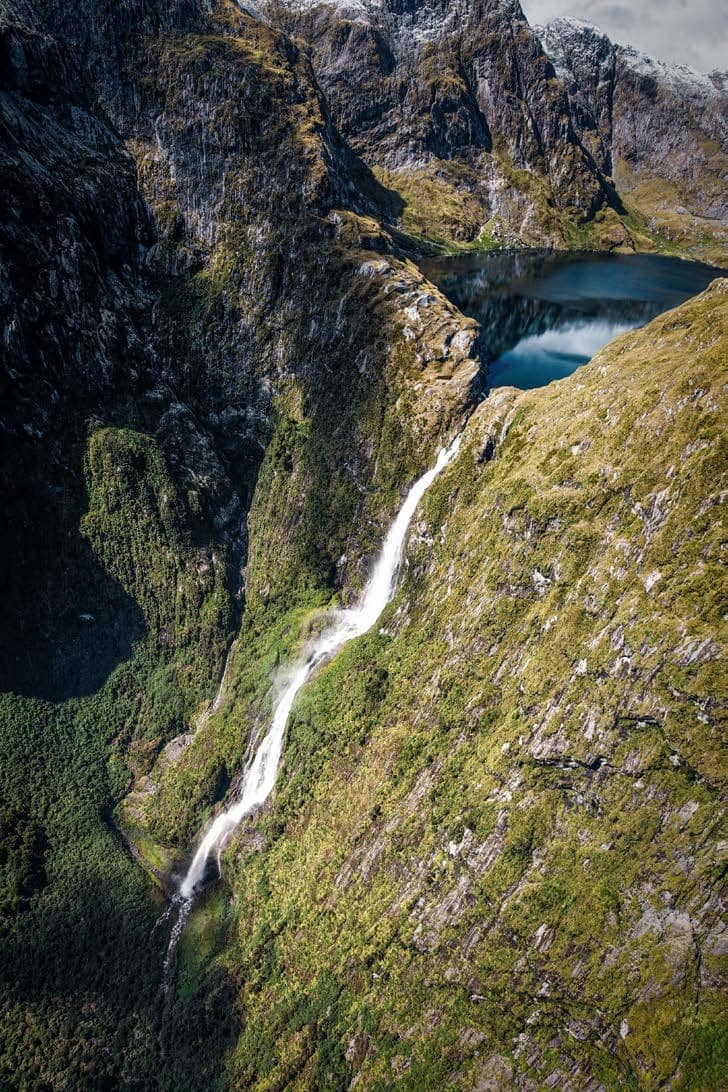 Two other good options for keen kiwi families. Both have a mix of alpine and valley walking, providing stunning mountain views as well as forest immersion.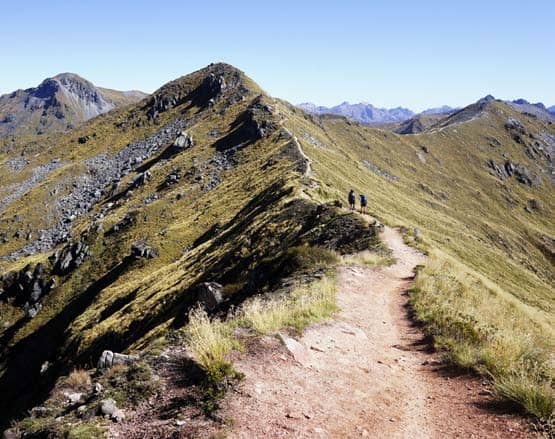 The Kepler Track
The Kepler Track is a 2-3 night independent walk. There are also two campsites on the track. To access the Kepler Track all you need to do is roll out of bed after spending a night in Te Anau, put on your pack and follow the lakeside trail. There are shuttles and water taxis that can help take some time off your walk. Views from Luxmore Hut are perhaps the best of any I have seen in New Zealand – absolutely worth getting up there even if only for a day walk. It is well worth the grunt! Speaking of grunt, the first weekend in December every year sees hundreds of people come from all over New Zealand and further afield taking part in the Kepler Challenge or Luxmore Grunt running races. And although it typically takes 3-4 days to walk, the record for running the Kepler Track in the Kepler Challenge is 4 hours 33 minutes!
Note: at the time of writing (July 2020) the Milford and Routeburn Tracks were not yet open for bookings. Both Tracks experienced significant damage in the February 2020 flooding event. It is the writer's understanding that these Tracks will be open for end-to-end walking by summer 2020 however timeframes are not yet clear. Stay updated on the DOC website.
The Routeburn Track
The Routeburn Track is much shorter than the Kepler and Milford Tracks and some keen-beans run it in a day. But it is perhaps more enjoyable taken at a walking pace. There are four huts, but it can be comfortably done in two nights. There are also campsites if you wish to tent. There is a guided option on the Routeburn Track. Logistically the Routeburn Track is a little trickier as it goes from the Divide on the Milford Road (access from Te Anau) to Routeburn Shelter (access from Glenorchy). There are companies that take the bother out of it with transport or vehicle transfers.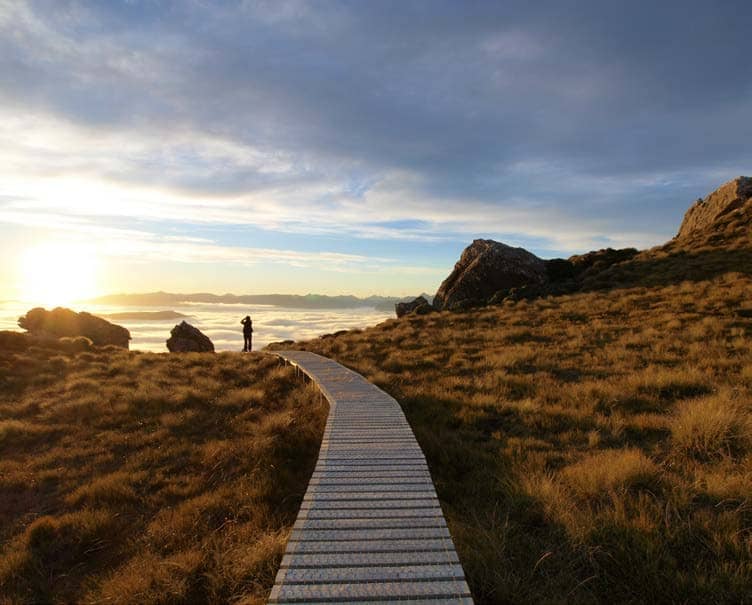 Other tramps
If you prefer to stay away from the Great Walks for a more backcountry experience the options are endless. For those interested in multi-day back-country tramping there is the Dusky Track and George Sound Track. Neither of these should be underestimated – there is a reason they are not Great Walks! They are less accessible – hence being back-country, not as well maintained and huts are not to the same standard. All of these should be a plus for the more outgoing tramper. There are no booking systems for these huts so it is first come first served and if you do not get a bed you should be prepared to camp out or sleep on the floor. Always carry a locator beacon in the back-country, it is socially unacceptable not to.
You can read up to 3 premium stories before you subscribe to Magzter GOLD
Log in, if you are already a subscriber
Get unlimited access to thousands of curated premium stories, newspapers and 5,000+ magazines
READ THE ENTIRE ISSUE
August 2020