Monster Movers
Very Interesting|September/October 2019
Think Moving House is Difficult? Take a Look at the Gargantuan Machines That Are Needed to Move Rockets, Wind Turbines, Antarctic Bases and Even Entire Buildings.
SNOW EASY TASK
HALLEY ANTARCTIC RESEARCH STATION
'Big Red' is the affectionate name for the main living area in the British Antarctic Survey's Halley Research Station. Empty, it weighs about 220 tonnes. In early 2017, when the entire station had to be moved 24km east (due to a crack in the Brunt Ice Shelf on which it sits), Big Red was one of the largest items on the shift list. Moving it required two bulldozers as well as a 'snow groomer' called a PistenBully, and took almost five hours.
A STELLAR JOB
ALMA TELESCOPE ANTENNA
Astronomers in the Atacama Desert, Chile, are observing nearby galaxies to understand how stars are formed. Their work wouldn't be possible without the help of ALMA, the Atacama Large Millimeter/Submillimeter Array, whose 66 separate antennas are spread across the Chajnantor Plateau, 5km above sea level, to form a giant telescope. The antennas don't stay put though; they're constantly being moved around – at a rate of about three a week – to bring different celestial objects into focus. In the image above, an antenna travels aboard 'Lore', one of two 20m-long transporters used to reposition the antennas – trundling along at 12km/h.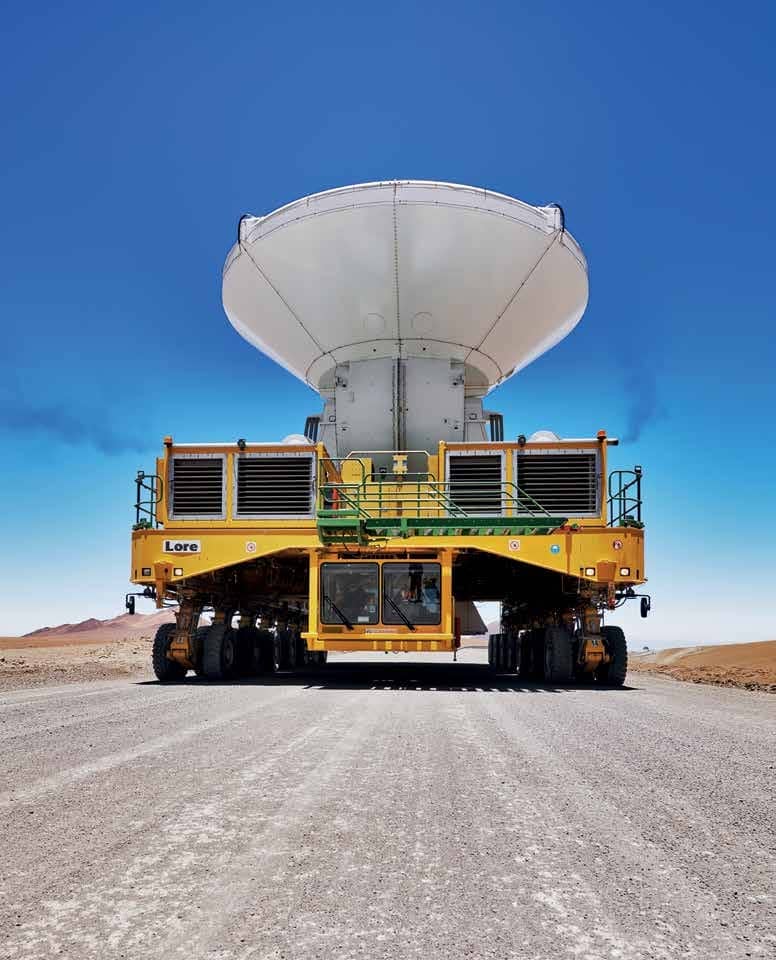 You can read up to 3 premium stories before you subscribe to Magzter GOLD
Log in, if you are already a subscriber
Get unlimited access to thousands of curated premium stories and 5,000+ magazines
READ THE ENTIRE ISSUE
September/October 2019