Mesozoic Media
Prehistoric Times|Spring 2020
Dinosaurs of Darkness: In Search of the Lost Polar World (Life of the Past) Second Edition by Thomas H. Rich and Patricia Vickers-Rich Series: Life of the Past, Paperback: 332 pages, Indiana University Press; Second edition, ISBN10: 0253047390, ISBN-13: 978-0253047397
I'll tell you one thing that early paleontologists and paleoartists were not picturing and that was dinosaurs living in snow. Dinosaurs of Darkness opens a doorway to an interesting former world, between 100 million and 120 million years ago, when Australia was far south of its present location and joined to Antarctica. Dinosaurs lived in this polar region.
How were the polar dinosaurs discovered? What do we now know about them? Thomas H. Rich and Patricia Vickers-Rich are a married couple and scientists from Melbourne Australia who have played crucial roles in their discovery. In this book they describe how they and others collected the fossils that helped explain our knowledge of this realm and how painstaking laboratory work and analyses continue to unlock the secrets of the polar dinosaurs. This scientific adventure makes for a long but interesting story. It took over seven hundred excavators almost four decades of digging to help tell this story, especially at "Dinosaur Cove." Dinosaurs of Darkness is a thorough, engrossing account of the way scientific research is conducted and how hard and rewarding it is to excavate the remarkable life of the past.
The award-winning first edition has been thoroughly updated with the latest discoveries and interpretations, along with over 100 new photographs and charts, many in color.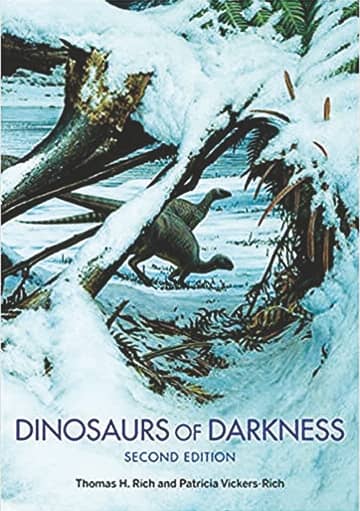 Fantastic Fossils: A Guide to Finding and Identifying Prehistoric Life by Donald R. Prothero 336 pages, Columbia University Press, 9-780231195782
Fossils fill us with a sense of wonder and possibilities. What looks at first like a simple rock is in fact a clue that reveals the great diversity of ancient life, environments, the winding pathways of evolution, and the majesty of a vanished earth. As much as one might dream of digging a hole in the backyard and finding a dinosaur skeleton, only a few places contain these buried treasures, and when a scientist comes across a remnant of prehistoric life, great care must be taken. What do budding paleontologists need to know before starting their search?
In Fantastic Fossils, Donald R. Prothero offers an accessible, entertaining, and richly illustrated guide to the paleontologist's journey. He details the best places to look for fossils, the art of how to find them, and how to classify the major types. Prothero provides expert wisdom about typical fossils that an average person can hope to collect and how to hunt fossils responsibly and ethically. He also explores the lessons that both common and rarer discoveries offer about paleontology and its history, as well as what fossils can tell us about past climates and present climate change. Illustrations by the paleoartist Mary Persis Williams bring to life hundreds of important specimens. Offering valuable lessons for armchair enthusiasts and paleontology students alike, Fantastic Fossils is an essential companion for all readers who have ever dreamed of going in search of traces of a lost world. Most pages have a b&w photo of a fossil or related subject. A full-color section is also in the middle of the book.
You can read up to 3 premium stories before you subscribe to Magzter GOLD
Log in, if you are already a subscriber
Get unlimited access to thousands of curated premium stories and 5,000+ magazines
READ THE ENTIRE ISSUE
Spring 2020