Fake-Fossil News!
Prehistoric Times|Spring 2020
Often the authenticity of fossils becomes questioned. Is the specimen genuine and is the narrative concerning it to be believed?
Yet, don't we yearn to suspend disbelief—despite our intellect—such that even most curious stories prompted by circumstances of the 'primeval' will fascinate, bewilder and charm? Those outrageous claims and yarns about fossils—both real and imagined—are difficult to pull away from sometimes, whether they tell of the extinct … or living variety. Intriguing, no? Accordingly, I proffer two general examples, of contrasting nature, in which fossil foolery was afoot. Here I speak of two very dusty places—Mars and the Old West.
I've dabbled in writing a fossil fooler or two myself—yeah, some real knee-slappers! (1) But I've moved on from there. It was nearly a quarter of a century ago when NASA scientists dramatically reported discovery of 'genuine' Martian fossils, biogeochemical traces of alien biota detected in a meteorite collected on Antarctica. For those of us who truly wished to believe, this was headlining stuff delivered authoritatively by (& pardon me for using a Ghostbusters reference here)—'Back off, Man!'— scientists. Probably most readers have since forgotten the incident. Regardless, was this merely another case of fake-fossil news?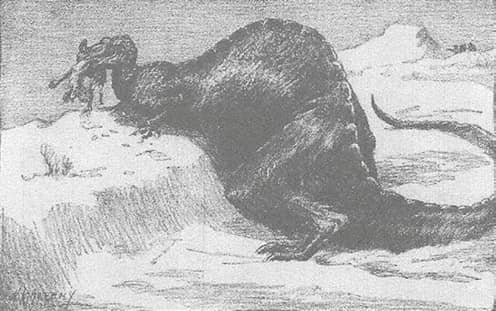 In 1999, UCLA paleontologist J. William Schopf, a noted expert on the nature of Earth's most ancient microfossils, noted (2) that on the strength of headlines regarding Martian 'fossils,' "… initially … most Americans (more than 60% by one poll) agree that 'NASA has proved primitive life was present on Mars'." How did this happen in the face of facts suggesting otherwise? The possibility/plausibility of discovering evidence of life on our sister planet Mars has remained at the forefront of popular sci-fi consciousness since the late 19th century. Billions of years ago there may have been oceans on Mars. And where water exists, as the saying goes, so may living things. However, Schopf, echoing Carl Sagan's adage that "extraordinary claims require extraordinary evidence," expressed skepticism on the matter of Martian fossils even while NASA, bolstered with President Clinton's remarks, staged a news conference "feeding frenzy" in August 1996. So what was this touted evidence, presented in a number of refereed Science articles, and how did a presumably Martian meteorite arrive on Earth?
You can read up to 3 premium stories before you subscribe to Magzter GOLD
Log in, if you are already a subscriber
Get unlimited access to thousands of curated premium stories and 5,000+ magazines
READ THE ENTIRE ISSUE
Spring 2020