Dinosaur Collector News
Prehistoric Times
|
Summer 2020 #134
In the Cambrian, the arthropods and their allies look like the big winners. The moulesca are important but have not dominated their brachiopod rivals and vertebrates are sparse. Arthropods are invertebrates with an exoskeleton, a segmented body, and paired jointed appendages. They include insects, arachnids, myriapods, crustaceans, and several extinct groups.
Notably, there were large stem-group arthropods. They include Anomalocaris, the best candidate for an apex predator, and Laggania, a filter feeder. The real anthropoid stars are the Trilobites. They are diverse and vigorous until the Carboniferous and become extinct at the end of the Permian. Today, arthropods are the most numerous animals on land and in the seas.
Trilobite toys are rare to uncommon, and other extinct arthropod forms are rare. For 2020 CollectA has produced Redlichia rex, one of the larger trilobites from the Cambrian. It is similar in size to the out-of-production Bullyland and Safari ltd figures. All three are brown, with the CollectA figure distinguished by the detailing of the legs and the defensive spikes on the back. It has the standard shape for a trilobite, with three distinctive sections: the head, thorax, and tail. The large size allows the eyes and torso to be detailed.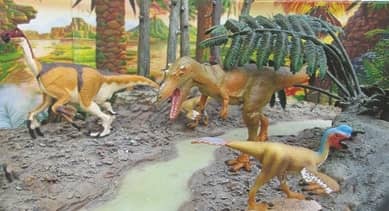 The Kinto Favorite series has several ancient arthropods. The "Cambrian creatures" mini models have a Canadaspis, Marella and the trilobite Olenoides. It includes two small Anomalocaris. Canadaspis is an early Crustacean. Marella, the lace crab, is a unique arthropod-like organism found in the Burgess Shale from a group that is now extinct. The Favorite Prehistoric series has a large Anomalocaris with a stand. The Royal Ontario Museum Primeval Predators kit has the trilobite Olenoides and Laggania. The Safari ltd Cambrian toob has a small Olenoides, plus other fauna in a smaller scale. You have to collect with effort, but arthropods are out there, and the new CollectA releases should help start a renewal of interest.
You can read up to 3 premium stories before you subscribe to Magzter GOLD
Log in, if you are already a subscriber
Get unlimited access to thousands of curated premium stories, newspapers and 5,000+ magazines
READ THE ENTIRE ISSUE
Summer 2020 #134