The Incredible! Shrinking! Airplane!
Popular Science
|
Fall 2018
Jets are getting bigger, yet, inch by inch, our personal space dwindles. How the %*#+ does that work?
The flight was typical: It was full, getting to my seat took forever, and, once I did, the overhead-bin space had run out. So I shoved my backpack under the seat in front of me, where my feet should have gone. I was in the middle—row 31, seat E, American Airlines flight 2070, Phoenix to San Francisco. My neighbors had claimed the armrests, so I had to wedge myself in place, elbows pinched against my ribs or folded toward my lap. I'd be uncomfortable for the duration of the one-hour-and50-minute flight. As I said: typical.
While I origamied my fairly average 5-foot11, 172-pound frame into position, I realized I needed something from my bag. I leaned forward and hit my head on the seat in front of me. OK, going straight in wasn't an option; I'd have to veer out of my allotted space.
To my left sat a girthy man, his aisle-side arm resting upon his prodigious belly, the other spilling over the armrest and nearly into my lap. To my right, by the window, was a short but still quite stocky fellow; he wore large headphones, the bill of his ball cap tilted low.
I began moving, very slightly, this way and that, in a manner not unlike someone parallel parking a semi. I tilted my torso down into the space near the shorter man's legs and turned to face the aisle-side girthy man, my nose suddenly an inch from his arm. He recoiled. I apologized, and gestured toward my backpack.
As I carefully dug around by my feet, a toddler wailed, and I thought, That is the sound we are all making on the inside. Our bodies want to move, and airplanes try to keep us still. We spill into each other's spaces, banging elbows and heads as we do what we're built to do.
The toddler was still screaming when I felt the heavy metal square I was looking for: a tape measure. I sat up and began my assessments. Between the seat in front of me and my knees: less than 5 inches. Across my lap, from one armrest to the other: 17.3 inches. My aisle-side-companion raised his eyebrows but said nothing. I tried to gauge how wide a berth my elbows needed, and bumped the window-side guy. He grunted and sighed. Somewhere between 19 and 20 inches.
The ironic thing about the compressed state of air travel today is that planes are getting larger. The jet I was on, an Airbus A321, stretches nearly 23 feet longer than its predecessor, the A320. More space, more passengers, more profit. These bigger planes are increasingly the most common variants—both on American Airlines and across all carriers. The current Boeing 737s, the world's most flown craft, are all longer than the original by up to 45 feet. And yet, on the inside, we're getting squeezed.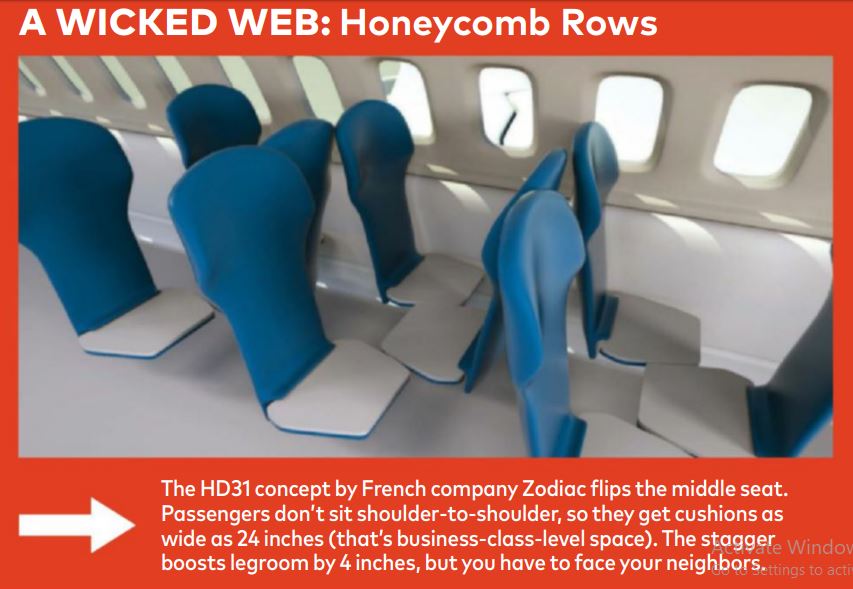 That's because more space doesn't equal more space in Airline World. It equals more seats—and typically less room per person. In 2017, for example, word leaked that American was planning to add six economy spots to its A320s, nine to its A321s, and 12 (that's two rows) to its Boeing 737-800s. JetBlue is reportedly ramming 12 extras into its A320s, and Delta's will gain 10. And, come 2020, you'll likely find more seats on every United plane.
In Airline World, they call this densification, which is a silly word. Passengers call it arrrgh!
Consumer Reports recently polled 55,000 of its members about air travel. There were complaints about all aspects, from ticketing to agents checking carry-ons at the gate. But 30 percent of coach-class fliers rated their seats as outright uncomfortable, and every airline received extremely low scores on legroom and cushiness in economy. Clearly, things are dismal and seem to be getting even worse.
They're so bad, in fact, that last year, nonprofit consumer-advocacy group Flyers Rights.org filed a suit against the Federal Aviation Administration, after lobbying the agency to stop the squeeze and standardize seat sizes. Lawyers argued that the cramped quarters are dangerous, and, as they continue to shrink, are only getting more so. For Americans—who weigh about 15 pounds more than they did 20 years ago—the chairs can be harder to escape in an emergency. And wedging in and staying stationary for long flights can cause circulation problems. Last July, the U.S. Court of Appeals in Washington, D.C., ruled in favor of FlyersRights.org, ordering the FAA to review passenger quarters. Judge Patricia Ann Millett dubbed it "The Case of the Incredible Shrinking Airline Seat." The FAA has yet to propose a path forward.
You can read up to 3 premium stories before you subscribe to Magzter GOLD
Log in, if you are already a subscriber
Get unlimited access to thousands of curated premium stories, newspapers and 5,000+ magazines
READ THE ENTIRE ISSUE
Fall 2018