The Future-Proofing Engine
Popular Science|May - June 2017
Oil won't last forever, and Dubai's government knows it. To stay prosperous, the city-state bets big on science and technology.
I. After Oil
Dubai drops away behind us, its comic-book skyline replaced by khaki sand dunes and the occasional wild camel. The first sign of the technological ambition we are about to see is a billboard: a 20-foot-tall portrait of Dubai's ruler, His Highness Sheikh Mohammed bin Rashid Al Maktoum, rendered in a mosaic of solar panels.
At a cluster of buildings about a half hour south of the city, a guard slides open a high steel gate for our white SUV, with Alhaz Rashid Khokhar at the wheel. A project manager for the Dubai Electricity and Water Authority, Khokhar has, for the past several months, been working toward the opening here of a 200-megawatt expansion of the Mohammed bin Rashid Al Maktoum Solar Park. The dark panels stretch across the desert for more than 2 miles, a distance so far beyond the vanishing point that standing at one corner is like looking through a double mirror. The largest operating solar plant in the United States is just over 550 megawatts, but Dubai grows by exponents. This 200-megawatt section will soon be a smudge on the map beside an additional 5,000 megawatts planned to come online over the next 13 years—a $14 billion investment targeted to meet 25 percent of Dubai's electricity needs. It is only one piece of a technological jigsaw puzzle that, once assembled, is intended to reinvent Dubai's role in the world.
For more than a decade, this city-state's story has been all about superlatives: the world's tallest building, the biggest fireworks display, the busiest international airport. But a new ethos has taken hold, a broad and purposeful strategy to swap profligacy for ingenuity. Unlike some countries, Dubai believes the planet is warming—and is determined to use science and technology not only to adapt to a new era of extremes, but also to make that adaptation the basis of its economy. Dubai wants to be known more as a laboratory for world-saving technology than for the man-made beaches, indoor ski slopes, and vast air-conditioned malls that defined its recent past. Its plan would seem hard to believe if the contemporary reality of Dubai itself weren't already so improbable. Dubai's transformation from a blip on the map to a global hub was a neat trick. But can it pull it off again?
Khokhar moved here with his family nearly five years ago, after turning down a job at home in India working for an international consulting company. In doing so, he became a leading indicator of Dubai's aspirations. Khokhar's not a laborer from the subcontinent, living in an un-air- conditioned work camp and toiling manually in the heat—the notorious scenario that blemished Dubai's recent rise. He ranks among the region's best minds, and was attracted by the pay and lifestyle, as if Dubai were New York or London. "Here we have plans," Khokhar says about the solar park, but he just as easily could be talking about his family and Dubai itself.
He and his peers believe they are building a better future, the outlines of which are all around us. Inside the park's R&D facility—a small concrete slab building with big solar wings on the roof—researchers are working to improve the performance of photovoltaic modules in the parched, dusty environment. "You can easily lose 30 to 70 percent of the power from dust," explains Jim Joseph John, an Indian engineer who recently relocated here from Phoenix, Arizona, where he'd finished up some research for his Ph.D. On an adjacent patch of sand, three visiting technicians fiddle with a sophisticated weather station, their tools spilling out of their rental car's trunk. Behind another fence is a photovoltaic reverse-osmosis system, which transforms brackish groundwater into drinking water. Across a construction laneway, two steel towers a couple of stories tall poke at the sky like half-erected cranes. Technicians are preparing to install 3-D printers on them, which will extrude—in a matter of weeks—a whole building intended to house (naturally) a drone lab. The laneway itself will then be ripped up, its brick pavers replaced with solar panels and a system to wirelessly recharge electric cars as they drive along. For the moment, a run-of-the-mill plug energizes a white subcompact with a Dubai Electricity decal.
"You're going to be surprised," John says. "The whole place is going to change."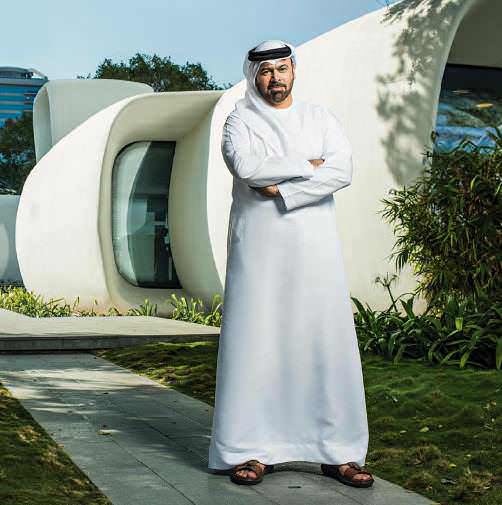 II. Minister of the Future
"We decided that we will go to the future—we will embrace the future without worry," says Mohammad Al Gergawi, the architect of Dubai's vision for the next half-century. He sits in the center seat of a vast table in the lush boardroom of one of the city's newest hotels. A waiter comes with a three-tiered curate stand piled with dates and nuts, his hand trembling with anxiety as he places it in front of Al Gergawi—one of the most powerful men in Dubai and close adviser to Sheikh Mohammed, the city-state's hereditary monarch and prime minister of the United Arab Emirates, the federation of which Dubai is a part.
"We believe that we in the UAE and in Dubai have a mission," Al Gergawi continues. "This region needs a puller from its misery. There is tremendous conflict. There is a lot of hatred, sectarian war, religious war, ethnic cleanses, refugees. We see the story. Then you come to Dubai."
The city appears a postcard for prosperity, youthful diversity, and cosmopolitanism. Taxi drivers skydive on their days off, and the fanciest hotels fill up with civil servants and white-collar professionals on special occasion dates—alongside Russian oligarchs and Indian industrialists who arrive in 20-foot-long Rolls-Royces. The malls and streets are busy with people of all skin colors and ethnicities, in all kinds of national dress. The sense of mutual tolerance is palpable, sometimes joyful.
Sitting beside Al Gergawi are two 20-something advisers. The three of them are dressed in the kandura, the Emirati version of the flowing gown that's an icon of the Arab world. In golden cream, gray, or blue, perfectly pressed and fitted, with a sleek collar and a tassel at the neck like a bolo tie, they wear them like power suits, the costume of Emirati privilege. Al Gergawi accessorizes his with black titanium-rimmed eyeglasses and blue mesh Skechers, like an Arab Steve Jobs. This might not be an accident.
Early last year, in a move that didn't go as viral as footage of Dubai firefighters on jetpacks or a tennis match on a helipad, Sheikh Mohammed reshuffled his cabinet. He created new positions for a Minister of Climate Change and Environment, a Minister of State for Happiness, and a Minister of State for Youth Affairs (a 22-year-old). Al Gergawi—already Minister of Cabinet Affairs, got a new appendage to his title: and the Future. This was a declaration of purpose. For the past 13 years, among other roles, he served as chairman of Dubai Holding, a state-owned investment vehicle, where he assembled a diverse empire of hotel, real estate, and telecommunications businesses. Now he would shift full time to planning the future of Dubai. "Today I'm excited, actually," he says, in a guru-like cadence. "I'm very excited. I'm excited because I know we'll have a beautiful journey to the future. I can see it. I can feel it."
You can read up to 3 premium stories before you subscribe to Magzter GOLD
Log in, if you are already a subscriber
Get unlimited access to thousands of curated premium stories and 5,000+ magazines
READ THE ENTIRE ISSUE
May - June 2017