Kandy-Kolored, Streamlined, and Definitely Around The Bend
Popular Science
|
Summer 2020
Pinewood Derby Racing and the dads who just can't get enough
By Andrew Zaleski. Photographs by Heami Lee
It was the first Saturday of December 2018—tournament day—and he thought the cars he'd built could outperform anyone's. They were compact. Sleek. Speedy. He watched anxiously as his pinewood derby racers took their spots at the top of a long, sloping aluminum track. When each heat began, they whizzed down the gleaming course. In the other lanes, the competition hopelessly gave chase. Inman's entries finished at the front of the pack in two key rounds, and a thought slunk into his mind: He might just be the champion.
Then officials brought out the scales. Pinewood derby competitions are organized by class, like in boxing, and each has different rules. The categories Inman had won require that each wheel weigh a certain number of grams—because the lighter the disk, the faster the car. Break the rules, and you're disqualified.
A referee carefully plucked one from each winner. Both registered two-hundredths of a gram too light. Inman was out.
"I was sick to my stomach," he says. "The experience wasn't just heartbreaking— it was embarrassing." He'd have to wait 12 months for another shot at becoming a national pinewood champion.
Anyone who was a Boy Scout probably knows what a derby car is. Most likely your parents helped you fashion blocks of pine or balsa into a light, four-wheeled racer, usually about the width and length of an iPhone. You made them to win merit badges. For many, the experience is merely a cherished childhood memory.
But some adults never outgrow their derby days. These fathers are überobsessed, similar to the guys who gush over model trains or miniature rockets. Inman, a 62-year-old U.S. Navy vet, is one of about 40 competitors in the National Pinewood Derby Racing League. Founded in 2008, it's one of the longest-running such circuits in America, where about 10 pro leagues operate today. Having assembled the racers as kids and guided their own children through the sport, these grown men now want to earn their own bragging rights.
We're talking middle-aged dudes with serious big dad energy who go to great lengths to craft the perfect car—forget prefab kits. Bandsaws shave the frame components down to a quarter of an inch wide; precision lathes trim acrylic wheels; syringes grease nail axles with synthetic oil. All to cross a tiny checkered line just one ten-thousandth of a second quicker. "We're all geeks, you know," Inman says.
Every year, it all comes down to the Man of the Mountain race in December— basically the league's Super Bowl. Besides the title, almost $2,000 in cash is up for grabs. As Inman learned, though, it's not just about who finishes first.
Inman's dedication presents itself as soon as you near his home in southern Maryland. His pickup and his wife's sedan jockey for space on a sliver of driveway, the garage long ago ceded as a private workshop. Inman calls it his man cave. Instead of a big-screen TV, he has a long workbench loaded with wheels, screwdrivers, scales, and a magnifying lamp. Instead of pleather recliners, drill presses and a miter saw.
Clean-shaven and with closely cropped hair, Inman is nothing if not deliberate—a holdover from his 28 years in the navy. A stack of more than a dozen yellow legal pads, filled with handwritten performance notes on 50 cars, sits on one shelf. He even insulated the garage door to keep the cold winter air from chilling him during the hours he spends tucked into the workbench.
In 1963 Inman's dad took him to his first pinewood derby event. "I couldn't wait for my own kids to get of age," he says. In 1999 he got his chance: His three sons participated in a local league run by Awana, an organization of evangelical Christians that, like the Boy Scouts, hosts races.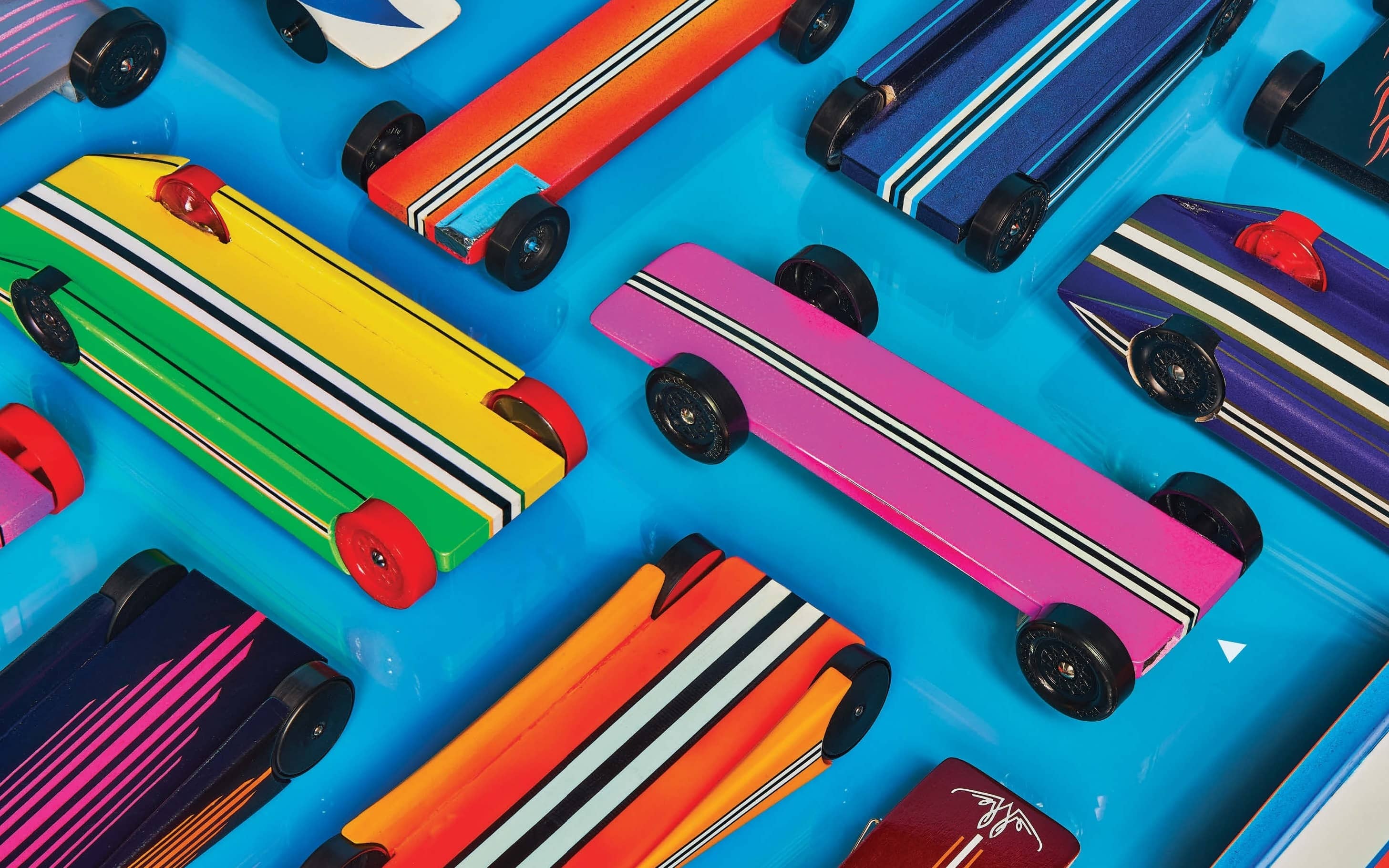 Starting that year, Inman became a local legend. After a meet, he went up to a mom whose son's car didn't even make it across the finish line and offered to help out. Word of his acumen spread, and soon kids filled his garage for several months every year. He once hosted 17 boys from a local Scout troop; their cars wound up placing first through 17th in a field of 67.
"It got to a point where it was expected," Inman says: "You go to Dan's workshop, you'll have a winning car." He also competed in occasional adult races staged during the kids' competitions. Soon he found himself dominating those events too.
You can read up to 3 premium stories before you subscribe to Magzter GOLD
Log in, if you are already a subscriber
Get unlimited access to thousands of curated premium stories, newspapers and 5,000+ magazines
READ THE ENTIRE ISSUE
Summer 2020