Get Dirty, Stay Healthy
Popular Science
|
August 2015
We live in fear of the microbes that inhabit our homes and buildings. But our health may depend on preserving theirs
SOMEONE ONCE TOLD ME THAT A PRAYING MANTIS IN YOUR HOME BRINGS LUCK AND GOOD HEALTH. As for the one sitting on my kitchen countertop in Oakland, California, well, Jonathan Eisen certainly likes it. "That's cool," says the University of California at Davis microbiologist, lifting the tiny aluminum toy—with huge eyes and delicate clawlike front legs—off the cold marble. He sets it down only when something even smaller, a fruit fly, buzzes past. "Look," he says admiringly, head cocked to my ceiling, "you have drosophilia."
Eisen is a tall guy in his 40s with a mountain-man beard, and he has shown up at my home wearing a T-shirt with sparkly-pink block lettering that reads: "Ask me about fecal transplants." He's a firm believer that human health depends on bugs—not the six-legged variety, but the microbes that populate our guts and the environments in which we live, work, and play. Eisen explains that every time I open my door, a blast of air that has woven through the surrounding tree canopy carries microbes into my house—as do Amazon packages, pets, and muddy feet.
He's musing about my oak trees when the forced-air heating clicks on. The furrows in his brow deepen. Hot, dry air shooting through a sealed house kills germs, he tells me. In fact, my whole house makes him deeply uncomfortable. It was extensively remodeled this past summer with antimicrobial fixtures, floors, and walls—now standard in many renovations. Eisen compares this practice to the overuse of antibiotics in medicine: Wipe out the natural balance of good bugs, and you might not like the organisms that survive.
A mounting body of research has shown the importance of the microbes that live inside us, and scientists have been slowly cataloguing species that live outside in nature. But little is known about the microbial ecosystem that surrounds us indoors, where we spend about 90 percent of our time. Recently a group of scientists, loosely connected through the Microbiology of the Built Environment Network that Eisen founded, has begun to probe it. The White House Office of Science and Technology Policy is looking into forming a national initiative to spur further research. Once we know what organisms we live with, we can begin to determine how we rely on them—and then we can tackle this question: To what extent do we need to stop protecting people from germs and instead protect germs from people?
I lead Eisen up a stairwell slathered in antimicrobial paint, and into a study with carpet treated with stain and odor guard. "You know that's bad, right?" he asks. Then we pop into the bathroom. Eisen stares intensely at the tankless toilet. It appears to levitate off the floor like an antimicrobial spaceship. When I ask if he wants to step outside for fresh air, he looks relieved.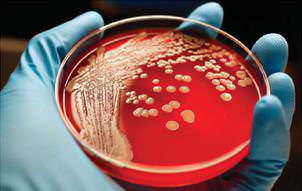 "Drugs designed to wipe out microbes have instead created superbugs, such as methicil l in-resistant Staphylococcus aureus (MRSA), found in hospitals ."
CHARLES DARWIN, in On the Origin of Species, charts evolution through the Tree of Life. Its branches and roots lift some species toward fecundity while knocking others down to extinction. But Darwin's tree didn't include microbes, perhaps the most successful life-forms of all. They make up roughly 60 percent of Earth's biomass. There are more microbes in a teaspoon of soil than there are humans in the world.
By some measures, even we are more microbe than mammal. The trillions of microorganisms we harbor in our bodies, collectively known as our microbiome, outnumber human cells 10-to-1. Altogether, they weigh up to twice as much as the human brain, existing as a sort of sixth human superorgan whose function is linked to digesting our meals, preventing infection, and possibly even influencing our emotions and moods. Studies that describe new and essential roles for our microbiome are published almost daily. The reason for its breath-taking range is simple: Our germs have evolved with us.
Microbes appear to have prospered by making themselves incredibly useful, and we've gladly given up space in exchange for the vitamins, digestive enzymes, and metabolites they provide. And so the discovery that the urban gut harbors up to 40 percent less microbial diversity than that of indigenous people living in a remote jungle concerns scientists. These "missing microbes," they say, may have been decimated by several decades of industrialized foods, which limited our diets, and antibiotic use, which extended our lives at the expense of theirs.
Eisen offers another explanation for why our internal real estate might be in subprime condition: The microbiome within us depends upon the microbiome that surrounds us. "Have you seen germ-free mice?" he asks me. "They are seriously messed-up animals." Delivered by cesarean section and raised in sterile chambers, these rodents have inflamed lungs and colons, like those seen in asthma and colitis. They're also prone to haywire immunity and weird social tics.
Until relatively recently, sterile chambers weren't our environments either. "We didn't evolve in closed rooms," says Maria Gloria Dominguez-Bello, a microbiologist at New York University who led the indigenous microbiome study. "We evolved in nature." Big families lived together on farms and in tenements, not exactly temples of hygiene. Livestock loped in the streets. Infectious disease rippled through cities. Roofs leaked. Sewers overflowed. Windows opened. But with modernization, we sealed ourselves away. In other words, we parted ways with the microbes that evolved with us. By redesigning our buildings, we redesigned ourselves.
You can read up to 3 premium stories before you subscribe to Magzter GOLD
Log in, if you are already a subscriber
Get unlimited access to thousands of curated premium stories, newspapers and 5,000+ magazines
READ THE ENTIRE ISSUE
August 2015