Why Satellite Internet Is The New Space Race
PC Magazine
|
September 2018
There's a theory (or perhaps a cautionary tale) among astronomers called the Kessler Syndrome, named for the NASA astrophysicist who proposed it in 1978. In this scenario, an orbiting satellite or some other piece of material accidentally strikes another and breaks into pieces.
These pieces whirl around the Earth at tens of thousands of miles per hour, destroying everything in their path, including other satellites. It starts a catastrophic chain reaction that ends in a cloud of millions of pieces of nonfunctional space debris that orbits the planet indefinitely.
Such an event could make an orbital plane functionally useless, destroying any new satellites sent into it and possibly preventing access to other orbits and even all of space.
So when SpaceX filed a request with the FCC to send 4,425 satellites into lowEarth orbit (LEO) to provide a global high-speed internet network, the FCC was reasonably concerned. For more than a year, the company responded to questions from the commission and petitions by competitors to deny the application, including filing an "orbital debris mitigation plan" to allay fears of Kesslerian apocalypse. On March 28, the FCC granted SpaceX's application.
Space junk is not the only thing the FCC is concerned about—and SpaceX isn't the only entity trying to build the next generation of satellite constellations. A handful of companies, both new and old, are leveraging new technology, developing new business plans, and petitioning the FCC for access to the parts of the communications spectrum they need to blanket the Earth in fast, reliable internet connectivity.
Big names are involved—from Richard Branson to Elon Musk—along with big money. Branson's OneWeb has raised $1.7 billion so far, and SpaceX president and COO Gwynne Shotwell estimated a $10 billion price tag for that company's project.
There are big challenges, of course, and a history not exactly favorable to these efforts. Good guys are trying to bridge the digital divide in under served regions even as bad actors slip illegal satellites onto rocket ride shares. And it's all happening as (or really, because) demand for data has skyrocketed: In 2016, global internet traffic exceeded 1 sextillion bytes, according to Cisco, kicking off the zettabyte era.
If the goal is to provide (good) internet access where previously there was none, satellites are a reasonable way to achieve it. In fact, companies have been doing this for decades via large geostationary (GSO) satellites that sit in a very high orbit, fixed above a certain point on the Earth. But aside from a few niche applications, including cargo tracking and providing internet to military bases, this kind of satellite connectivity has not been fast, reliable, or responsive enough to be competitive with modern fiber or cable-based internet.
Non-GSOs include MEOs, which operate in medium Earth orbit from 1,200 to 22,000 miles above the Earth's surface, and LEOs (up to about 1,200 miles). If LEOs aren't all the rage today, at least they're most of it.
Meanwhile, regulations for non-geostationary satellites are decades old and split between agencies within and beyond the US: NASA, the FCC, DOD, FAA, and even the UN's International Telecommunication Union all have skin in this game.
There are some big advantages on the technological side, though. The cost to build a satellite has fallen as gyroscope and battery improvements have trickled down from cell phone guts. Launching them has gotten cheaper, too, thanks in part to the smaller size of the satellites themselves. Capacity has risen, inter satellite communication has made systems faster, and large dishes pointing at the sky are on their way out.
SPACEX STARLINK
On the back of this tech, 11 companies filed applications in the same FCC "processing round" as SpaceX did, each tackling the problem a bit differently.
Elon Musk announced the SpaceX Star link program in 2015 and opened a Seattle-based division of the company. He told employees there, "We want to revolutionize the satellite side of things, just as we've done with the rocket side of things."
In 2016, the company filed the FCC application, which called for 1,600 (later reduced to 800) satellites to go up between now and 2021, followed by the rest before 2024. These will fly between 1,110km and 1,325km above the ground, circling the Earth in 83 distinct orbital planes. The constellation, as a group of satellites is called, will communicate with one another via on board optical (laser) interlinks, so that data can be bounced along the sky rather than returning to the ground—tracing a long bridge rather than an upside-down V.
On the ground, customers will mount a new sort of terminal with electronically steered antennas that automatically connect to whichever satellite is currently offering the best signal—similar to the way a cell phone picks towers. Because LEO satellites move relative to the Earth, the system will switch between them every 10 minutes or so. And because thousands will be up there, at least 20 will always be available to choose from, according to Patricia Cooper, VP of Satellite Government Affairs for SpaceX.
The ground unit should be cheaper and easier to mount than traditional satellite dishes, which have to be positioned physically to point at the part of the sky where the corresponding GSO satellite lives. SpaceX described the terminal as the size of a pizza box (though it did not note what size pizza).
The communication will happen within two frequency bands: Ka and Ku. Both appear on the radio spectrum, though at much higher frequencies than anything you'd hear on your stereo. Ka-band is the higher of the two, with frequencies between 26.5GHz and 40GHz, while Ku-band inhabits frequencies from 12GHz to 18GHz. (Star link has FCC permission to use particular frequencies; typically, up link from terminal to satellite will be at 14GHz to 14.5 GHz and down link from 10.7GHz to 12.7GHz, and the others will be used for telemetry, tracking, and control, as well as to connect the satellites to the internet's terrestrial origin.)
Beyond the FCC filings, SpaceX keeps pretty quiet about its plans. And it's hard to tease out technical details, because SpaceX is vertically integrated from the components that go on the satellites to the rockets that get them into the sky. But for the project to be a success, it will depend on whether the service can, as claimed, offer speeds comparable to or better than fiber at a similar price point, along with a reliable experience and a good user interface.
In February, SpaceX launched its first two prototype Star link satellites. Shaped like cylinders with solar panels for wings, Tintin A and B are roughly a meter per side, and Musk confirmed via Twitter that they were successfully communicating. If the prototypes continue to function, they will be joined in 2019 by hundreds of others. Once the system is operational, the SpaceX will replace decommissioned satellites (and mitigate space debris) on a rolling basis by instructing them to lower their orbits, whereupon they'll fall toward Earth and burn up on reentry.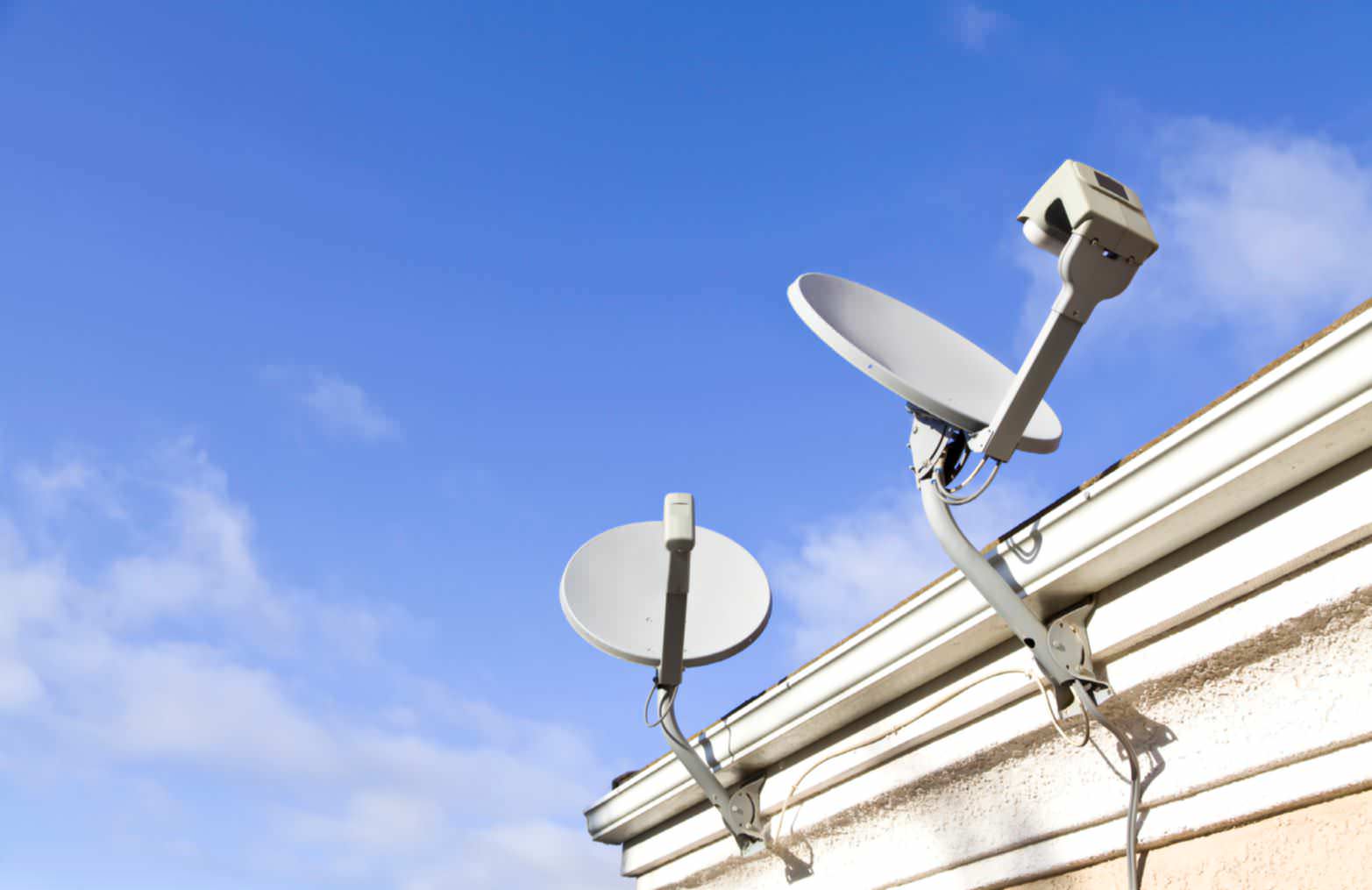 THE WAYBACK (CIRCA 1996)
Back in the 80s, Hughes Net was the satellite technology innovator. You know the platter-size gray dishes DirecTV mounts on the outside of houses? Those came from Hughes Net, which itself came, circuitously, from aviation pioneer Howard Hughes. "We invented the technology that allows us to provide interactive communications via satellite," says EVP Mike Cook.
In those days, then-named Hughes Network Systems owned DirecTV and operated large geostationary satellites that beamed information down to televisions. Then and now, the company also offered services to businesses, like credit card transactions on gas pumps. Its first commercial customer was Walmart, which wanted to link employees across the country and to its home office in Bentonville.
You can read up to 3 premium stories before you subscribe to Magzter GOLD
Log in, if you are already a subscriber
Get unlimited access to thousands of curated premium stories, newspapers and 5,000+ magazines
READ THE ENTIRE ISSUE
September 2018