Nikon Z6: A Strong Debut
PC Magazine|April 2020
Nikon is tipping its full-frame mirrorless camera system with two bodies and a trio of lenses.
The Z6 is the 24MP option, with 12fps burst shooting speed and a noticeably lower price tag than its twin, the 45.7MP Z7 ($3,399.95). Its mirrorless design puts focus right on the sensor, so it offers a significantly wider area of focus coverage than an SLR. And while native lenses are a little scarce, an adapter adds compatibility with Nikkor SLR lenses. The Z6 is a strong option for any photographer shopping for a full-frame camera, though we give preference to our Editors' Choice, the Sony a7 III, a third-generation design that's a bit more refined and has a larger lens library backing it.
TWIN BODIES, DIFFERENT CAPABILITIES
Nikon opted to use identical body designs for the Z6 and Z7—the same approach Sony uses with its similar pair of cameras, the 24MP a7 III and 42MP a7R III. It's a plus for photographers who may utilize both a Z6 and a Z7, as buttons, controls, and the like will be in the same place regardless of which camera you pick up.
The body measures 4.0 by 5.3 by 2.7 inches (HWD) and weighs 1.3 pounds loaded with a battery and XQD memory card. It is protected from dust and splashes, features a five-axis in-body image stabilization (IBIS) system, and, perhaps most important, looks and feels like a Nikon, down to the narrow red stripe that accents the grip. From the outside, the only difference between it and the Z7 is the model badge.
Nikon states that the Z6 is built to the same standard as the Z7, and it certainly feels like that's the case. Roger Cicalia at Lensrentals took a Z7 apart and found it to be one of the best-sealed cameras he's seen, and he takes a lot of cameras apart for repair as part of his rental business. Lensrentals hasn't yet taken a Z6 apart to confirm that its internals are as robust.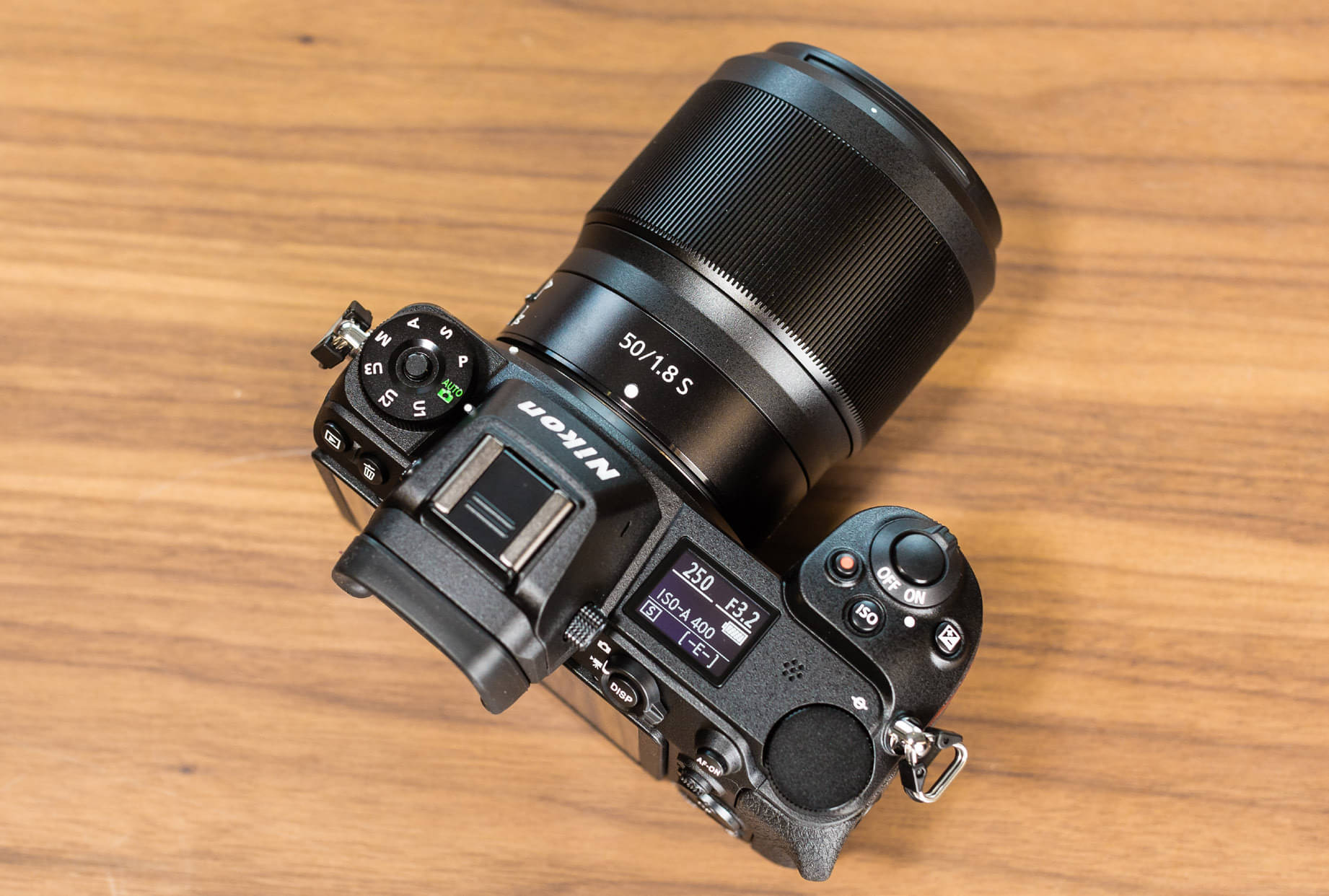 INTERFACE AND CONTROLS
The Z6 is a little bit smaller and lighter than your typical SLR, and though its controls stray a bit from what Nikon has done in the past, handling is excellent. The handgrip is deeper than those of many mirrorless cameras, which gives it better fit in the hand, especially important when using longer, heavier telephoto glass.
Nikon Z6
PROS
24MP full-frame sensor. 90 percent autofocus coverage. 12fps Raw continuous shooting. In-body image stabilization. Tilting touch LCD. Big, sharp EVF. Compatible with Nikon SLR accessories. 4K video. Dust and splash resistant. Bluetooth and Wi-Fi.
CONS
Baked-in Raw adjustments. Oversensitive lens control ring function. Single memory card slot. No PC Sync socket.
BOTTOM LINE
The Nikon Z6 is the company's highspeed, full-frame camera with a 24MP sensor and a class-leading 12fps burst rate. It's a strong debut thanks to excellent ergonomics, in-body stabilization, and 4K video.
Two programmable buttons are on the front, positioned between the grip and lens mount. I like to use one to adjust focus settings—it works in conjunction with control dials to change between single and continuous tracking modes or to change the active focus area. There are many other functions to choose from, including esoteric but useful options such as Highlight Weighted Metering, which prevents highlights from being blown out—handy when you're working in mixed lighting.
The Mode dial is up top, to the left of the raised hump that houses the EVF. The dial locks in place; you have to hold down the center post while turning it. I personally prefer post locks that can be toggled with a press, but I'd rather have a lock than not.
The hot shoe is centered behind the lens mount, on top of the raised EVF. The Z6 works with all of the same Speedlight flashes used by its SLR family, but the camera doesn't have a built-in flash. It does have an OLED information panel to the right of the EVF; it shows exposure settings, battery life, and memory card capacity in cool blue type.
There are two control dials—one flat at the rear of the top plate, the other integrated into the handgrip, just below the shutter release. The On/Off switch surrounds the shutter release and is flanked by Record, ISO, and EV buttons.
Play and Delete are on the rear, to the left of the eyecup. To the right is the toggle switch to change between still and video modes; the Display button is at its center. AF-ON rounds out the top row and is joined below it (in a column) by the eight-way focus joystick, and the I button, which launches an on-screen menu of control options. We've seen similar menus on other cameras—Sony has one that's just like it—and as with others, Nikon's take is completely customizable, with 12 slots available for different functions.
You can navigate menus via the touch LCD or by using the four-way directional pad, which sits just below the I button. It has an OK button at its center, which is used to confirm settings and to toggle subject tracking (more on that later). A cluster of four buttons below the d-pad round out the rear controls—Plus and Minus for zooming in and out during image review, Menu, and the Drive/SelfTimer control.
You can read up to 3 premium stories before you subscribe to Magzter GOLD
Log in, if you are already a subscriber
Get unlimited access to thousands of curated premium stories and 5,000+ magazines
READ THE ENTIRE ISSUE
April 2020