Microsoft Surface Duo: Not Entirely Successful
The Microsoft Surface popularized a new category: the 2-in-1 PC. Now the company is hoping to do the same thing on a smaller scale with the Surface Duo, a phone-tablet that tries to enable those multitasking, productive workflows that never quite happen on your single-screen handset.
It's ambitious, certainly, but it's not entirely successful, with bugs and ergonomic issues that sometimes make the Duo confusing and frustrating to use. Though it costs even more, the $1,999 Samsung Galaxy Z Fold 2 is a much more successful example of a folding phone.
A SHIMMERING NEW DESIGN
This isn't the first dual-screen phone. The Kyocera Echo and the ZTE Axon M were both failed attempts at something like this form factor. But those phones were from lower-profile companies and appeared on only one carrier each, with sluggish performance. It's safe to say that the Duo is the first serious attempt at this dual-screen form.
The Surface Duo is made of two glass slabs connected by a metal hinge. Because the screens are separate, the gap between them doesn't give access to the innards of the device, allowing for a much slimmer hinge than on the Galaxy Z Fold 2. The screens are also tougher— they're real glass, not the flexible "ultra-thin glass" that Samsung uses. And they work with the $99.99 Surface Pen, whereas Samsung's device has no stylus support.
The Duo comes with an adhesive rubber bumper that sticks to the edges of the device to protect it. It isn't quite a case, but you absolutely want to use it; it not only cushions the Duo on drops, but it also gives the edges a grip so they don't slide around when it's semi folded like a tent.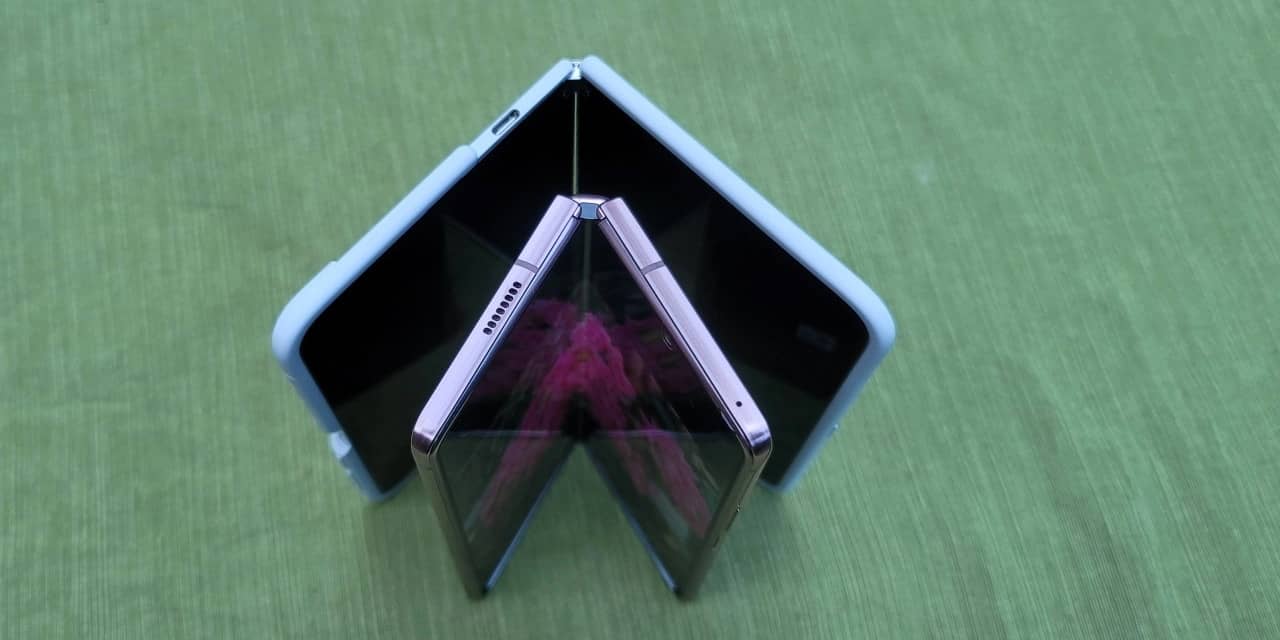 The two 5.6-inch screens are in a wider, 5-by-4 aspect ratio than we're used to from phones nowadays. That makes the Duo a 5.7-by-3.7-inch (HW) super-wide hand-buster when folded back, but it's good for reading books and looking at web pages, and it means the 5.6inch screens bat above their weight in terms of square inches. Each 5.6-inch screen, with 15.4 square inches of room, is bigger than the Z Fold 2's 6.2-inch exterior screen, which is 14.25 square inches of pixels.
Microsoft Surface Duo
PROS Gorgeous hardware. Best dual-window experience on Android. Speedy 4G performance.
CONS Buggy. Awkward to hold. Expensive.
BOTTOM LINE Microsoft's folding Surface Duo phone tries to redefine windowing for a handheld world, but it stumbles on usability.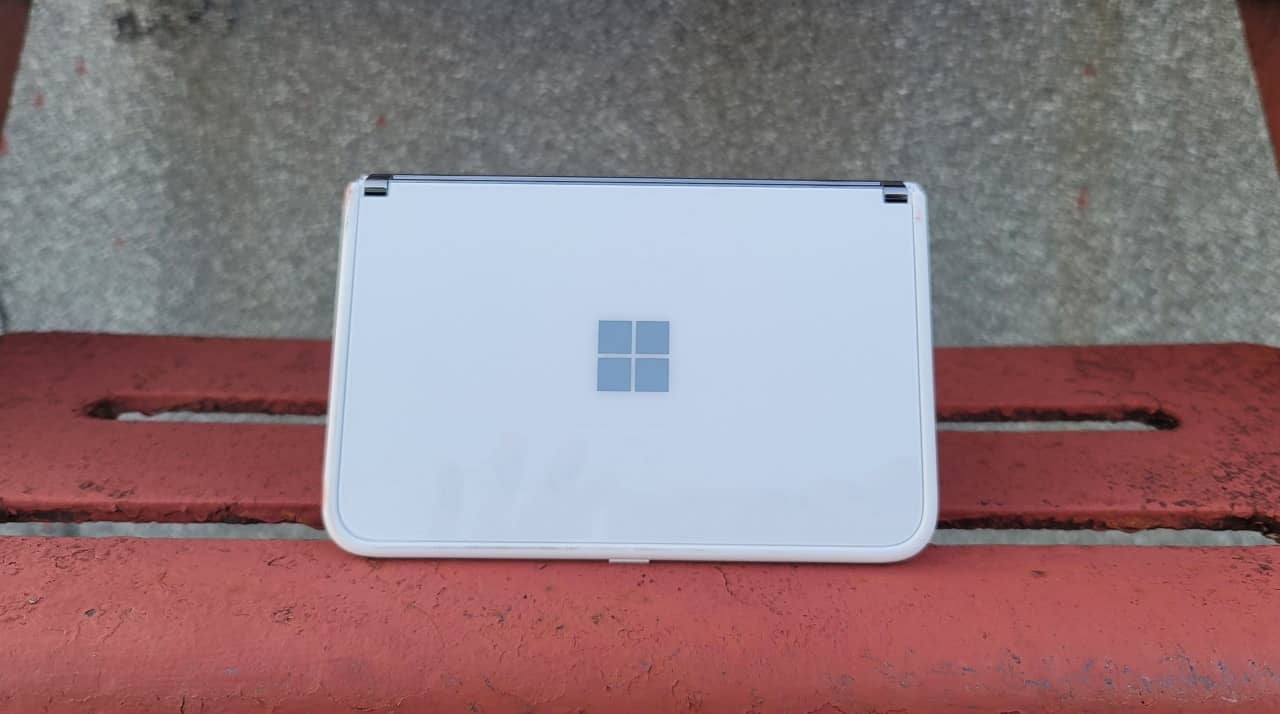 SURFACE DUO VS Z FOLD 2
The screens are each 1,800 by 1,350 pixels; together they're 2,700 by 1,800. They seem even sharper than their 401ppi resolution suggests.
You can span the two displays inside to make an 8.1inch screen with about 30.8 square inches of pixels, slightly more than the 30 square inches on the Z Fold 2's 7.6-inch screen. But the fact that there's a gap between the screens makes a big window feel unsatisfying. The device really wants you to do two things on its two screens.
When the phone is closed, it's protected but unusable. The white outside faces are blank. That's fine when you don't intend to whip out the device and just start using it.
If you do want quick access, you'll have to fold it with both screens facing out, which feels dangerous. The screens are tough, far more durable than the Z Fold's tender internal display, but still, that feels daring.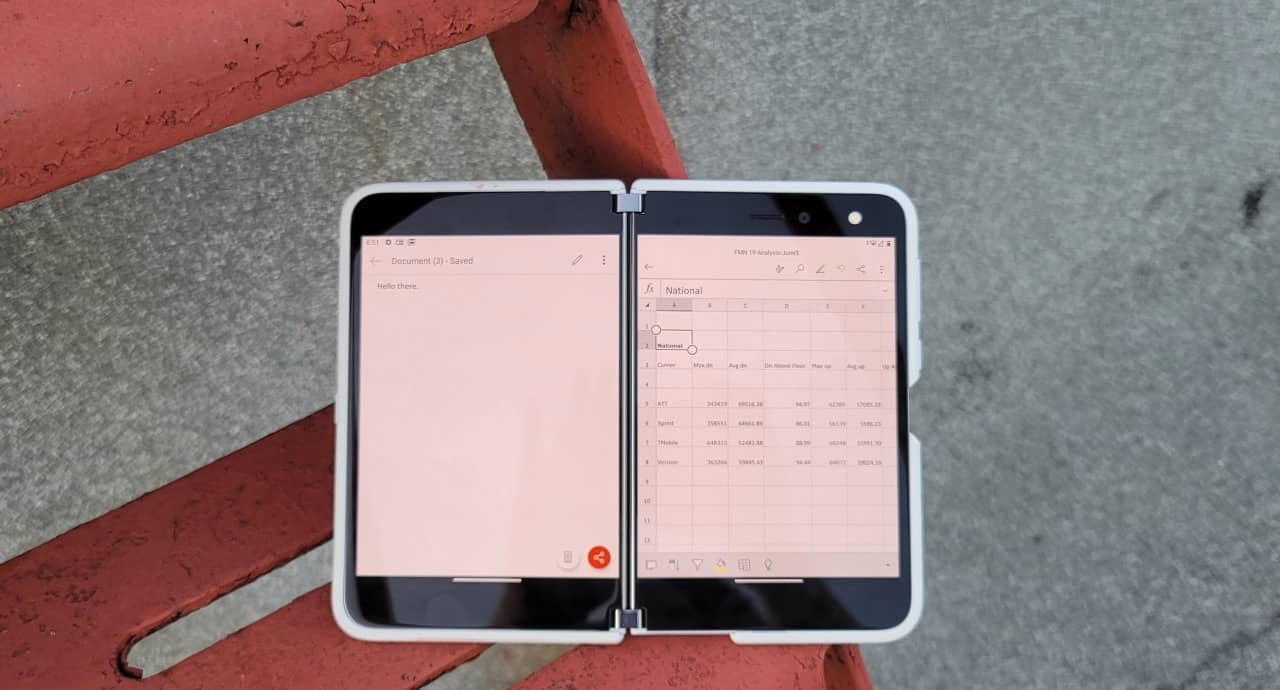 THE MULTITASKING PHONE
The Duo exists to solve a real problem. In 2020, lives and workflows are built around multitasking. I write articles while referring to spec sheets. My wife, a teacher, does Zoom classes while looking at reference material. My daughter, an artist, draws while texting her friends. But none of the major mobile operating systems have figured out a multitasking interface as simple and smooth as the 40-year-old windowing system we use on PCs. Apple iPads and Android tablets can split into virtual windows, but they use systems of unintuitive and often buggy gestures that lead relatively few people to use them, outside of product demos.
The Duo makes the virtual physical, with its two screens. It's obvious, from the actual form of the device, how to open an app on each screen, and even the drag-and-drop or drag-and-span gestures of moving apps around is much more obvious than it is on Android or iOS. But something doesn't quite come together, and I think it's a physical thing.
Bear with me here. When you're operating multiple windows on a PC, moving between them involves a twitch of the wrist, at most. But because you're holding the Duo with both hands, and it's a little large, there's a lot of thumb stretching and repositioning of hands and fingers to get from the tops to the bottoms of the screens. Maybe this is just about reprogramming my muscle memory, but I kept falling back to my laptop to do complicated work.
Now, I've never found touch-screen keyboards to be great for long, in-depth work; they're a little confusing and tiring on fingers. The ergonomics of the Duo— where you either type with one thumb while holding the other half of the device with your other hand, or where you stretch both thumbs across a slightly too wide, folded device—don't help.
Some aspects of the Duo's hardware are otherworldly. No phone ever before has been able to do the full rotation hinge trick that we see on Windows 2-in-1s. Like a Lenovo Yoga notebook (specifically, the Yoga Book), the Duo folds open a little bit, halfway, into a tent shape, or all the way back, and it stays that way. Each posture has a distinct use. I ended up using the Duo folded all the way back most of the time, as a 5.6inch, 5-by-4 phablet; that's really the only way you can comfortably hold it in one hand and operate it with the other. But that posture means you lose a lot of what makes the Duo special, which is two active screens.
The table tent mode is great for watching several hours of Netflix. In the laptop-like L-shaped mode, with one screen flat on a table, that screen turns into a keyboard for the app you're using on the other screen. This seems really cool, but as with the Yoga Book, the ergonomics of typing quickly on a flat piece of glass are off; it hurts your fingers after a while.
You can read up to 3 premium stories before you subscribe to Magzter GOLD
Log in, if you are already a subscriber
Get unlimited access to thousands of curated premium stories, newspapers and 5,000+ magazines
READ THE ENTIRE ISSUE
October 2020