Microsoft Surface Book 3 (15-Inch): More Work of Art Than Workhorse
PC Magazine|July 2020
If Microsoft-designed mobile PCs are the essence of the Windows computing experience, and the Surface Book is Microsoft's flagship model, then the Surface Book 3 has a reasonable claim to be the ultimate Windows-powered mobile device. This detachable 2-in-1 laptop certainly offers the best blend of unique features, operating-mode flexibility, computing power, and portability of any Microsoft PC. With an advanced mechanical locking system for the keyboard base, powerful graphics processing, multiple cameras and batteries, and a choice of two screen sizes, the Surface Book 3 is a category-defying device for the few laptop buyers who can afford it and realize its full potential.
WHAT EXACTLY IS THE SURFACE BOOK 3?
Laptops these days tend to fall into one of three categories: conventional designs that open like the shell of a clam, 2-in-1 convertible models with screens that rotate 360 degrees, and detachable PCs that can be used as tablets once you remove their optional keyboards.
The Surface Book 3 is a mashup of all three. Its keyboard base and display, made of sturdy magnesium and finished with an understated platinum-silver color scheme, are joined with a hinge that works like a clamshell. But this hinge has a hidden release mechanism, activated with a press of a key on the keyboard. Once released, you can jettison the keyboard base and use the Surface Book 3 as a standalone tablet.
That's not all: You can also flip the keyboard base over and reattach it, letting you use the device as an easel or kiosk with the display facing you and the keyboard resting on a flat surface. You can also prop up the Surface Book 3 as an inverted-V tent, with its edges resting on your desk, and even lay its two halves flush together. These modes are traditionally the province of 2-in-1 convertible designs.
Why would you want to go through these contortions? Probably because you're one of the two types of buyers most suited to the Surface Book 3. Digital artists can take advantage of the device's flexibility to sketch, retouch, and edit using their fingers or optional tools including the Surface Pen and Surface Dial. And corporate road warriors can flit from conference room to cafeteria to airport security checkpoint carrying only the tools required for that day's work. If they're not planning on doing much typing, they can leave the keyboard base at home and travel with just the display and a padded sleeve or carrying case.
These are very specific use cases, of course, and they mean that the Surface Book 3 is not for everyone. Most people would be better off choosing a less expensive laptop, 2-in-1, or detachable tablet according to what they plan to do most often. But if you want a jack-of-all trades device and you have the budget for it, the Surface Book 3 might be for you.
Microsoft Surface Book 3 (15-Inch)
PROS Unique detachable design. Powerful graphics processor. Many configuration options. Comfortable keyboard. Dual 1080p cameras. Beautiful PixelSense display.
CONS Pricey. Keyboard base adds significant weight.
BOTTOM LINE With an advanced mechanical locking system for the keyboard base, powerful graphics processing, multiple cameras and batteries, and a brilliant near-4K display, the Surface Book 3 is an innovative, excellent detachable laptop.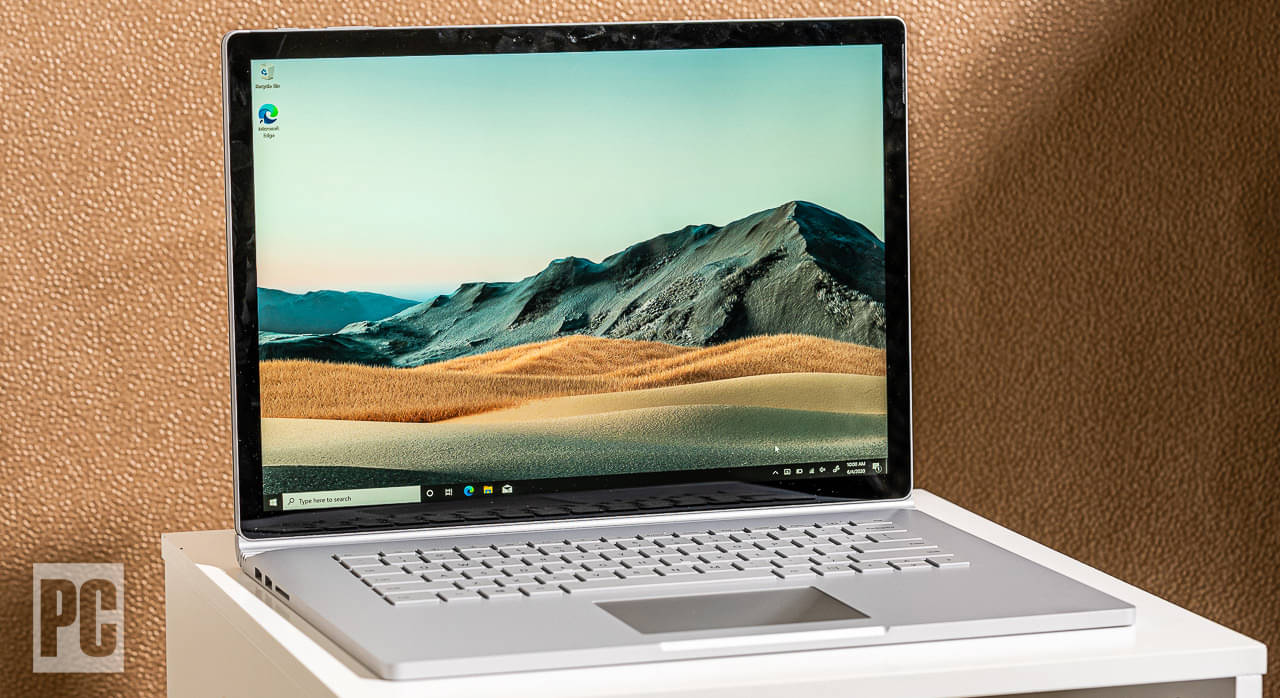 THE SURFACE BOOK 3 SCREEN: TWO SIZES
The Surface Book 3 comes in either 13.5-inch or 15-inch display sizes and many different internal component configurations. The entry-level 13.5-inch version has a 10th Generation Intel Core i5 processor with Iris Plus Graphics, a 256GB solid-state drive (SSD), and 8GB of memory. The display alone weighs just 1.59 pounds, though that jumps to 3.38 pounds when you attach the keyboard base. The entry-level version measures 0.51 by 12.3 by 9.14 inches (HWD), with the keyboard base bringing the total height to 0.9 inches.
These specs make it comparable to dozens of ultraportable laptops, from the Dell XPS 13 2-in-1 to Microsoft's own 13.5-inch Surface Laptop 3. Value-seekers will be disappointed to learn that most of these alternatives start around $1,000 for comparable configurations, $600 less than the Surface Book 3's starting price. But none of these alternatives has such a flexible design.
The version of the Surface Book 3 that we reviewed here is the larger 15-inch model, with significantly upgraded components. It features a quad-core Intel Core i7-1065G7 CPU with a 1.3GHz base clock speed, 32GB of memory, a 512GB SSD, and an Nvidia GeForce GTX 1660 Ti GPU to handle graphics output. With the keyboard attached, it measures 0.9 by 13.6 by 9.9 inches and weighs 4.2 pounds. The heavy weight is not out of the ordinary for a 15-inch-class laptop, but when you detach the keyboard, the display is a much more manageable 1.8 pounds.
Other options for the 15-inch Surface Pro 3 include an Nvidia Quadro RTX 3000 GPU and a 1TB or 2TB SSD. While the Quadro RTX 3000 isn't that much more powerful for general use than the GTX 1660 Ti in our review unit (both have the same 6GB of GDDR6 memory), it could benefit users of professional apps with independent software vendor (ISV) certification that are specifically designed to run on Quadro chips.
You can read up to 3 premium stories before you subscribe to Magzter GOLD
Log in, if you are already a subscriber
Get unlimited access to thousands of curated premium stories and 5,000+ magazines
READ THE ENTIRE ISSUE
July 2020