Lenovo Legion 5i: A Smart Refinement
PC Magazine
|
September 2020
Lenovo rebranded its midrange and high-end gaming laptops into the Legion line a few years back, and we've been fans of most of the Legion models since then.
The Legion Y530 and the Legion Y740 were strong 2019 entries, and the new Legion 5i ($1,599.99 as tested) evolves the line further. Besides a streamlined naming scheme, the 5i features an evolved design with an updated keyboard, a more logically placed webcam with a privacy shutter, and a 10th Generation Intel Core i7 processor. The Nvidia GeForce RTX 2060 GPU and the 144Hz display in our review model provided a smooth, full HD gaming experience, and it's all rounded out by plenty of storage and ports. The Asus ROG Zephyrus G14 edges it out currently as an unmatched value, but this is an appealing 15.6-inch midrange laptop that costs less than truly premium alternatives.
A CLEAN LOOK, WITH REFINED FEATURES
The Legion 5i shares a general design style with the previous generation of Legion gaming laptops, with just a few visual changes. It's quite similar to the Legion Y530 and Legion Y740, which is largely positive, as we rated those builds nicely. While the design may be a little tame for some, it'll be preferable to garish alternatives for others, and the quality of the construction is strong.
Though the chassis is plastic, its soft touch and sturdiness are satisfying and give you confidence in its quality. The lid is a polymer blend that has a decent feel, and the logo now has an iridescent shine to it when viewed at certain angles. The Legion 5i is compact and fairly portable at 0.93 by 14.3 by 10.2 inches (HWD) and 5.4 pounds. That means it's hardly the lightest around (the 14-inch Zephyrus G14 and several premium gaming laptops beat it on both thinness and weight), but it's right on the mark versus entry-level and midrange competition. (The Acer Predator Helios 300 is 0.9 inch thick and 5.1 pounds, while the Dell G5 15 SE is 0.85 inch thick and 5.5 pounds.) It's still portable enough to throw in your bag and go, though it's a tad heftier than you'd like on a daily commute.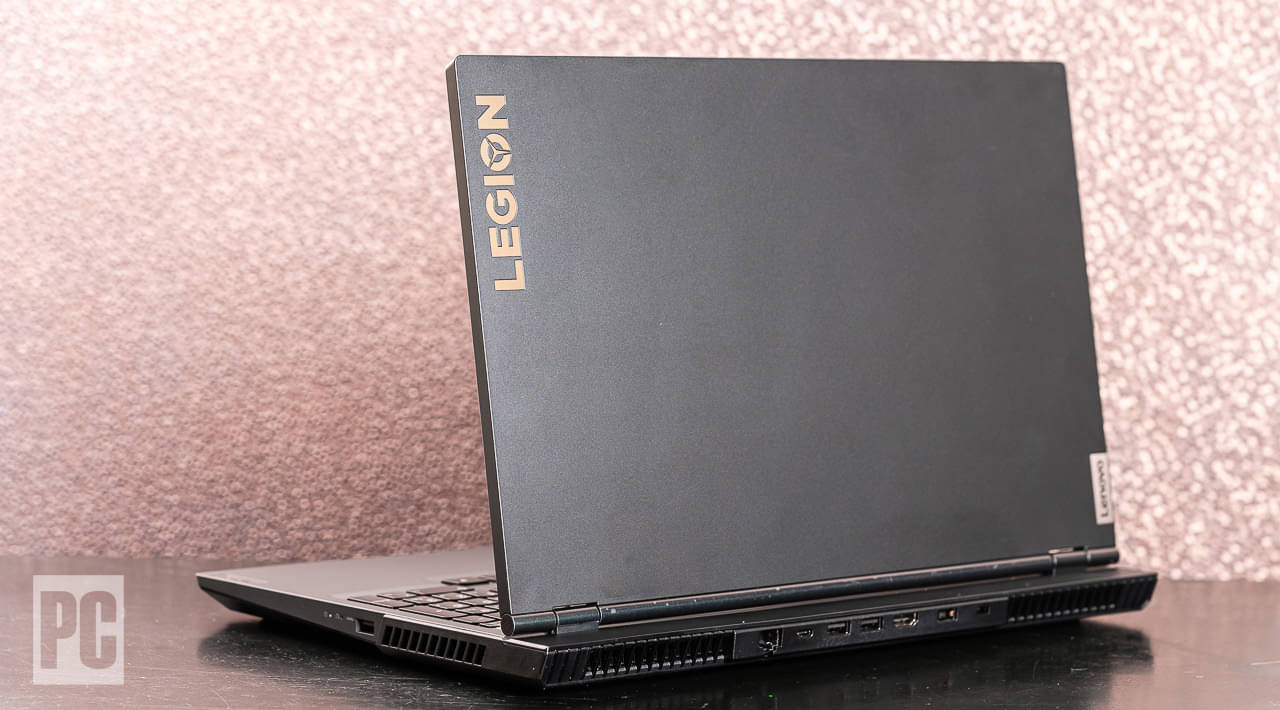 Lenovo Legion 5i
PROS The RTX 2060 GPU provides more than 60fps in demanding games. A 144Hz display for competitive multiplayer titles. Well-made, compact build, and good battery life. Comfy revamped keyboard. 1TB of SSD storage and plenty of ports, including Ethernet and USB-C.
CONS Some may find the design plain. Not especially lightweight for its screen size.
BOTTOM LINE The Lenovo Legion 5i is a smart refinement of last year's Legion gaming laptops, delivering practical design updates, a new CPU, and solid 1080p gaming performance at a fair price.
Careful observers will note some physical layout changes compared with past Legions, chiefly involving the keyboard and camera. The keyboard now includes a full number pad on the right side, absent from the Legion Y740 and a welcome inclusion. The keyboard itself has also been improved, and it's really comfortable and responsive. It employs Lenovo's "soft landing" switches that do what the name implies, even when you're bottoming out your keys. The keyboard is also lit across four customizable zones.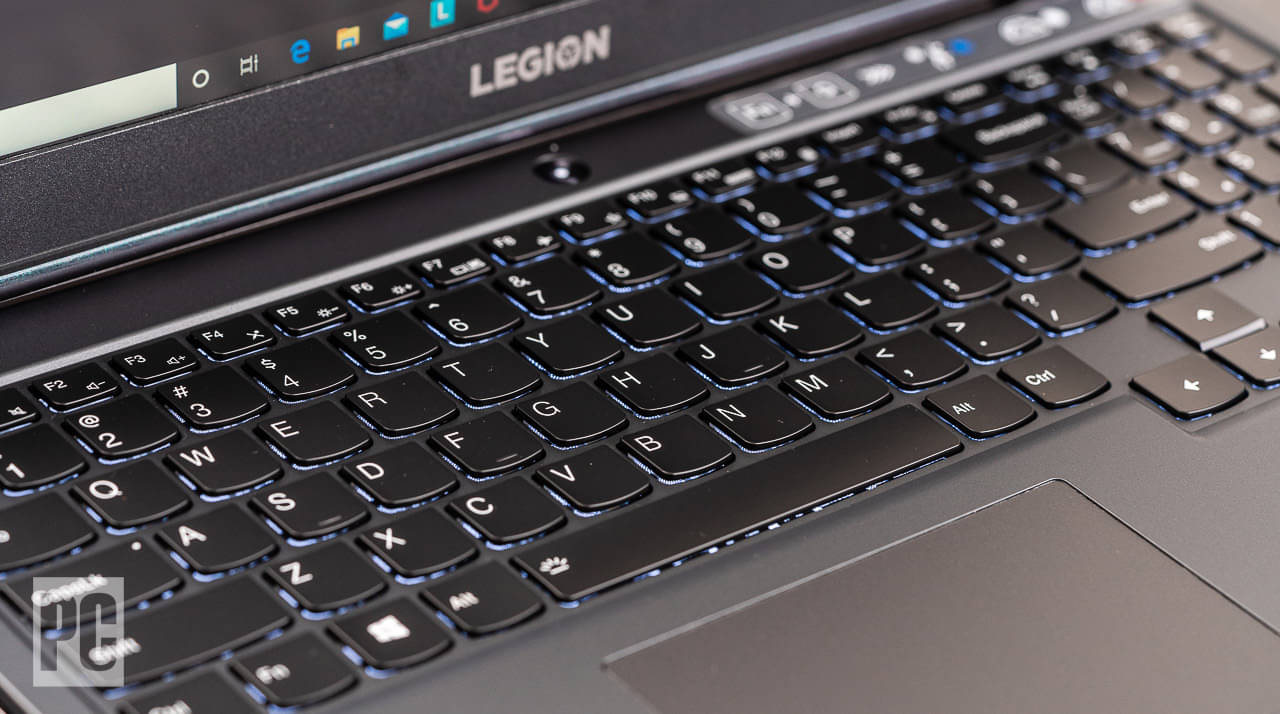 With 1.5mm of travel, sculpted keycaps, and larger arrow keys, it's a satisfying typing experience. The presence of the number pad makes the rest of the keyboard a little condensed, but you adapt to the shape pretty quickly. The touchpad is also larger than before (by 39 percent), and has changed style from dedicated left- and right-click buttons at its base to a single clickable piece. It's placed slightly off-center and ran up against my left palm somewhat while I was typing. It didn't cause accidental presses; it just felt a bit odd.
As for the camera, Lenovo has improved it over past Legion laptops by making it more normal. The Legion Y530 and Y740 both had their webcams under the display on the bottom bezel. Most of the industry has decided this is a subpar solution to getting thinner bezels, and Lenovo has followed suit, placing it back up top. In this time of widespread remote work (and potential game streamers who may want to look better as opposed to chin-camming it), it's a good change. There's also a physical privacy shutter that you can flip into place to block the lens with a switch along the top bezel. The camera resolution is 720p and produces average picture quality.
Now, on to what's between those bezels. Our unit is equipped with a full HD 144Hz display, a perfect fit for gaming (especially with the components in this model). We'll get into frame rates a bit later, but the GPU can push above 60 frames per second (fps) on plenty of games, and approach the 144fps ceiling on less-demanding multiplayer titles, making this screen a good match. The IPS panel is adequately bright at 300 nits.
You can read up to 3 premium stories before you subscribe to Magzter GOLD
Log in, if you are already a subscriber
Get unlimited access to thousands of curated premium stories, newspapers and 5,000+ magazines
READ THE ENTIRE ISSUE
September 2020