How to Use Your Big-Screen TV for Online Learning (and Fun)
PC Magazine
|
September 2020
The computer is where many of us spend a good part of our day working.
It's also where students will likely be spending a lot of time taking classes for the foreseeable future. And it just so happens to be the ultimate media and gaming device, capable of playing more music, video, and games than any other platform. There's just one catch: Most monitors (and all laptop displays) are smaller than the average TV. So why not connect your laptop to your television for more compelling work and learning experiences on a bigger screen?
You can, and there are several different ways to do it. Not every method is suitable for every situation, though. Depending on where your TV is, where your computer is, how your home is set up, and what media you plan to use your TV screen for, you need to consider exactly how to connect your laptop to your TV.
These techniques don't work just for laptops—you can connect a desktop PC to your TV the same way. Of course, desktops are less portable, so if yours is located far from your TV, it might not be as convenient or work quite as well.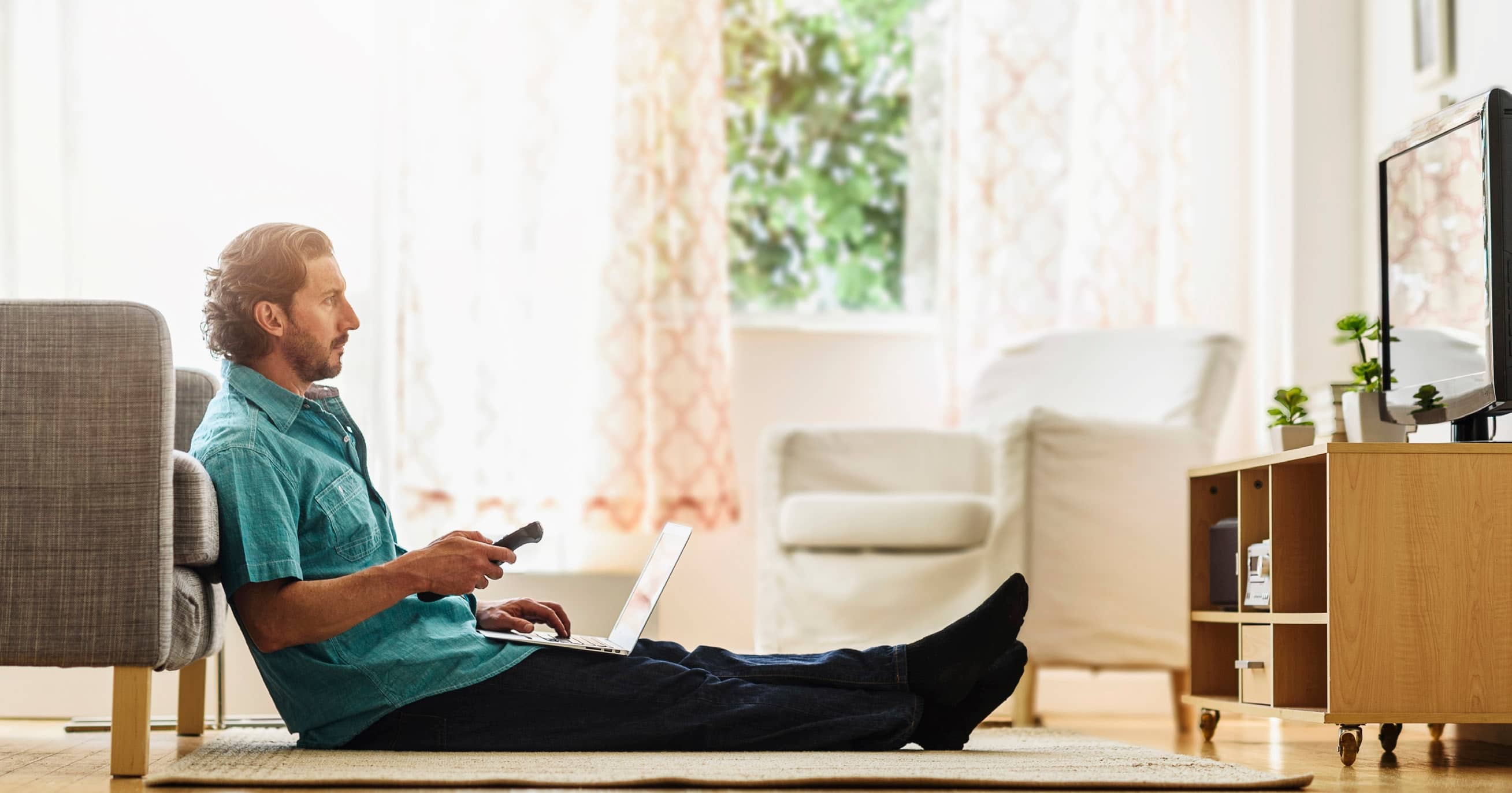 WHY USE YOUR TV AS A SECOND SCREEN?
When you're working from home, the biggest benefit to connecting your computer to your TV is being able to use it as a second monitor. TVs have bigger screens that are generally farther away from your face than monitors, but you can easily toss a few Chrome tabs, your email client, and useful information or messaging services up there so you can see whether you need to respond to anything at a glance. Keep in mind that a second-screen system works with only a few of the methods listed below.
An additional screen can be a big advantage for students, too. A large screen offers a bigger, clearer view of presentations and speakers and allows for easier collaboration when a number of students are attending remote classes at once. If a laptop or tablet screen doesn't seem like it'll be big enough for schoolwork, a TV will do the job.
All these methods let you stream media to your TV, so if you have lots of videos on your hard drive or visible only through a web app, you can send them to your TV. You can also use Plex to share your entire local media library, along with a slew of online services, directly to your TV with a simple menu interface.
You can even game this way. An HDMI cable is the best way to play games locally, but Steam Link has proven surprisingly capable of streaming locally networked gaming from your PC to your TV.
HDMI: CONNECTING WITH A CABLE
This is the most direct and reliable way to hook up your laptop to your TV. It's also the most limited by your home layout. It's a simple solution: Run a physical HDMI cable between your computer and your TV, and you'll get the best performance and reliability. A wired connection means the best picture quality and lowest input lag, and it won't be affected by the wireless network environment around your home. It's what I use in my apartment to play PC games on my TV. In fact, the low lag of a wired connection makes this one of the few acceptable ways to play PC games on your TV (though as mentioned, Steam Link has certainly proven its worth on that front, especially if you can connect it to your network over Ethernet). It also supports 4K resolution for laptops that can handle it.
You can read up to 3 premium stories before you subscribe to Magzter GOLD
Log in, if you are already a subscriber
Get unlimited access to thousands of curated premium stories, newspapers and 5,000+ magazines
READ THE ENTIRE ISSUE
September 2020