The Fight Over Plastic Bags
New York magazine
|
July 13–26, 2015
The fight over plastics bags is about a lot more than how to get groceries home.
Adam Sternbergh, photographs by Bobby Doherty
Lauren Kuby had a simple ambition: She wanted to get something done. Kuby works by day at a sustainability institute that's part of Arizona State University in Tempe, but last year she decided to run for City Council. President Obama had called for state and local action in his State of the Union address in 2015, encouraging municipalities to act as laboratories for progressive change, and Kuby took his words to heart. After she was sworn in to her new council seat in January, she started looking for a project to take on. She quickly found one: plastic bags. You are no doubt familiar with plastic bags—you probably own several dozen of them right now, likely folded in a drawer, or crammed under your sink, or stuffed inside other, larger plastic bags. (A singular feature of the plastic bag is that it's one of the few pieces of refuse that can, cannibalistically, contain itself.) Because if you are a typical New Yorker, you go through roughly 620 single-use plastic bags a year. If that figure sounds high, consider this: It's about two a day. Now think about the last 24 hours of your life. Did you get a plastic bag at the deli? At Fairway? Did a bag come wrapped around your Seamless order? All of the above? In a year, New York City as a whole manages to go through 5.2 billion single-use plastic bags. That's about 10,000 bags a minute—the vast majority of which end up as landfill.
Tempe's population is just 168,000, yet it goes through at least 50 million plastic bags a year. So Kuby started looking at other cities to see how they've dealt with bags. In 2000, when Mumbai discovered that plastic bags were clogging storm drains and exacerbating flooding during monsoon season, it banned them altogether. Plastic bags have also been banned in Bangladesh, Taiwan, Kenya, Rwanda, and Mexico City. By most accounts, these bans were accommodated and even embraced by locals.
Tempe, however, never had a chance to implement any bag legislation because, in April, the Arizona State Legislature passed SB 1241, a health-care bill with a curious amendment that declared that no city or town may "impose a tax, fee, assessment, charge or return deposit … for auxiliary containers." In an unexpected, Dr. Seussian twist, Arizona had preemptively banned the ban: You ban bags? We'll ban bag bans! Arizona is not the first state to enact a ban ban; Florida did so in 2008, and Missouri and Texas are investigating similar legislation.
Proponents of preemptively banning the bag ban argue that local bans create a confusing hodgepodge of regulation and that environmental fears over plastic bags are overblown. Others see the skirmish as part of a larger war: The unending fight to combat government tyranny and protect the American Way. Some commentators have even connected efforts to regulate plastic bags to a conspiracy involving Agenda 21, a U.N. sustainability initiative that's become a focus of fears about the advent of one-world control. Of a bag ban enacted (and subsequently repealed) in Dallas, Glenn Beck, noted Agenda 21–ologist and famously sensitive barometer of societal cataclysm, warned his radio listeners: "You have got to stand up for little things like the plastic-bag thing … If I want to use a plastic bag, I will use a plastic bag … Fascists ban things. What are we doing?"
What Kuby hadn't realized is that in attempting to address the tens of thousands that Tempe spends annually disposing of discarded plastic bags, she'd stumbled into a larger fight. It's a battle being waged across the country—and one that's about to open its newest front in New York: Mayor Bill de Blasio, who'd promised a bag ban in his campaign platform, is currently considering how, and whether, to tackle the issue. The battle is not just being fought over the fate of a familiar modern convenience but over, for one side, our last vestiges of freedom and, for the other, the future of planet Earth. And fluttering above this battlefield like the tattered banner of a besieged army, amid a haze of misinformation, counter arguments, and money, money, money, you'll find a single, flimsy, humble plastic bag.
Plastic bags are amazing. You can carry your groceries in them. You can use one to line your bathroom trash can. You can put one on your head as an impromptu rain bonnet. You can quickly and cleanly pick up dog shit. You can even thank a plastic bag in your Oscar speech, as Alan Ball once did, when he concluded the thank yous for his Best Screenplay award for American Beauty: "And finally, that plastic bag in front of the World Trade Center so many years ago, for being whatever it is that inspires us to do what we do." American Beauty, of course, contains perhaps the single most famous appearance of a plastic bag in the entire cultural corpus: a scene in which a disaffected character watches a video of a plastic bag dancing in the wind and declares, "Sometimes there's so much beauty in the world."
The single-use plastic grocery bag, which was born about 50 years ago, is the answer to a question no one was asking and the solution to a problem that didn't exist. Back in the 1960s, not many people were wondering, How can I possibly carry my stuff around?, since people had been carrying their stuff around uneventfully for millennia—in cloth bags, burlap sacks, leather pouches, and, once upon a time, dried-out bull scrota. What some people were asking— petrochemical companies, most notably, since plastic is manufactured from by-products of petroleum and natural gas—was: "What else in the world can be made out of plastic?" In 1962, a Swedish inventor, Sten Thulin, filed a patent for a thin, plastic bag, folded and made in such a way as to provide improbable strength and durability. Consumers were initially resistant to replacing their familiar paper bags, but by the early 1980s, national grocery chains were subbing paper for plastic, largely because plastic was cheaper: These days, the cost is one to two cents per bag, as opposed to six to eight cents for paper bags. The ascent of the plastic grocery bag, ironically, was applauded by many environmentalists, given that plastic didn't require the consumption of trees.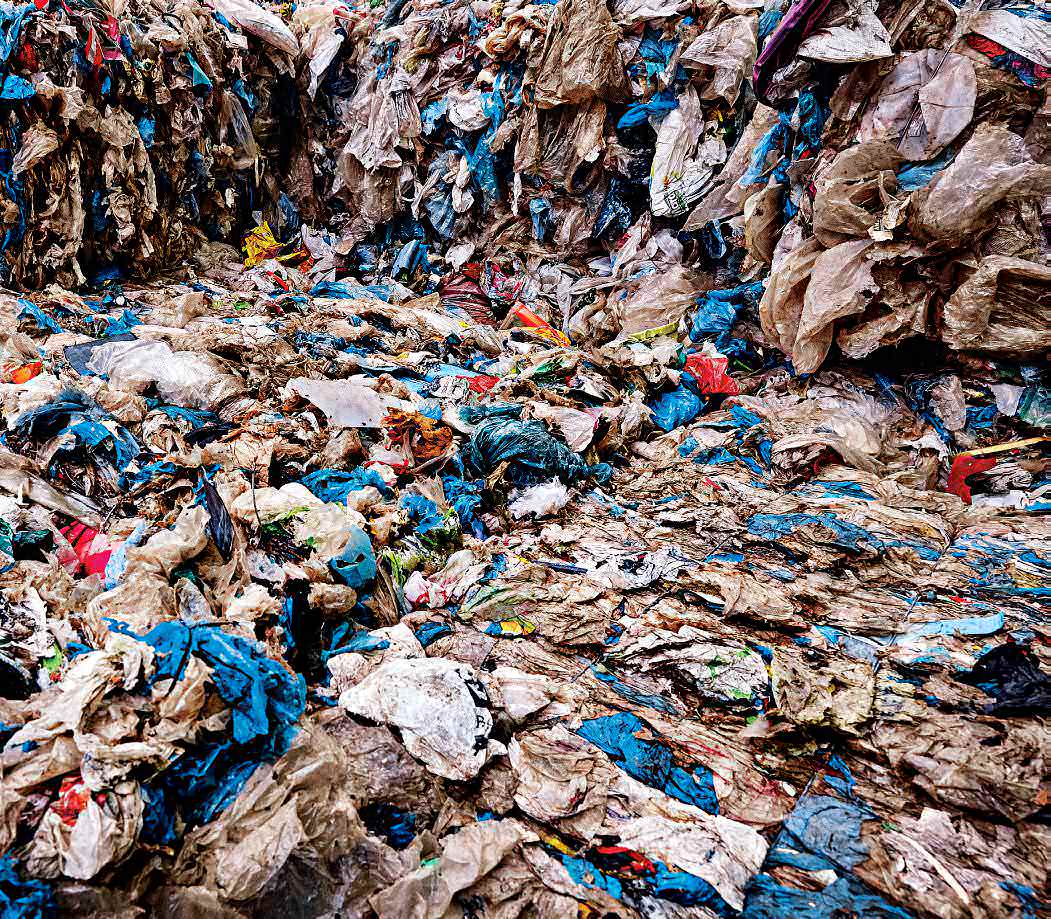 But the heyday of plastics as a perceived modern miracle was surprisingly brief. In 1955, Life magazine published a story titled "Throwaway Living," announcing that, thanks to the convenience of disposable plastic items, the average American had been freed from domestic drudgery. The accompanying photo showed a Cleaveresque family tossing disposable items in the air like confetti: "The objects flying through the air in this picture would take 40 hours to clean—except no housewife need bother." By 1967, however, Benjamin Braddock's neighbor in The Graduate was passing on his famously chilling career advice: "Plastics!" Once the plastic grocery bag arrived in stores about ten years later, it seemed less like a miracle than like just another plastic thing to be absorbed into our increasingly plasticized lives. Homeless women became "bag ladies"; plastic bags picked up the derogatory nickname "Italian suitcase." In her hit "Firework," Katy Perry sings: "Do you ever feel / Like a plastic bag / Drifting through the wind / Wanting to start again?" Plastic bags have become symbols of the quotidian, the boring, the grindingly mundane.
You can read up to 3 premium stories before you subscribe to Magzter GOLD
Log in, if you are already a subscriber
Get unlimited access to thousands of curated premium stories, newspapers and 5,000+ magazines
READ THE ENTIRE ISSUE
July 13–26, 2015