The Curious World Of Jeff Goldblum
The generation-spanning star allows viewers to see the world through his eyes in his upcoming show on Disney+.
Within minutes of talking, Jeff Goldblum's curiosity shone. Before I even got one question off, he began asking questions about my surname; how to pronounce it, what were its origins, etc. This is what it is like to spend time with Goldblum. One thought leads to another, one question to the next, sometimes related, sometimes not. For aspiring conversationalists, look no further than the man who has spanned generations of stardom. From 1986's The Fly and 1993's Jurassic Park to more recent appearances in Thor: Ragnarok and Isle of Dogs, Goldblum is a household name for people of all ages.
His unique and charming demeanor, child-like sense of wonder, and decades of prominence created the perfect formula for The World According to Jeff Goldblum, a collaboration with National Geographic that will ring in Disney's newest streaming platform. Each episode, by meeting the experts and learning about the history and technology, Goldblum explores in-depth the things that he is naturally curious about: ice cream, sneakers, tattoos, denim, BBQ, gaming, bikes, coffee, pools, cosmetics, and jewelry.
If you think these topics benign, then you might want to try seeing them through the curious eyes of Jeff Goldblum. In this exclusive interview, he details his favorite moments filming the series, where his natural curiosity comes from, and the coolest things he learned from filming.
Innovation & Tech Today: How did The World According to Jeff Goldblum come together?
Jeff Goldblum: They had – it was a couple of years ago now probably – that show for National Geographic on their network called Explorer, and they were fiddling with the format of that. They had several different people, from what I gather, host a few episodes, in my case, three episodes. I had a good time on that and I think some of the same people that were involved got this idea afterwards: "Hey, maybe Jeff and we should do something else." And we started to talk about it. It sort of just got creative, by and by, and we started to find our way, and figure out what I could do, or what we wanted to do, and it just sort of found itself.
How about that? Then we've been filming for the last, I don't know, six months or something like that. We finished – guess what – yesterday, last night! Yesterday was our final shooting day. I still have some voiceovers to do, but we've done all the on-camera stuff now.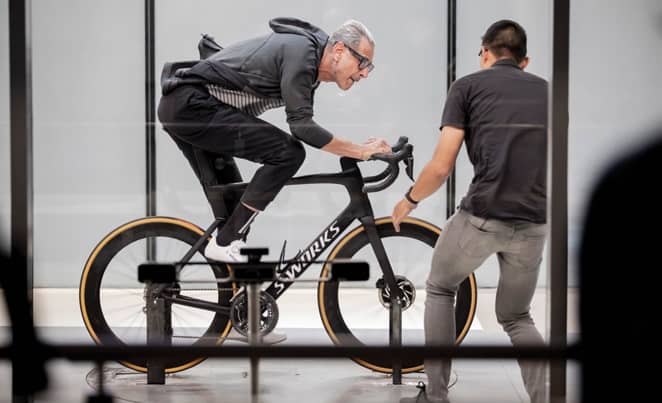 I&T Today: Did you have a favorite episode to film?
JG: I loved them all. We went all over the country, and as you saw, they set me up with unexpected events and people; but boy, I had a good time.
We went to Cleveland for that sneaker convention. We went to Las Vegas for [Nostalgia Con] that you saw in the "Ice Cream" episode, and you saw where we went to Portland for that wonderful guy, Tyler Malick. Then also Portland, you saw Paul Francis at the Adidas place. How about that?
If you didn't see the "Tattoo" [episode], I probably shouldn't give everything away, but we went to Hawaii and met these people for tattoos. Also Baltimore we went to – wow, I'd never been to Baltimore. I'd never been to Burlington, Vermont, where we went to meet Ben and Jerry.
Oh for Denim, we went to an old place where abandoned mine shafts are. I shouldn't give away what happened there, but that was related to denim. For barbecuing, we stayed here in LA. Then we went to Austin, Texas. Oh boy, barbecue, oh boy. I shouldn't even tell you, but we saw some things that we could barbecue that are probably not the first thing you think of for barbecue.
We went to San Francisco; oh boy, that was tattoos. Very interesting and unexpected. I'd never heard of this aspect of this variation of tattoos before. Then still up in San Francisco, the Levi's Center, and then Seymour, Texas. I'd never heard of Seymour, Texas, but I found myself on a cattle ranch there.
I kept saying to everybody around me on the crew, when would I ever get a chance to be here and be doing this? The answer was probably not ever, except for this show.
You can read upto 3 premium stories before you subscribe to Magzter GOLD
Log-in, if you are already a subscriber
Get unlimited access to thousands of curated premium stories and 5,000+ magazines
READ THE ENTIRE ISSUE
Fall 2019