Aiming for Space — and Our Higher Potential:Behind the Making of The Right Stuff
Innovation & Tech Today
|
Summer 2020
It was one of the best books written about one of mankind's greatest feats.
When Tom Wolfe published The Right Stuff, it was 1979, just 10 years after Apollo 11 touched down on the Moon to complete a dizzying first decade of space flight. The you-are-there bestselling book focused on the Mercury astronauts, all test pilots, and how the new NASA space program changed their personal lives — and what we believed to be possible.
A three-hour movie version of The Right Stuff, starring Sam Shepard, Scott Glenn, and Ed Harris, came out in 1983, winning four Academy Awards. Now, Nat Geo, Warner Brothers, and Leo DiCaprio's Appian Way drill down even more into Wolfe's iconic portrayal with an eight-show opening season. It premieres in mid-September.
The tone, gravitas, and significance of the space program in the 1960s is captured in riveting fashion by an all-star cast. This ranges from excellent portrayals of the Mercury 7 astronauts, our first, to the way in which family lives, technology, and excruciating go/no-go decisions touched the people involved, while launching us into space exploration permanently. It is the first National Geographic branded scripted TV series to appear on Disney +. Plenty of space fans, old and new, are in for fulfilling binge-watching when it premieres.
The cast includes many familiar faces: Limitless alum Jake McDorman (who plays the first American in space, Alan Shepard) and Suits co-star Patrick J. Adams ( John Glenn) lead the way. Others include Colin O'Donoghue (Once Upon A Time), Aaron Staton (Mad Men), James Lafferty (One Tree Hill) and Michael Trotter (Underground). The showrunner and scriptwriter is Mark Lafferty.
We had the opportunity to talk with actors Patrick Fischler and Eric Ladin, who play the engineering brain trust behind America's space program, Flight Director Chris Kraft (who died in July 2019 at age 94) and Chief Flight Engineer Bob Gilruth. In listening to them, it was easy to feel their sense of continued wonder at what NASA and American workers pulled off by putting a man on the Moon just 10 years after starting a space program — with technology we'd consider highly primitive today.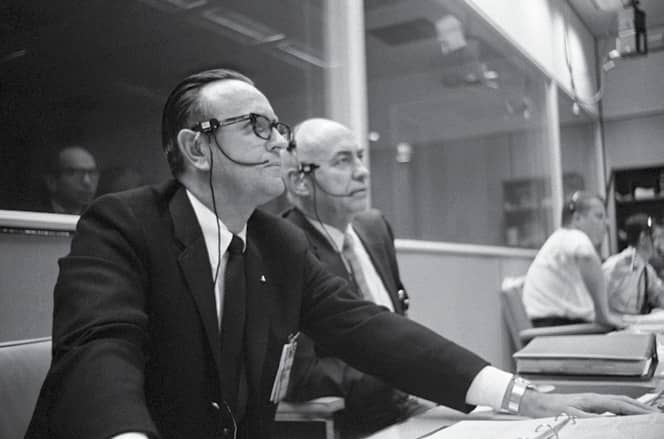 Innovation & Tech Today: Gentlemen, what first drew you to The Right Stuff? Was it the story? Your love of the early space program? The momentous achievement for humankind that it represented?
Eric Ladin: "It was the words. Mark Lafferty wrote a beautiful script that attracted a lot of great actors. But space is something that has always riveted me. I grew up in Houston, visited NASA while in school, and we talked about space all the time. Being able to tell this story in long form was really appealing to me. We all hoped to be astronauts, but very few were, then I hoped to play an astronaut. When that ship sailed, I got this chance to play the Mercury flight director. It's an honor.
You can read up to 3 premium stories before you subscribe to Magzter GOLD
Log in, if you are already a subscriber
Get unlimited access to thousands of curated premium stories, newspapers and 5,000+ magazines
READ THE ENTIRE ISSUE
Summer 2020