"THEY STOLE MY WOMB"
Thousands of women across the country are being misled by doctors to get their uterus removed. What's shocking is that most of them are under 30 and do not really need surgery. Hysterectomy at this age can interfere with one's hormonal balance, triggering high blood pressure, osteoporosis, vision loss and mental illnesses. As the government remains blind to this emergency, doctors make quick money through insurance schemes. KUNDAN PANDEY investigates the untold tragedy
IT WAS intriguing that Vandana Khandale, a traditional sugarcane cutter in Maharashtra's Beed district, was sitting at home in January, the peak time for sugarcane harvesting. "I have developed severe joint pain and feel tired all the time. I get irrigated far too often, and working on the fields has become difficult," she says. Vandana is still 30 and has not contributed much to the family income in the past six years. Her husband, Mashu Khandale, is a daily wage labourer and now the sole breadwinner of his five-member family.
Six years ago, extreme pain in the lower abdomen and bleeding made working on agricultural fields a struggle. It was worse during her periods. On days she missed work, the contractor would deduct her salary. Local doctors gave her some pills, but that only gave temporary pain relief. To get rid of the persistent problem, she visited a private hospital. Here, the doctor suggested to get rid of her uterus altogether, the cause for all her troubles.
Vandana thought this was the best solution to her problems, and she had to shell out R4,000 for it. She is amongst thousands of young women across the country who opt for hysterectomy. Few of them know that hysterectomy is the last resort of treatment for doctors, that too after several rounds of brainstorming. After all, hysterectomy results in life-altering complications such as osteoporosis, weight gain, loss of stamina and digestive disorders, say experts. The spread across the country is, therefore, baffling (see 'Operative spread' on p32).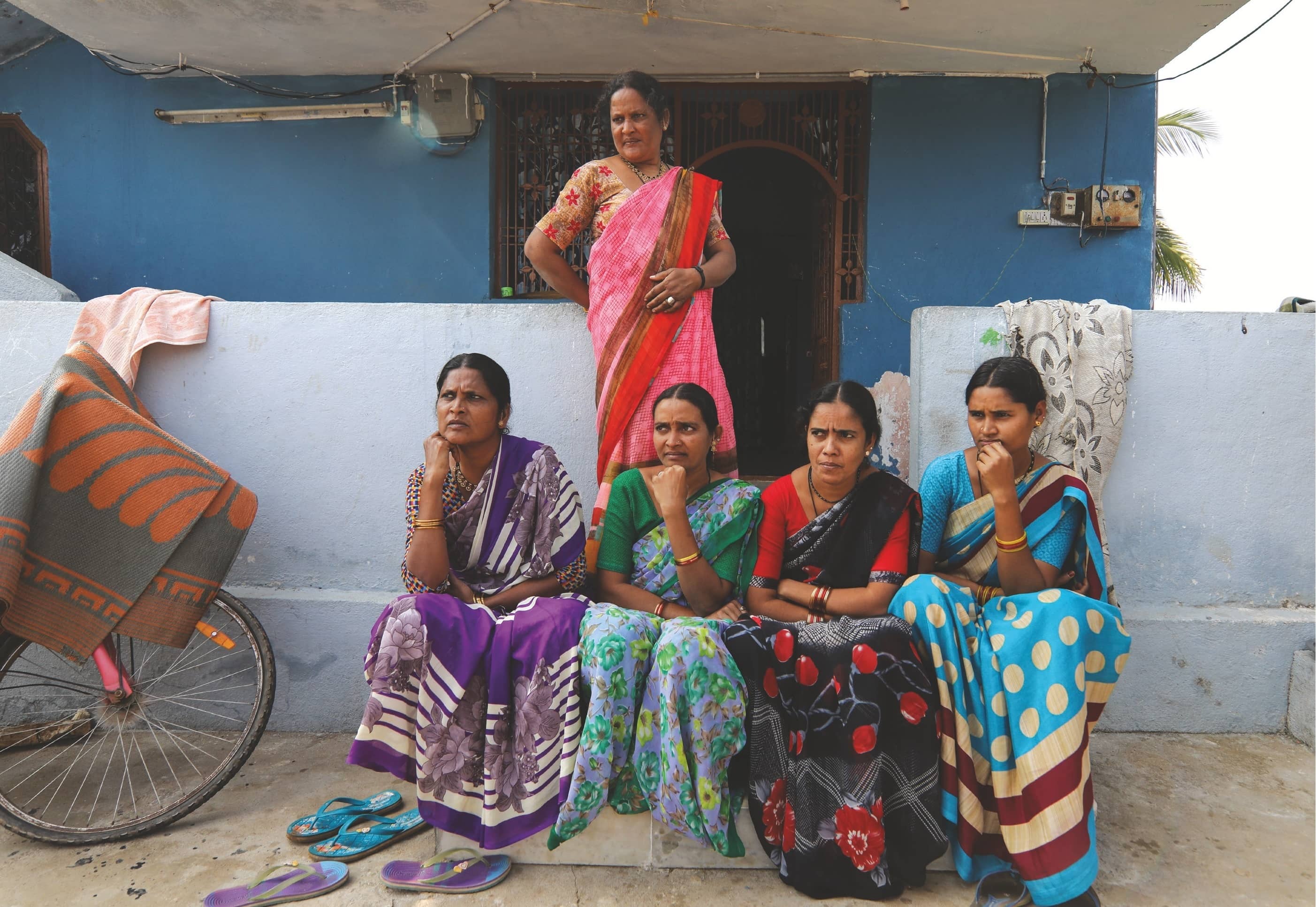 The number of women undergoing hysterectomy is as high as 63 per 1,000 women in some states, says a study published in Reproductive Health in 2018. Worse, more than one-third of them were under the age of 40, still a productive age. Worldwide, hysterectomy operations take place only after the age of 45 for benign gynaecological conditions. "In India, the proportion of women below 40 years who had hysterectomy is higher in Andhra Pradesh (42 per cent) and Telangana (47 per cent)," says a study by Prayas, a Rajasthan-based non-profit. Down To Earth (DTE) spoke to over 50 women—who had undergone this operation and were below 40 years of age—only to find that these operations have only aggravated their health problems.
Consider this. DTE travelled to Dukadegaon—a village 55 km from Beed district—where 45 women from 200 households are living without a uterus. Most of them complain the operation has left them with a host of illnesses and made them redundant at work.
The "permanent solution for women-related problem" is so popular that even the wife of the village's sarpanch has undergone this surgery. In fact, 30 per cent of women in 10 villages in Beed— including Banjharbadi, Hajpur, Sonimoha and Kasari—have undergone hysterectomy. "There have been 4,605 hysterectomies in the past three years," says Ashok Thorat, civil surgeon at the district hospital in Beed.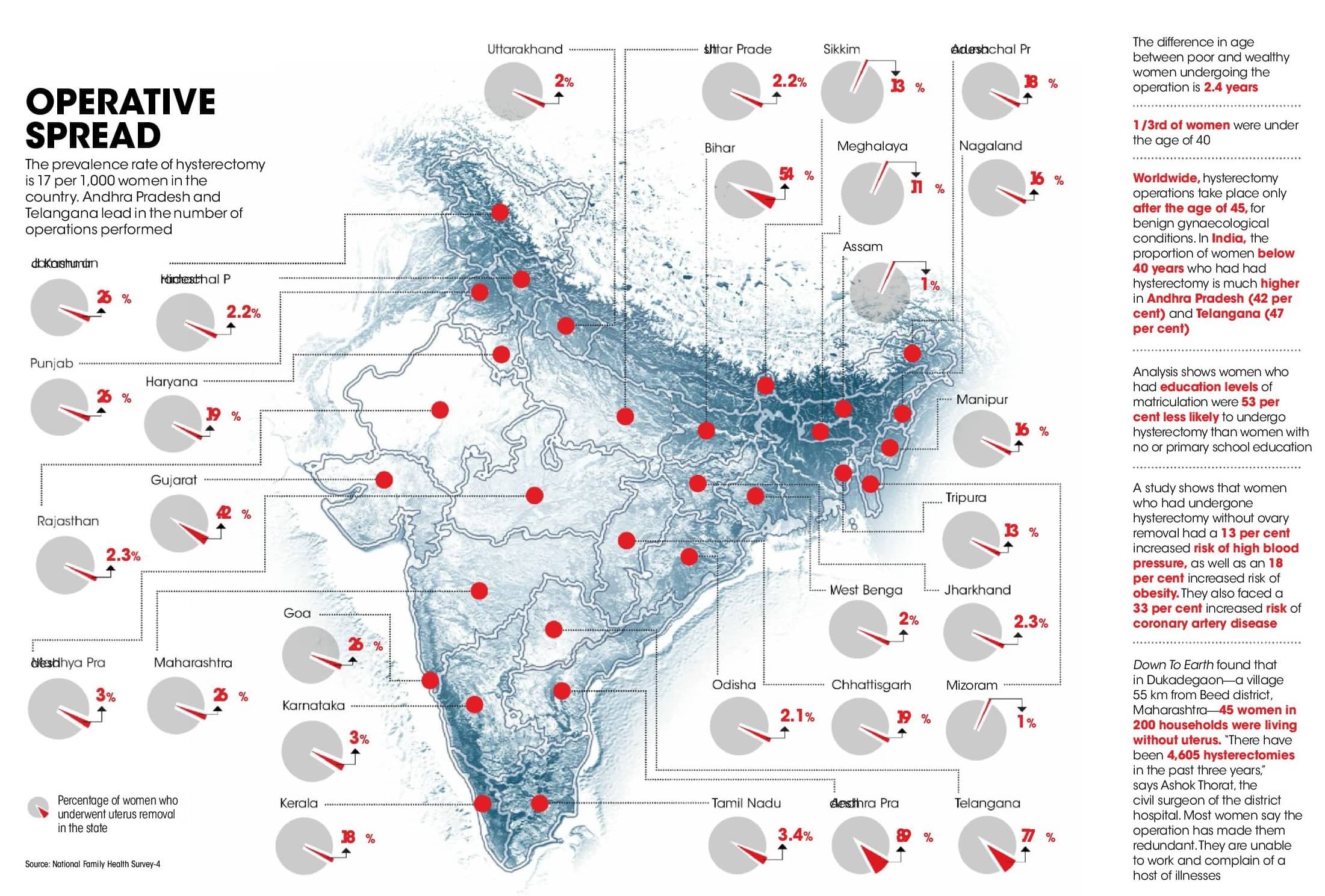 You can read upto 3 premium stories before you subscribe to Magzter GOLD
Log-in, if you are already a subscriber
Get unlimited access to thousands of curated premium stories and 5,000+ magazines
READ THE ENTIRE ISSUE
March 01, 2020