Mobility redefined
Down To Earth
|
July 16, 2020
The pandemic offers probably the last chance to reform our public transport and make way for walking and cycling
FEAR OF infection and the need for social distancing have altered the way we used to move around just a few months ago—in the pre-COVID times. Since then our activity and mobility patterns have changed dramatically, so much so that it has led to a near-collapse of the public transport in cities.
CSE's analysis of Google Mobility Data for the period between February 15 and May 16 shows that activities in residential areas have increased by 29 per cent but visits to workplaces have reduced by 60 per cent and to retail and recreation by 84 per cent. Grocery and pharmacy visits also indicate a drop, though marginal. (see 'COVID-19 has altered our activities').
The data also shows a massive drop in visits to transit stops and nodes as the use of public transport has plummeted across the country. COVID-19, it seems, has stigmatised the public transport. And this has provoked more worries. Since opening up of the economy is not possible without transport, the fear is it might lead to an increase in the number of cars and two-wheelers on the roads, making the cities even more congested and polluted.
Clearly, there is an urgent need to organise mobility services. Here are a few steps that can help the authorities do this in a prudent manner.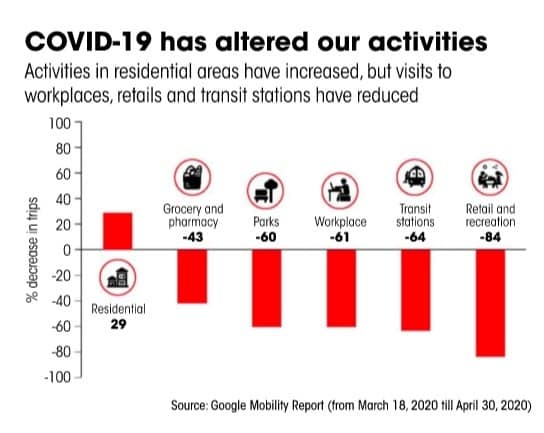 REINVENT PUBLIC TRANSPORT Public transport ridership came to a halt due to complete lockdown in India. Other countries that did not impose a lockdown and kept their public transport functional have also faced drastic reduction in ridership—by as much as 70 to 90 per cent. This calls for an urgent need to rebuild confidence in the public transport.
State transport corporations in Delhi, Mumbai, Kolkata, Bengaluru, Bhubaneswar and other cities have already begun adopting covid-19 guidelines on hygiene and sanitisation and physical distancing through reduced occupancy, cashless transaction, separate boarding and alighting, health checkup and communication. But this has added to the cost of operation as earnings have plummeted due to low occupancy. Besides, several state transport corporations are already facing bankruptcy.
The private bus service providers who form a sizeable part of the public transport fleet in cities, have also been badly hit. In Kerala, 70 per cent of private bus owners are reportedly reluctant to resume operations with a low occupancy. In Kolkata, private bus associations have proposed three times the fare to compensate for the loss in ridership.
Those offering intermediate transport and shared mobility services have already started to repurpose their vehicles for emergency health services, delivery of groceries and essentials and courier service, or are offering fixed route services.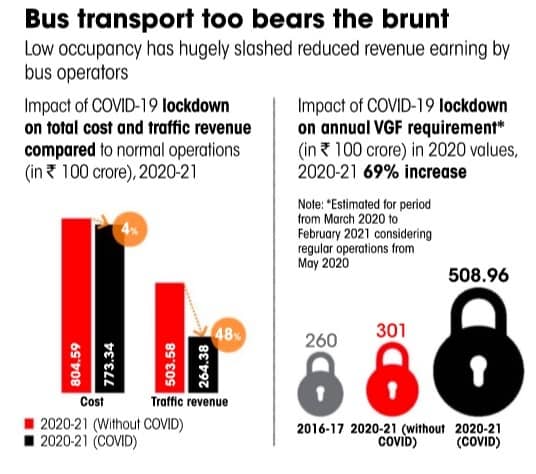 You can read up to 3 premium stories before you subscribe to Magzter GOLD
Log in, if you are already a subscriber
Get unlimited access to thousands of curated premium stories, newspapers and 5,000+ magazines
READ THE ENTIRE ISSUE
July 16, 2020