Let There Be Blue Sky
Down To Earth
|
July 16, 2020
We're offering this story for free to read so that you can stay updated on the COVID-19 outbreak
The nationwide lockdown due to the COVID-19 pandemic has unwittingly given us a glimpse of what our cities can look like if we wean away from polluting vehicles and industries. Let's make this an everlasting reality
The reactions were bewildering. During the 70 days of nationwide lockdown, when people were forced to stay indoors, business shutdowns froze the economy, raising the spectre of job losses and pay cuts, and yet the novel coronavirus (COVID-19) continued to tighten its grip over India, many places across the country revelled in clear, blue skies and clean air. With a lot less traffic on road and closure of factories and industries, suspended particles thinned out from the air within a few days of the lockdown. People were able to see the moon, the stars and sharp contours of trees, hills and monuments without the usual barrier of smog, and breath easier. Places like Delhi and exurbs, where people had become accustomed to intermittent closure of industry, construction cites, suspension of schools and the use of N95 masks to battle winter pollution even before COVID-19 originated in Wuhan, witnessed history. The lockdown, imposed in phases from March 23, did not help much to flatten the COVID-19 infection curve, but it did bend the pollution curve. And there is hard evidence for this change.
During the lockdown, the levels of particulate matter 2.5 (PM2.5) declined dramatically across the country. PM2.5 are fine particulates, smaller than 2.5 microns, that can go deep into the lungs and cause respiratory illnesses, heart diseases and even cancer. During the lockdown, their levels in Delhi, Mumbai, Kolkata, Chennai, Hyderabad and Bengaluru dropped by a phenomenal 45-88 per cent. The drop in Delhi and the National Capital Region (NCR) was 66-79 per cent, shows a study by Delhi-based Centre for Science and Environment (CSE), which conducted granular analysis of real-time air quality data recorded by the monitoring stations of the Central Pollution Control Board (CPCB) in these cities. PM2.5 levels were at their lowest possible range at several regions (see 'PM2.5 drops by 45-88%'.). Air cleaned up so much that the impact of pre-monsoon burning of crop residues during April in Punjab, Haryana, Rajasthan and western Uttar Pradesh on the air quality of Delhi NCR went unnoticed by the general public, though it showed up in the air quality data.
Similarly, nitrogen dioxide (NO2), which comes primarily from road transport and is linked to chronic obstructive pulmonary disease, asthma and hypertension, plummeted with the onset of the lockdown. Bengaluru saw a 55 per cent drop in NO2 levels, Delhi 49 per cent, Hyderabad 30 per cent, Kolkata 65 per cent and Mumbai 70 per cent from the week preceding the lockdown 1.0 (see 'NO2 drops by 50-70%').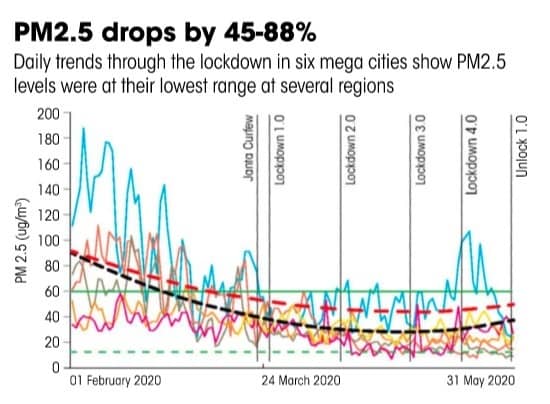 You can read up to 3 premium stories before you subscribe to Magzter GOLD
Log in, if you are already a subscriber
Get unlimited access to thousands of curated premium stories, newspapers and 5,000+ magazines
READ THE ENTIRE ISSUE
July 16, 2020