CASH, ON DELIVERY
Down To Earth|July 01, 2020
India has employed its direct benefit transfer system to help people tide over the ongoing health and economic crises. Its real test will begin when the crises deepen
WITHOUT ANY cash or work, how will I survive? That was my first thought after reaching my village," says Ram Kewat, a 60-year-old daily wage labourer.
It's a journey of 450 km from Delhi to his village on the outskirts of Jhansi, one of Uttar Pradesh's southernmost districts. Kewat covered that distance on foot in just five days, walking, on average an excruciatingly tiresome 90 km a day to reach his village on March 29. After the government announced a three-week nationwide lockdown to prevent the spread of COVID-19 on March 24, Kewat knew that he would be out of work and food, and decided to walk to his village since there was no other mode of commute.
Upon reaching his village, he survived on food provided by a local non-profit for a week and was out of sorts when, on April 7, he received a message on his phone informing of a ₹2,000 deposit in his bank account under the Pradhan Mantri Jan Dhan Yojana (PMJDY). "I had completely forgotten about this account that I had opened last year," he says. "I didn't receive any money in 2019. The money credited this year is a blessing," he says. PMJDY was launched in 2014 to provide universal access to banking services. In 2019, when the government announced the Pradhan Mantri Kisan Samman Nidhi (PM-KISAN) scheme—an income support scheme for farmers—Kewat registered to receive cash support of ₹6,000 a year in three instalments. He opened his PMJDY account using his Aadhaar number, and his mobile phone was also seeded to this account.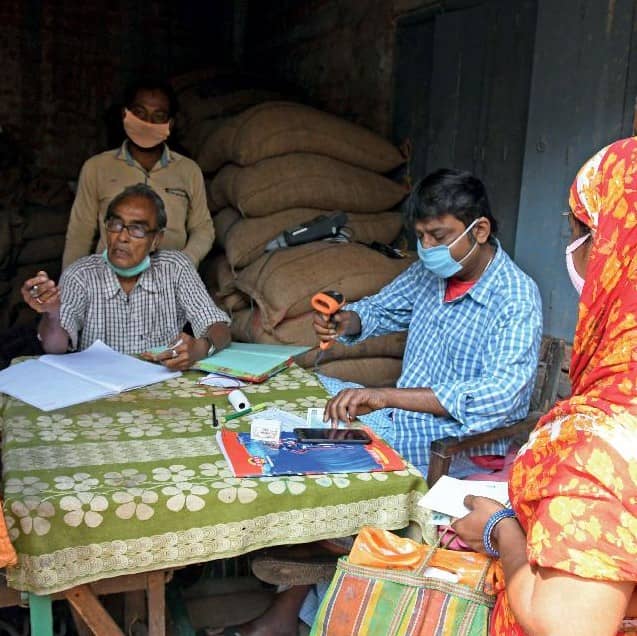 Kewat is one of India's 100 million migrant workers—a number estimated by the United Nations Development Programme (UNDP)—many of whom have left cities for villages because they can no longer pursue their livelihoods. In his case, one can see the importance of the government's ability to provide life-saving support during crises. As per a submission made by the government to the Supreme Court on March 31, over 0.6 million people who were on the roads had been stopped and provided accommodation, while over 22 million were provided ration. The numbers are likely to rise and people would need support in the form of cash as well as food for at least three months before the situation normalises.
There are millions others in cities and villages who would need support. Identifying them and providing them assistance is the government's biggest challenge, especially because economy has come to a standstill due to the lockdown. As per State Bank of India's (SBI's) Ecowrap research report released on April 16, almost 70 per cent of India's economic activities have stopped. What makes the situation worse is that the states with the most number of COVID-19 cases—Maharashtra, Tamil Nadu and Delhi—are also the biggest contributors to the country's economy.
According to an HDFC Bank press release in April, these three states account for 30 per cent of India's GDP. Similarly, the cluster of Uttar Pradesh, Rajasthan, Andhra Pradesh, Telangana and Madhya Pradesh, where COVID-19 cases are rising fast, accounts for 34 per cent of India's manufacturing activity. This makes resumption of economic activities difficult in the near future.
DBT dose for COVID-19
To help people tide over the lockdown, finance minister Nirmala Sitharaman, on March 26, announced a ₹1.70 lakh crore direct benefit transfer ( DBT) package for 800 million, or two-thirds, of India's population under Pradhan Mantri Garib Kalyan Yojana (PMGKY). On May 12, Prime Minister Narendra Modi announced an economic recovery package worth ₹20 lakh crore. Between May 12 and May 17, Sitharaman held four press conferences to give details of the ₹20 lakh crore recovery package, including the ₹1.70 lakh crore. The DBT package includes support in cash and kind. Under cash support, ₹500 will be transferred to all 200 million women with accounts under PMJDY and ₹2,000 to 87 million farmers under PM-KISAN. This is an advancement of two months for the first instalment in the new crop cycle and the amount that Kewat received in his account. A government release on June 3 said 420 million people have been provided a financial assistance of ₹53,248 crore under PMGKY. This comes to an assistance of ₹1,267 per person.
The cash component of the relief package also includes the increased wages under the Mahatma Gandhi National Rural Employment Guarantee Act ( MGNREGA)—from ₹182 to ₹202 a day— for 136 million beneficiary families.
The support in kind is for three months and is being provided through the Public Distribution System (PDS). It includes free supplies of 5 kg wheat or rice per head per month, 1 kg of preferred pulses per family per month and three refills of LPG cylinders under the Pradhan Mantri Ujjwala Yojana (PMUY). Till June 4, nearly 10.3 million tonnes of foodgrain has been provided to 2,060 million people over a threemonth cycle (680 million people a month), claims the government. (STOP PRESS: On June 30, Modi announced that his government has extended the support by another five months and will continue to provide free foodgrains to 800 million people till November 30. This will cost the national exchequer ₹90,000 crore.)
State governments, too, have started sending cash to stranded migrant workers. Down To Earth-Centre for Science and Environment Data Centre estimates that five states declared cash support of up to ₹1,000 to 1.5 million workers by April 25. Some 15 states also declared their own support schemes for people impacted by the COVID-19 pandemic.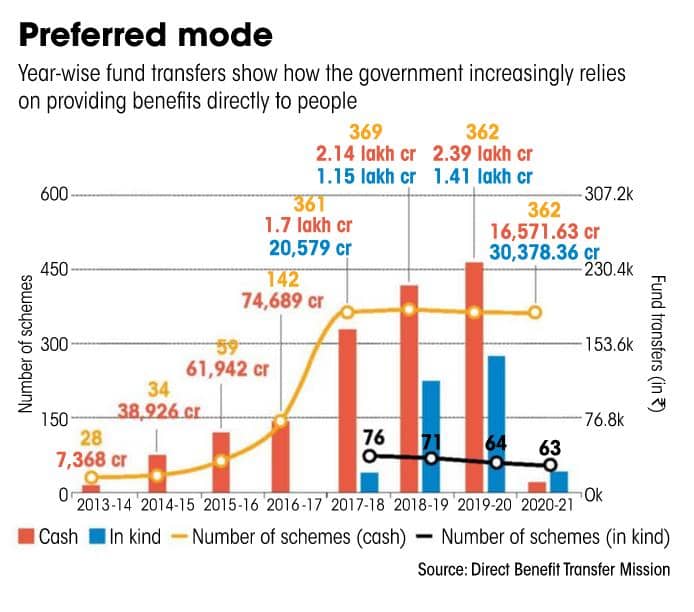 However, going by experts, these efforts might not be enough. The Ecowrap report puts the total loss in income to India's 373 million workers (self-employed, casual and regular workers) during the lockdown at around ₹4 lakh crore (or 2 per cent of GDP) and clearly states that the relief package is not adequate. "We believe that to enable these sectors to grow at the same pace as they would have grown in normal times, a fiscal package of at least ₹3.5 lakh crore is needed. Our estimates also suggest that given a labour and capital income loss of around ₹3.60 lakh crore, the minimum subsistence fiscal package must be scaled up by ₹3 lakh crore, over and above the incremental ₹73,000 crore that was unleashed in the first phase," the report states. What this means is that in the ₹1.7 lakh crore package, only ₹73,000 crore were fresh announcements and the rest were already budgeted for in the Union Budget 2020-21. For example, the payments under PM-KISAN were accounted for in the budget and have just been given in advance and also counted as part of the recovery package.
Moreover, arranging for and delivering the benefits is a gigantic task and there have been huge lapses. In a webinar organised on May 2, 2020, the Institute of Human Development (IHD), a Delhi-based non-profit, estimated that relief measures introduced in the wake of COVID-19 have reached only a third of the country's total migrant workers.
Take the case of Kamla Prasad Verma, a farmer from Uttar Pradesh's Shravasti district. He should have received ₹2,000 under PM-KISAN and ₹500 in his mother's Jan Dhan account, but neither amount was credited till mid-April. "I took the phone and my wife's Aadhaar card details to the village pradhan and he checked. No amount has been credited till mid-April," Verma says. Same is the case with Narottam Baiga, a 45-year-old wage labourer from Madhya Pradesh's Umaria district. His village has 107 households and all have Jan Dhan accounts, says Vrindavan Singh, a social activist who works in the village. Nobody has received any money.
What these cases highlight is that implementation of DBT will be the real test for the government. Data shows that the COVID-19 relief programme is the biggest, widest and longest of the government's relief operations in the past 100 years. At its best, it is also the quickest. The arrival of ₹2,000 in Kewat's account weeks after the government announced the scheme is testimony to the speed at which the DBT infrastructure can work. "Relief through DBT will be of utmost importance," says Santosh Mehrotra, professor at the Centre for Informal Sector and Labour Studies, Jawaharlal Nehru University. The speed at which the benefits are delivered could be the game changer.
Evolution of DBT
Currently, 420 schemes across the country are delivered through DBT. Of these, 63 are "in-kind" schemes while the remaining are either cash or a mix of cash and kind schemes. But the mechanism was not always so widespread and has evolved over two decades.
You can read up to 3 premium stories before you subscribe to Magzter GOLD
Log in, if you are already a subscriber
Get unlimited access to thousands of curated premium stories and 5,000+ magazines
READ THE ENTIRE ISSUE
July 01, 2020