Selling Salvation, Cloud By Cloud
Bloomberg Businessweek
|
November 2 - November 8, 2015
A North Dakota company sells salvation cloud by cloud.
Amanda Little, photographs by Philippe Calia
"Most pilots are trained to avoid these storm systems," shouts Byron Pederson. "We're trained to enter them." He's flying a King Air B200 prop jet above Maharashtra, India, toward a dense, bruise-colored monsoon cloud more than 20,000 feet from top to bottom. He dips a wing, Top Gun-style, as he circles the cumulonimbus. "Bank alert!" warns a computerized female voice from the control panel. Pederson calls her Bitchin' Betty for all the scolding she does as he defies the generally accepted rules of aviation.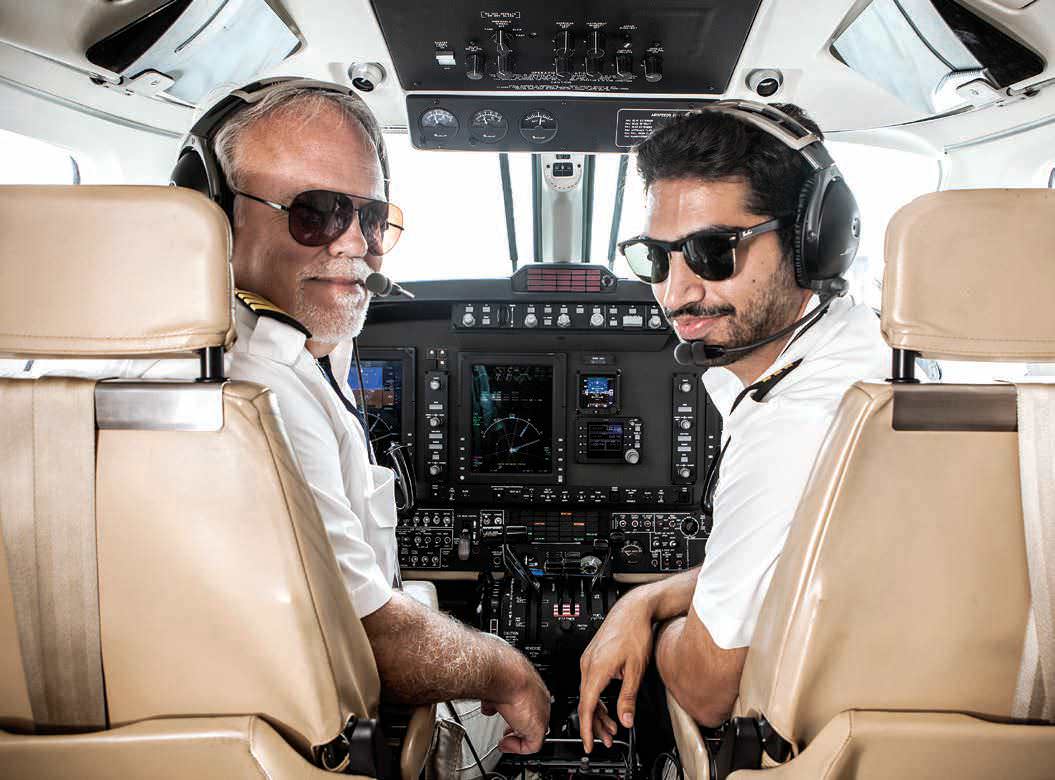 Four of us are crammed inside the tiny plane, and the air smells like stress and sweat. Pederson's in the cockpit with Shahzad Mistry, the rookie co-pilot he's training; I'm seated a few feet behind them, trying not to vomit on the fridge-size computer to my right that's humming and blinking as it records meteorological data. To my left is Prakash Koliwad, chief executive officer of Kyathi Climate Modification Consultants, the cloud-seeding company based in Bangalore that commissioned this flight.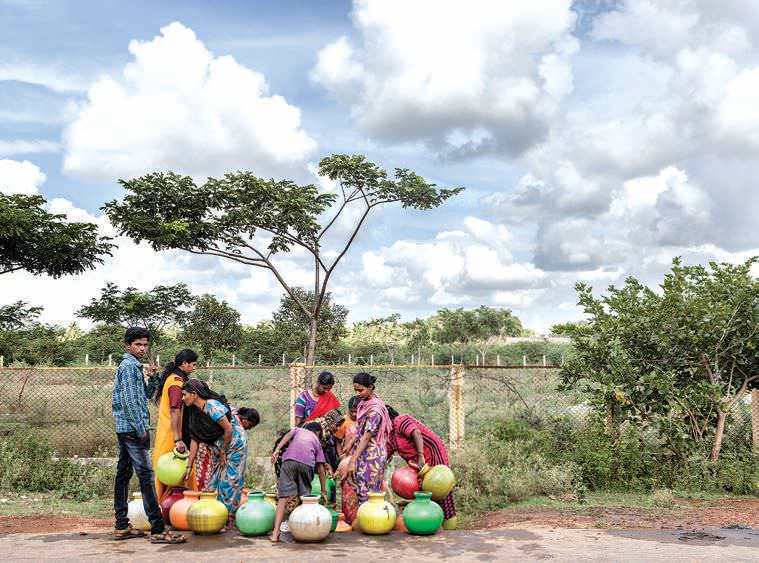 The view outside my window goes smoky gray as Pederson maneuvers the King Air inside a dark layer of heavy moisture along the cloud's underbelly. The plane lurches and shakes. "We're in," says Pederson. The Vertical Speed Indicator on the dashboard climbs. We've entered the "updraft," a shaft of wind at the center of all storm clouds that's sucking the plane upward at a rate of 800 feet per minute. I can barely lift my hands—the G-force is pinning them to my lap.
"Fire left," instructs Pederson. Mistry flips a switch on the center console and deploys a flare on the left wing. "Fire right." There are 24 cylinders resembling sticks of dynamite wired to racks on the plane's wings, 12 on each. The flares are filled with combustible sodium chloride - pulverized table salt mixed with a flammable potassium powder. When the switch is flipped, the end of the flare shoots orange fire and trillions of superfine salt particles are released into the cloud. Water molecules are attracted to salt, so they bond to the particles and coalesce into raindrops.
It's early September, still monsoon season in this southwestern region of India, yet the clouds haven't done much more than drizzle. Maharashtra is one of the largest and wealthiest of India's 30 states, with 110 million residents. It encompasses Mumbai and other large cities, plus vast swaths of farmland. Like other agricultural regions of India, it's in its third consecutive year of drought. More than 80 percent of its farms depend on rain for irrigation, and agriculture production has dropped by almost a third since 2013. The human impact has been severe - 1,300 debt-trapped farmers have committed suicide in Maharashtra in just the past six months.
In July, the state's minister of revenue, Eknath Khadse, took a gamble: He hired Koliwad to carry out a $4.5 million cloud-seeding program over three months and across 100 square miles in the middle of the state, the largest campaign of this kind ever attempted in India. "Our situation is severe," says Khadse. "There is no other technology available in the world to bring more rains. We must be willing to try it."
So Koliwad called Weather Modification Inc., the world's largest private aerial cloud-seeding company, based in Fargo, N.D. WMI's chief executive, Patrick Sweeney, developed a five-year technology transfer program with Koliwad that's now in its first year. Pederson and other WMI staff are training Indian pilots, meteorologists, and Doppler radar technicians to seed clouds.
Sweeney has seeded clouds all over the world for more than 20 years, but the Maharashtra project is unique in that the circumstances are so dire. "The hardest part is managing expectations," he says. "People in Maharashtra are hoping for a cure-all to drought. They come out and dance in the streets when it rains, they hug our pilots and say, 'Do it again.' But we can't guarantee that the clouds will be there—and willing to cooperate."
During our mission over Maharashtra, we have cooperative clouds. Twenty-two minutes after seeding the first cloud, Pederson returns to the location where he fired that initial flare. It's pouring. "We've got drops!" he shouts. He dips the King Air into a victory swoop before gunning over to another cluster of clouds. My stomach churns, and I can't hold it in any longer; I heave into my purse. Pederson doesn't notice. The computer barks out another warning about excessive banking. He laughs and says, "Shove it, Betty."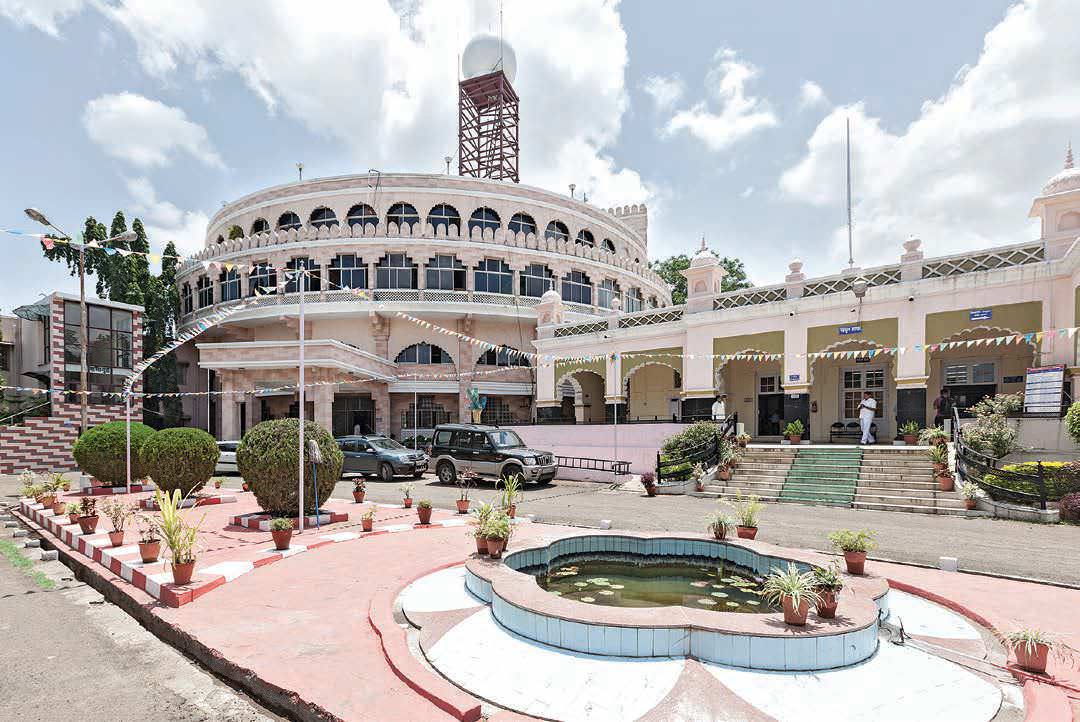 You can read up to 3 premium stories before you subscribe to Magzter GOLD
Log in, if you are already a subscriber
Get unlimited access to thousands of curated premium stories, newspapers and 5,000+ magazines
READ THE ENTIRE ISSUE
November 2 - November 8, 2015