Driscoll's Is Breeding The Fruit Of The Future
Bloomberg Businessweek
|
August 3- 9 2015
Driscoll's is breeding the fruit of the future.
Dune Lawrence, photographs by Carlos Chavarria
A few years ago, during his commute across California's Pajaro Valley, Phil Stewart began stopping more regularly at the Burger King in Watsonville. He wasn't just there for the Whoppers. He was visiting a wild strawberry plant. Stewart, an affable 41-year-old with sandy hair, breeds the fruit for Driscoll's, the largest player in the $5.6 billion U.S. berry market. He was struck by the plant's vigor—sprouting at the edge of the sidewalk without much water or soil, blanketed in the exhaust of cars waiting at a stoplight. Stewart dropped in on it for two years, waiting for it to fruit. When at last he found two small berries on the plant and tasted one, it was delicious.
Strawberries grow almost everywhere in the world, though nowhere as bounteously as they do along this particular stretch of the California coast, about 95 miles south of San Francisco, where the Pajaro River empties into Monterey Bay. The Spanish explorer Sebastián Vizcaíno, anchoring nearby in 1602, found wild strawberries in December, which was unheard of in Europe. Explorers to other parts of the New World also discovered strawberries with marvelous advantages in color, size, and flavor, and took botanical specimens home. Two of these crossed to yield the modern strawberry, Fragaria x ananassa, in the 18th century.
Today, California produces almost 29 percent of the world's strawberries—$2.6 billion worth—a lot of that from the 14,200 acres of fields that surround Watsonville and neighboring Salinas. If you come here to visit those in the business, most conversations conclude with the offer of a 1-pound tub, or sometimes a whole flat. The town's annual strawberry festival, its 21st is this year, boasts pie eating contests and strawberry pizza.
But this is not a festive time for the industry. For decades, growers used methyl bromide to kill off bugs and diseases in the soil; hired cheap labor from Latin America; and enjoyed plenty of water. Yields and profits went up in a straight line, as strawberries became a large, firm, uniformly red supermarket staple and global commodity, cheap enough to pack daily into a breakfast smoothie or a kid's lunch. Yield per acre in California has increased almost fivefold since the 1950s.
Each of those advantages is now disappearing. It turns out that methyl bromide, a chemical introduced as a pesticide in 1932, eats through the ozone layer. Following the 1987 Montreal Protocol, the U.S. is finally coming close to a complete phaseout. Labor is in short supply and getting more expensive. And no one knows how long the California drought will last or how the state will fix its water problems. The state's straw berry acreage has dropped about 4,000 acres in the past two years, a decrease of 11 percent, as some growers have abandoned the fruit.
This is what pulled Stewart back to the Watsonville Burger King. He's always on the hunt for plants that will help him create the strawberry of the future, tough enough to thrive with less water, less care, fewer chemicals. In 2009, impressed by the sidewalk strawberry's will to survive, Stewart plucked one of the berries for its seeds and drove it 5 miles down the road, where Driscoll's runs one of the biggest strawberry breeding programs in the world.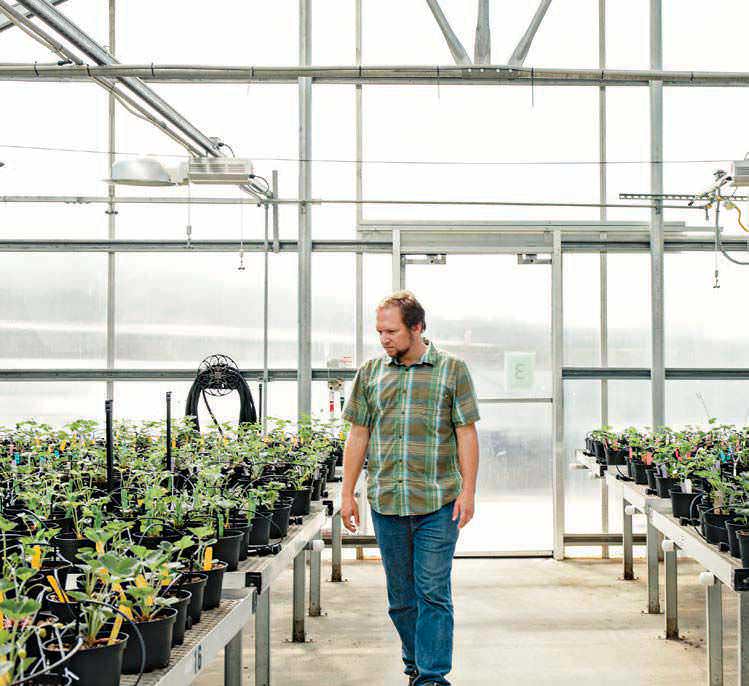 At Driscoll's headquarters, a welcome cart sits by the front door: strawberries, blueberries, and raspberries, along with tongs and cocktail napkins. There's another platter in the conference room and yet another in the recently renovated company kitchen, where exposed beams and pipes float above wooden tables. Employees serve as the first taste testers for varieties that Stewart and his team create. "I don't think there are too many days I don't have berries," says Soren Bjorn, who manages Driscoll's business in the Americas, helping himself to some in the conference room. "We have well over 100,000 internal taste tests a year."
Driscoll's breeding program predates the company itself. In 1944 a group of strawberry farmers founded the Strawberry Institute of California, dedicated to the development of new and better varieties. Driscoll Strawberry Associates, formed as a grower's cooperative in 1953, merged with the institute in 1966 and got out of physical farming. Since then, the company has focused on the two ends of the supply chain.
Driscoll's has a staff of 30 scientists devoted solely to strawberries, manipulating evolution at nine research stations in Watsonville, Southern California, Florida, Spain, Mexico, and the U.K. The company provides seedling plants to contracted growers. Then, when the growers harvest the berries, Driscoll's packs, ships, and markets them to retailers. The growers get 85 percent of the revenue; Driscoll's keeps the rest.
Driscoll's is a private company and family-owned. The chairman, Miles Reiter, is the third generation of Reiters to run the business, and his daughter manages operations in Chile. Driscoll's doesn't disclose financial data but estimates that it has 34 percent market share of U.S. strawberry sales—48 percent in organic. Bjorn says Driscoll's brand name helps command as much as a 30 percent price premium over competitors.
You can read up to 3 premium stories before you subscribe to Magzter GOLD
Log in, if you are already a subscriber
Get unlimited access to thousands of curated premium stories, newspapers and 5,000+ magazines
READ THE ENTIRE ISSUE
August 3- 9 2015