THE MOST COLOURFUL SIGHTS ON EARTH
BBC Focus - Science & Technology|July 2020
LONG-DISTANCE TRAVEL IS CURRENTLY OFF THE CARDS, SO WE THOUGHT WE'D BRING SOME OF THE PLANET'S MOST SPECTACULAR NATURAL PLACES TO YOU
SPRING TO LIFE
GRAND PRISMATIC SPRING, YELLOWSTONE NATIONAL PARK, WYOMING, US
Yellowstone's Grand Prismatic Spring is the largest hot spring in the US, and it boasts a veritable rainbow of colours. Hot water bubbles up through a crack in the Earth's crust, supplying the spring. Very little can survive in the centre of the spring, where temperatures can reach nearly 90°C, so the water here is a pure blue. But away from the centre, colourful, heat-loving bacteria begin to thrive, and the spring's concentric rings of temperature create different niches. The colours come from the photosynthetic pigments, such as chlorophyll and carotenoids, that the bacteria use to manufacture energy from sunlight. Carotenoid-rich Synechococcus bacteria are responsible for the innermost yellow ring, while slightly further from the centre, Synechococcus rubs shoulders with other carotenoid-containing bacteria, giving more of a tangerine colour. Closer to land, where the bacteria are more diverse still, the cocktail of pigments creates a rusty Martian hue.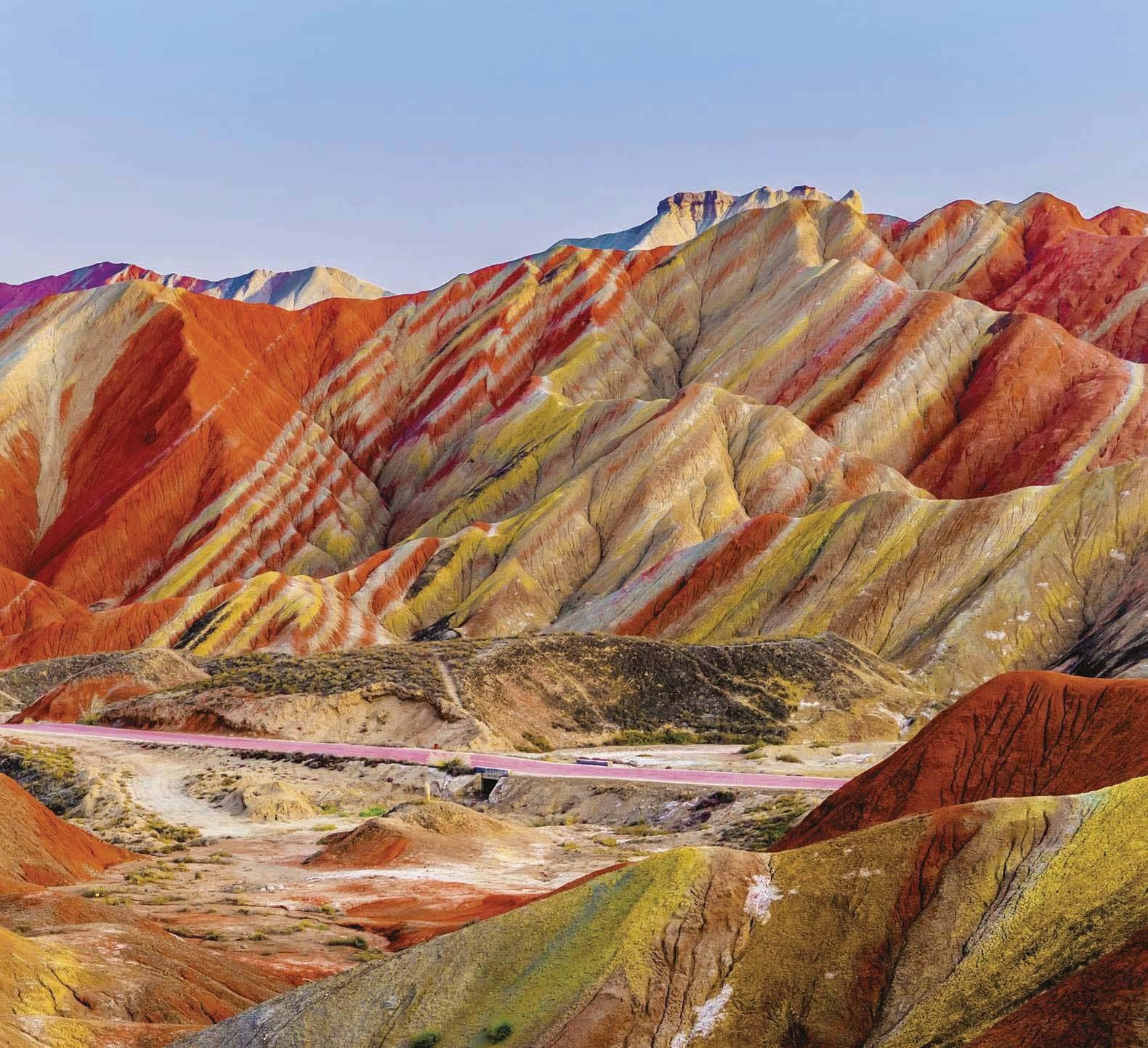 A SLICE OF RAINBOW CAKE
ZHANGYE NATIONAL GEOPARK, CHINA
These impressive formations are sometimes called the 'Rainbow Mountains'. When the strata (bands of sediment) were formed, around 100 million years ago, they were laid down horizontally, like the layers of a cake. The colours came as iron-rich minerals permeated the sediments and interacted with the water and oxygen there. Iron reacting with oxygen forms iron oxides, which can be bright red, green or grey, depending on the amount of oxygen present. This, in turn, would have been influenced by the climate. "Red layers probably reflect a drier, more desert-like environment when the rocks were being formed, whilst paler layers suggest wetter conditions," says geologist Prof Jan Zalasiewicz at the University of Leicester. As the sediments were buried and slowly turned into rock, groundwater may have added a further imprint of chemistry and colour. The layers acquired their characteristic tilt when colliding tectonic plates crumpled and forced the rocks upwards.
You can read up to 3 premium stories before you subscribe to Magzter GOLD
Log in, if you are already a subscriber
Get unlimited access to thousands of curated premium stories and 5,000+ magazines
READ THE ENTIRE ISSUE
July 2020