Meals Together at the Long Table
Spirituality & Health|July/August 2020
PLANT-BASED CHEF, NUTRITION PROFESSOR, AND RESEARCHER AMY SYMINGTON SHARES HER TAKE ON CREATING MEALS THAT SUPPORT COMMUNITY, CONNECTION, AND HEALTH.
Long-table dining was part of Amy Symington's childhood. She grew up on a farm in southwestern Ontario, and relatives and friends frequently gathered around an antique oak dining table—one that is now used by Amy's own growing family. Amy lost her mother to breast cancer, which inspired her to devote herself to sharing the health benefits of a plant-based diet. She runs the culinary nutrition program at Gilda's Club Greater Toronto, named after comedian Gilda Radner, who died of cancer in 1989. It's one of 20 Gilda's Clubs in North America.
Symington spoke with S&H about the joys of eating together and her new book, which serves as a comprehensive guide for anyone who wants to prevent or manage a chronic disease through nutrition.
S&H: Gilda's Club exists to help people touched by cancer. How did the long-table concept evolve there?
Amy: Originally, the supper club program was just about being practical. There are wellness meetings in the evenings, and people were trying to be able to attend those. It started so people could come straight from work, or they didn't have to worry about feeding their kids—they were actually able to do the social and emotional work that they needed to do.
The supper club has become one of the most popular programs we have. The team of volunteers and I feed about 75 people a week with health-promoting, nutrient-dense meals focusing on plants—what the research suggests in terms of what type of diet you should be consuming for disease prevention and disease management.
People come and sit for a meal. It's very relaxed, and there's no pressure to share, but, often, the meal becomes a gateway to a deeper conversation. It's just a very relaxed atmosphere that is socially and emotionally, as well as nutritionally, supportive.
What is the alchemy that happens when a group of people sit at a table together to share a meal?
There's research about social isolation and how harmful it can be for your health. It can cause anxiety and depression, which can increase inflammation in the body, which can increase your risk of all sorts of chronic diseases—cancer included.
Eating together is one way to minimize social isolation. The research [suggests] we need to eat together; we need to sit down and enjoy our meals. It's also better for your digestion if you're not eating in a hurry. Normally, we live in this grab-and-go world. The whole idea of long-table community dining is one of sitting down and slowing the pace of eating.
Anecdotally, the outcomes are friendships—again minimizing the social isolation and being among people who are going through exactly the same thing you are. There's no elephant in the room. They all know you're there for the same reason—because cancer has touched your life in some way. It's comforting.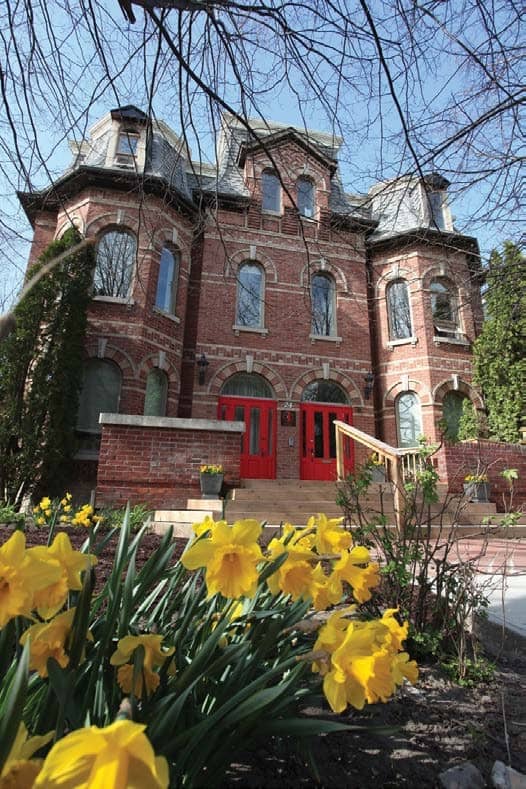 I guess all of that's on hold right now?
The supper club programming itself is on hold because, of course, people who are going through cancer are at a greater risk because their immune systems are compromised.
However, today we just ran our first virtual nutrition showcase. In addition to the supper club programming, we do nutrition showcases where I talk about a topic, give the facts and some tips on what to eat and what not to eat. Then I'll demo three recipes and everyone samples—that's usually what happens.
Today, we did a virtual version, where we gave them all the recipes and things they could make for themselves, for their loved ones, or to have their loved ones make for them. We are still trying to reach out. Cancer is already socially isolating, so now is the time we really need to come together as a community to help minimize the feeling of being alone. That's the whole theme of Gilda's—that no one should face cancer alone.
What are the factors you consider when you plan a menu for a nutrient-dense meal?
I consider questions such as: What do they like? How much time do I have? What's in season at the moment? And, certainly, any allergies my guests may have.
You can read up to 3 premium stories before you subscribe to Magzter GOLD
Log in, if you are already a subscriber
Get unlimited access to thousands of curated premium stories and 5,000+ magazines
READ THE ENTIRE ISSUE
July/August 2020