Part 2 - Transforming Awareness: Being a Life Coach
Heartfulness eMagazine|July 2020
In October 2019, PETER J. REDING spoke with VICTOR KANNAN about being a pioneer in the field of professional Life Coaching. In part 2, they speak about the importance of sacred space, inner connection, and revitalizing the sacred in secular spaces through awareness.
Q: You also talk about sacred space. I love this where you say that sacred space allows us to reconnect with our brilliant and resourceful nature. You talk about sacred self, and quite a bit about the Creator, God, God-given talent, and things like that. Obviously, you are heeding quite a bit of spiritual philosophy and spiritual orientation in coaching people.
Thank you. Yes, 100%.
Q: And I've always heard that businesses are secular-minded. So how do you differentiate the connotation related to religion getting mixed up with spirituality, and bring the idea of spirituality in a secular market place? Or is it that they don't care because they all believe in God?
We were told, quite frankly, about 25 years ago, when we started Coach for Life, that if you present yourself as a spiritual coach training, you'll not get business from the secular world. Here, in the United States, we have a separation of Church and State, even in our Constitution, right? So, school systems can't include prayer, because it needs to be separated.
30 to 40 years ago, I spent a lot of time in the world of very large corporations that leave this stuff at home, not just spirituality, but also emotional things. You know … "We don't want to hear you complaining," "We don't want to hear you whining," "We don't want to hear the issues you're having in your lives, whether your kids, your parents, your husband, whatever. Handle that at home." "We're not paying you to be emotional. We just want you to come in and do the work."
Well, that was ridiculous, because human beings are innately emotional; they can't help it. It's part of being human. I would also propose that most of the world believes in some form of Divine Presence. They have all kinds of different names for it, they practice and honor it differently, they use different language for it, but the core, the bottom line, in all the spiritual traditions of the world is that there is a guiding force that's there 24/7, 365 days of the year. And when I'm quiet enough and listen, it will serve me.
We don't talk about religion and we don't talk about religious practices, but we do talk very seriously about being connected with your Creator. You may call it different things – your spirit, your God, your Deity or your deities. Are you connected to that part of your beingness? Now, there are some people who don't come to our training because that sounds ... They say, "I want executive coaching. How do we get more effectiveness in results and performance? You know, that's all I'm interested in. I'm not interested in anything beyond what I can see." And there are other people who intentionally come to us because they've been separated from their sense of honoring themselves spiritually in their work. So they want to have that connection: "How can I do my work, as a coach, as a CXO, as a parent, as a community leader, as an NGO executive, with that sense of spirituality, honoring the ecumenical? We have Buddhists, Muslims, Christians, Hindus, and how can we honor all of them so that we can work together?"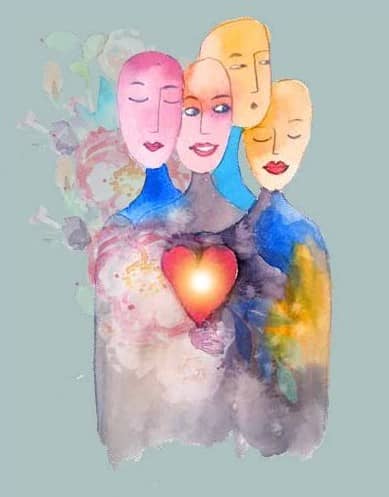 So, if I am in search of who I am, and I go back to the source of that, I can go two different ways. I can go to my heredity, right? Where did my great grandparents come from, what language did they speak, what culture were they in, and when did they migrate to the United States? You know, am I a third generation, fourth generation or fifth-generation American? That describes my DNA. Fantastic. That's the human part of me. But if I stop there, I haven't gotten to the inside of me, my soul, that is infinite. There wasn't a beginning and there's not going to be an end; that part will continue, I believe, after my death, after I shed my body. So if I don't deal with that part of humanity in life, then I'm stuck with the "who I am" being defined by externals.
Going back to the secularism of business, or broader, the world, it has been incredibly generative for people to be reconnected. With that transformation back to themselves, they have a new lease on life. They see things differently, quite literally. They start having a true North, a compass, a guidance system that they can rely on a hundred percent of the time when they have that inner connection with their Creator. It's amazing.
Q: So, is inner connection with the Creator the same as sacred space within?
You can read up to 3 premium stories before you subscribe to Magzter GOLD
Log in, if you are already a subscriber
Get unlimited access to thousands of curated premium stories and 5,000+ magazines
READ THE ENTIRE ISSUE
July 2020