Promise of the Asian Pear Tree
Angels on Earth|July/Aug 2020
Neither the little stick nor I bloomed where we were planted
LAURA O'DONNELL, HOOPER, UTAH
I STEERED MY pickup down the long drive and out the front gate of the farmhouse. I watched in the rearview mirror as the house—and my dreams with it—faded from view.
In the bed of the pickup was most of what I owned. I was moving. Running away from an abusive marriage and yet another dead end. So much of my life had been a struggle. Abuse and neglect as a child. A first marriage to a violent alcoholic and drug addict. Then this second marriage, which had seemed so right. But he turned out to be abusive too, and I feared for myself and my kids.
I'd found a teaching job in Utah, near where I grew up, hundreds of miles from this farmhouse in rural Washington. My three older kids were grown and living on their own. My younger two were staying with their grandparents until I got settled in Utah.
I was scared. I'd started over so many times. Why would this time be any different?
Looking in the rearview mirror, I saw the plant pot in the pickup bed. That was my little tree. An Asian pear tree my mom had given me as a housewarming present when my second husband and I moved into the farmhouse. Asian pears were my favorite fruit.
The tree had never grown. Like so much else in my life, it withered. I wasn't totally confident it was still alive. I dug it up anyway, potted it and put it in the truck. I couldn't abandon it. It looked exactly the way I felt.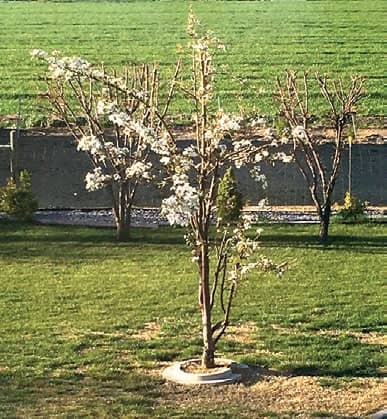 I still remembered my surprised delight five years earlier when the tree arrived in the back of a UPS truck. I was so full of hope then. My husband and I hadn't even finished moving into the farmhouse. We'd married in Tacoma, then looked for a place large enough for our combined family— his one child and my four from more relationships than I cared to recall.
The farmhouse with a view of Mount Rainier was surrounded by thick woods and came with a three-stall barn on five acres. Elk grazed on the front lawn, and bald eagles nested in the treetops. At night, coyotes howled under the canopy of the Milky Way.
You can read up to 3 premium stories before you subscribe to Magzter GOLD
Log in, if you are already a subscriber
Get unlimited access to thousands of curated premium stories and 5,000+ magazines
READ THE ENTIRE ISSUE
July/Aug 2020