RETROSPECTIVE BANJO-KAZOOIE NUTS & BOLTS
Gregg Mayles tells the story behind the honey bear's daring, divisive sandbox
"I think, in some small way, we invented Minecraft first," jokes Rare's Steve Maplass. "I'm sure someone owes me quite a lot of money. [Laughing] Sorry, I can't say that, can I?" Even though Maplass was clearly having a bit of fun during this extract from a Rare Revealed vid-doc back in 2015, he's got a point: Banjo's rebooted car constructor was ahead of the curve.
A pioneering sandbox that arguably paved the way for Mojang's block-breaking mega-hit, Banjo-Kazooie: Nuts & Bolts is often seen as the black sheep of the trilogy. Looking back, the bear and breegull's 2008 caper was probably a bit too quick out of the blocks. After all, just three short years later, Minecraft would change the way we look at videogames. It's obviously pie in the sky thinking to suggest that Nuts & Bolts could have spawned a billion-dollar franchise, yet perhaps Mojang did take cues from the duo's rebooted vehicle-builder.
It's a thought that occasionally crosses Gregg Mayles' mind to this day. "The initial version of Minecraft that appeared a year after Banjo realised the potential of creating things out of blocks, and Rocket League later bought 'vehicles playing football' to a much wider audience than we did. Both were simpler, more accessible experiences." Now creative director at Rare, Mayles acted as lead designer on Nuts & Bolts. Though it's a passion project that's still dear to his heart, we pick up on a slight sense of regret as Mayles talks us through the making of this misunderstood reboot.
"I think it was the right idea but the wrong application in terms of realising what its potential could have been," Mayles tells us. Missed potential or not, there's no denying this was one seriously brave project. Ditching the old school platforming tropes of its predecessors, Nuts & Bolts booted triple-jump antics for a series of inventive racing challenges.
The real twist? The vehicles you used to tackle these objectives could be entirely of your own design, with Mumbo's Motors acting as a ludicrously in-depth creation suite. In this garage, the only real limit is your imagination. With vehicle parts always in plentiful supply, and missions that give you plenty of leeway with the kind of clapped-out contraption you can use, few other games on Xbox before or since have ever given players so much agency.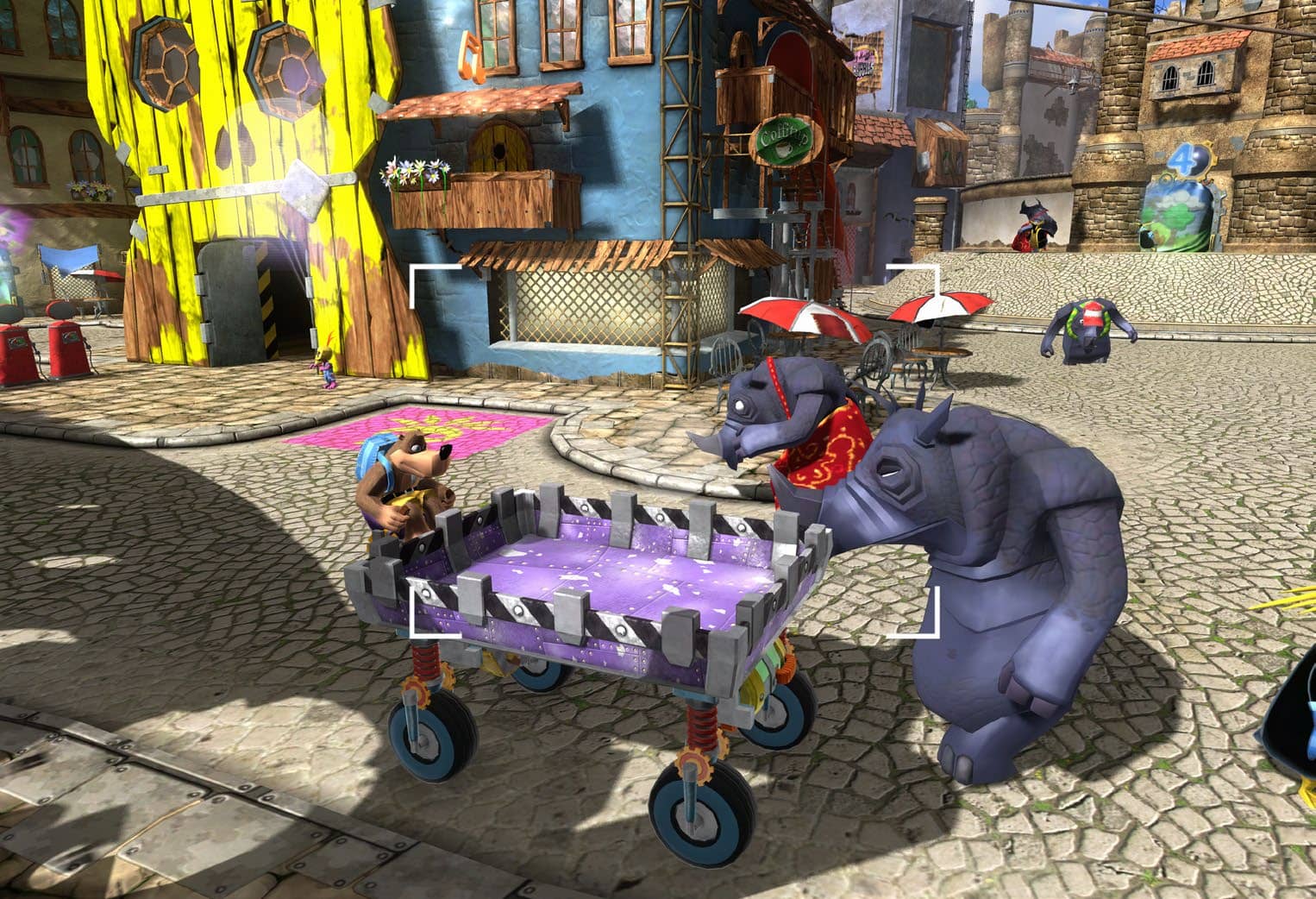 Nuts and scrapes
At the time, many hardcore Banjo fans saw this radical redesign as a bit of a middle finger. Nuts & Bolts wasn't the warm and fuzzy ball of nostalgia they thought they were signing on for. Where the original N64 platformers cutely riffed on cheesy genre staples, this rebooted racer danced to the beat of its own (pretty daft) drummer. "There were players who didn't see it as a 'real' Banjo game," Mayles tells us. "In my opinion, it was – it applied the same design thinking and tone as previous outings, but maybe it was too radical a departure." Twelve years on, Gregg even suggests it should have been a new IP. "Perhaps we should have taken an even bigger risk by removing the game from the Banjo world and building it as something else."
You can read upto 3 premium stories before you subscribe to Magzter GOLD
Log-in, if you are already a subscriber
Get unlimited access to thousands of curated premium stories and 5,000+ magazines
READ THE ENTIRE ISSUE
February 2020