A-Z OF STAR WARS JEDI: FALLEN ORDER
Xbox: The Official Magazine
|
December 2019
STAR WARS FEVER IS HEATING UP WITH THE RELEASE OF EPISODE IX IN CINEMAS AS WELL AS THE MOST PROMISING STAR WARS ADVENTURE GAME IN YEARS, JEDI: FALLEN ORDER. HERE'S EVERYTHING WE KNOW
AT-AT
All Terrain Armored Transport - the giant four-legged Walkers from Empire Strikes Back. Standing over 20 metres tall with blast-impervious armour plating, just imagine being a ground troop with one of these about to step on you. Along with their two-legged AT-ST counterparts, they feature in Fallen Order in a big way. In one particularly spectacular set-piece (nothing says 'spectacular' like the presence of a Walker), BD-1 hacks an AT-AT and Cal is able to take control. This whole sequence puts us in mind of Titanfall and suggests the game will in one way or another make great use of the Star Wars universe's incredible and imaginative array of ground, air and space vehicles.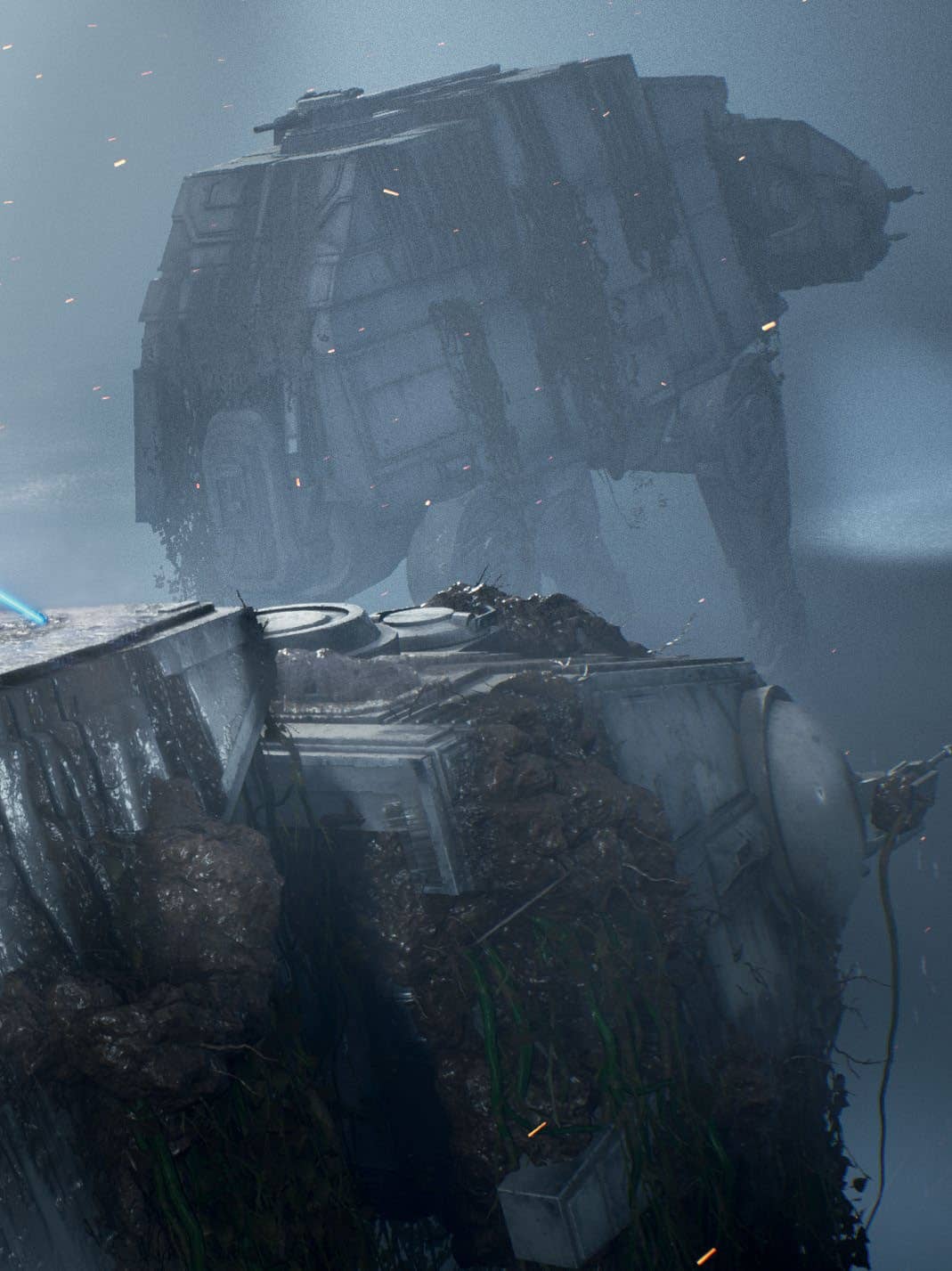 BD-1
Every good Star Wars story needs an adorable droid, right? From its letter and number designation, Jedi: Fallen Order's small, bird-like droid would appear to be related to BB-8 from Episodes VII-IX, although this little fella doesn't roll around awkwardly and likely have a problem with stairs. In fact, its bipedal nature means it kind of hops around and is small enough to grab onto Cal's back as he wall runs and fights his way through the hordes of Imperial enemies. It also has useful stimpaks to heal Cal, should that punishing combat take chunks out of our Padawan protagonist. BD-1 can even 'whoop' its approval in a beepy kinda way.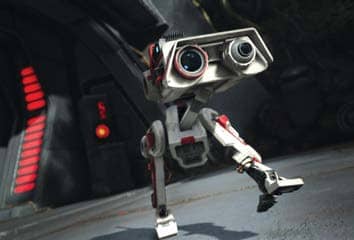 Cal
The game's protagonist is a young Padawan named Cal Kestis. Cal somehow escaped the slaughter of the Younglings that took place in Episode III: Revenge Of The Sith, the result of Order 66 from soon-to-be Emperor, Senator Palpatine. Cal Kestis is very much a learn-on-the job kinda guy, particularly as he never got to finish his Jedi training. So, of course, you'll be right there on his journey from young chap with a lightsaber to Empire-threatening master of the Jedi arts.
Dark Souls
Respawn didn't want to do just any hack'n'slash game and instead the game features 'thoughtful' combat. Every enemy feels different in a fight, and each requires a unique approach, having been designed around a different part of Cal's toolset. Even the lowliest of enemies, in this case baton-wielding troopers, can block attacks; others will parry and counter you. The result is patient, punishing combat that will be Dark Souls-level satisfying. As lead combat designer Jason De Heras told Edge, the team wanted to give the combat authenticity. "We wanted to make the player understand everything in the combat playspace, so each enemy is kind of like a puzzle." There are 'bonfires', too: Meditation Runes where you can refill on stimpaks and level up.
Electronic Arts
A decade-long licensing deal, signed in 2013, means that publisher EA is again behind this latest Star Wars outing. It has already, via Swedish developer DICE, given us the excellent Battlefront games, and despite some backlash over Battlefront 2's loot boxes a couple of years back, those games are excellent – with the second one still being serviced with some top-notch DLC.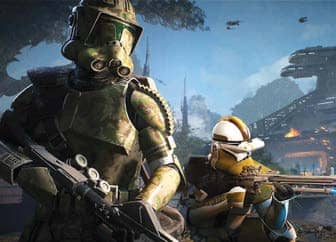 Sadly at least three mooted Star Wars games have been cancelled by EA in recent years, but it does look as though with Jedi: Fallen Order, Respawn has really nailed what a good Star Wars game should be.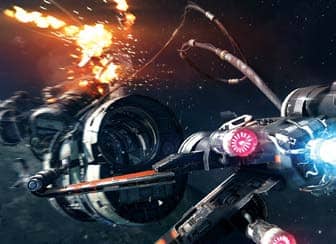 Force push
The Force, as Obi-Wan Kenobi explains to Luke in Episode IV, is "an energy field created by all living things. It surrounds us, it penetrates us and binds the galaxy together". It is also what gives a Jedi his or her power. So, aside from ancient weapons, Cal has this "hokey religion" on his side when facing the Imperial enemy. He may still be student rather than master, but the Force is strong in this one – and he can use his powers to slow time, and push enemies back with telekinetic blasts. Useful for crowd control, as otherwise your lone lightsaber-wielding Jedi could very quickly become overwhelmed. Cal's sure to have an entire skill tree full of other handy Jedi tricks to unlock, too.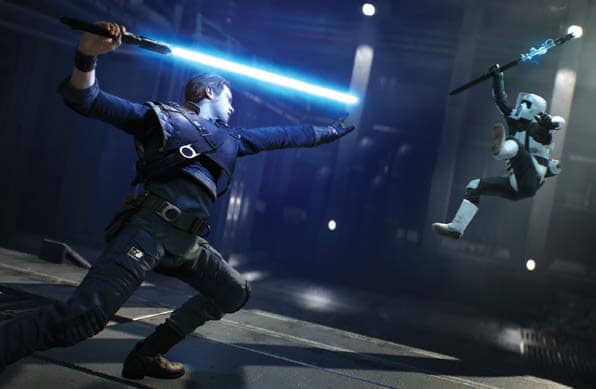 Gerrera
Veteran Rebel Saw Gerrera had a key role in Rogue One, and Forest Whitaker reprises his role here. In Rogue One, Saw leads radical Rebel faction the Partisans and has a mostly mechanized body. He's likely to be a key NPC in Jedi: Fallen Order, and he is still physically intact, meaning that whatever caused him to require his Darth Vader-style mechanization happened in the near two decades between the events of Jedi: Fallen Order and Rogue One.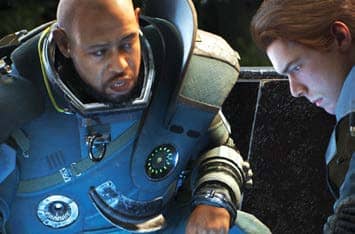 Holo-map
You can read up to 3 premium stories before you subscribe to Magzter GOLD
Log in, if you are already a subscriber
Get unlimited access to thousands of curated premium stories, newspapers and 5,000+ magazines
READ THE ENTIRE ISSUE
December 2019