CYBERPUNK 2077
We finally go hands-on with 2020's most exciting RPG
When you create a character in Cyberpunk 2077, you get to choose from one of three life paths, which are basically origin stories. You can be a street kid, a slick corporate agent, or a wandering nomad. This not only determines your starting location in the story but your relationship with Night City itself.
"It was tricky to design," says Tomasz Marchewka, lead story writer. "We wanted to give you as much freedom as possible, so you can decide what kind of cyberpunk you want to be. You can choose how you look and, to some extent, who you are. But then we decided, wouldn't it be cool if you had a few different origin stories to choose from?
"You might start as a corpo, as a street kid, or as a nomad, and that's going to give you a very different origin story. But later on it affects how you interact with the world, and some special situations which are super-specific to your class." Street kids, Marchewka says, have a deep understanding of the streets as an ecosystem. "Everyone has a place in the tension between gangs, police, politics and corporations," he says. "So you understand that you need to know where you are, but also what things you can manipulate to find shortcuts through life."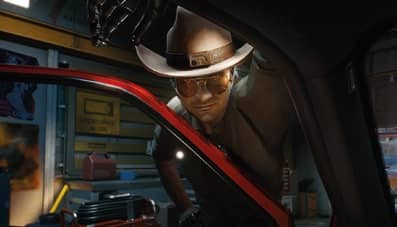 Nomads, on the other hand, are much more about close relationships. "You don't have to be that way, but you understand this way of living. You've spent your life travelling with a group of people. It might not have gone the way you expected, and you're now trying to find your own place in the world. But you understand those who are looking for a family or a community to belong to." But whatever path you choose, one thing is the same with every version of hero V: they're under the social radar, trying to break away from the system.
I choose the nomad path, which dumps me in the Badlands: a vast, barren desert region outside the walls of Night City. I spend some time skidding around in a retro-fitted '80s rally car, enjoying the vehicle handling, which has a nice weight to it. This bright, open space feels more like Mad Max than Blade Runner. I'm in the Badlands to pick up a job, but the local sheriff has taken a dislike to me.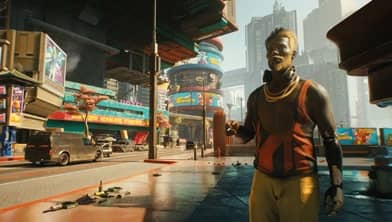 BAD NEWS
You can read up to 3 premium stories before you subscribe to Magzter GOLD
Log in, if you are already a subscriber
Get unlimited access to thousands of curated premium stories, newspapers and 5,000+ magazines
READ THE ENTIRE ISSUE
September 2020