Ghost In The Machine
Official Xbox Magazine
|
Christmas 2019
TEAM OXM SPENDS TIME WITH THE DEVELOPERS OF DISINTEGRATION AND DELVES DEEP TO REVEAL EVERYTHING WE KNOW ABOUT ITS CAMPAIGN AND MULTIPLAYER
What would humanity be like if we let our obsession with technology run rampant in a way that gets the better of us? What if we continue to irreparably ruin our planet? These were just a couple of the questions that V1 Interactive's president Marcus Lehto asked himself when exploring concepts for his next project following his departure from Bungie in 2012.
After spending 15 years at the studio, where he co-created the immensely iconic Halo series, designed and created the one and only Master Chief, and spent a year helping develop Destiny, he wasn't sure what he wanted to do next. He took a year to decompress and had fun exploring different ideas for new projects, but at the same time he tried not to force the idea of making a game and just let things evolve naturally. He delved into a variety of genres from fantasy and sci-fi to more spiritual and stranger conceptual ideas, but kept returning to one concept every time. It started as just a story, but it was a seed that would burrow deep within his mind. The more he thought about his idea, the more he felt that not only was it a really interesting fictional universe, but it was the perfect playground to serve up a huge amount of creative freedom and possibilities for gameplay mechanics. That was when Lehto made the decision to hire a couple of young contractors straight out of the DigiPen Institute Of Technology, where he had spent time mentoring students, and developed a prototype.
Initially the project started out as a traditional real-time strategy game, but this didn't feel right for the team.
"It was cool and all and we had a good time playing with it, but it was just like every other RTS out there," explains Lehto. "It wasn't going to shine and stand out from the sea of other games just like it in a way that we were confident about, so we decided to try something dramatically different. It was kind of this weird 'aha' moment in the middle of the night, for me. I knew what we needed to try. When I approached the team the next day and said, 'Let's try to take the player camera in the sky and turn that into an active participant in combat by making it a vehicle.' They said I was crazy, that the idea was ridiculous. There was a lot of resistance initially but I insisted we try and give it a shot. 'If it fails we'll go back to something else.' When we tried it, we immediately knew it was different. It was also something that was going to take a lot of time to solve and figure out how to make it in a way that doesn't completely overwhelm the player. So we had to completely reinvent ways in which to command ground units so it felt fluid with a first-person shooter mechanic. That took a long, long time for us to figure out and to get right."
It was a unique idea, and in order to get the game made it was imperative to get his idea across in the right way. "We took our time," says Lehto. "On my own dime, I spent about a year and a half working with this very small team to build a prototype that we believed in. I didn't want to pitch the game around with smoke and mirrors and just say, 'Hey, I think this is what we're going to do.' We actually wanted to build it for real and have it mostly functional in a way that could clearly illustrate the design intent of the game." Lehto then subsequently signed a deal with publisher Private Division, after it saw the prototype. With the early build in hand, a publisher on board and a growing development team, Lehto was able to delve deep into the fiction he started with to craft an ambitious story.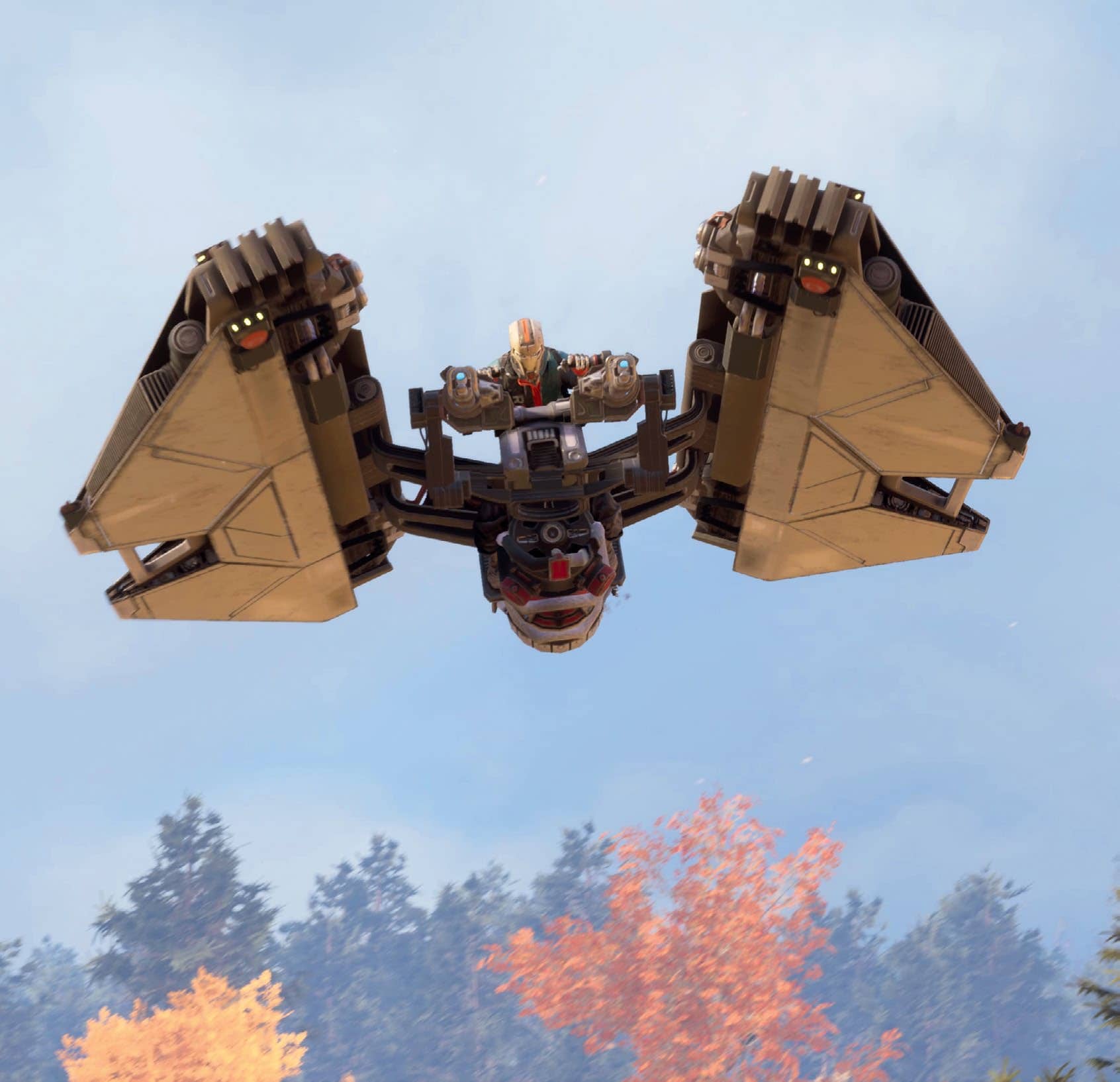 Being human
Set on Earth around 150 years into the future, humanity is on the brink of extinction due to overpopulation, food shortages and disease. "Humanity is really struggling, and one of the means of survival is to actually take the brain out and 'Integrate' it into a robotic armature," explains Lehto. "These characters are normal people, they're not military trained, they're not genetically modified Master Chiefs or anything like that, they're just normal folks like you and me."
Tragically, the human bodies left after the process of Integration are thrown away or destroyed, with the person's genetic material 'saved' in order to create a clone once the technology has been perfected. "This is the carrot hanging at the end of the stick," Lehto elaborates. "It's this prospect that's sold to everybody at the beginning of their Integration." Initially, Integration is an opt-in programme, available only to the rich and famous – those who can afford it. It's seen as an opportunity for people to reinvent themselves and, at least in the beginning, something that's quite stylish.
That robotic armature in which humans have their brains implanted takes on a human form, complete with all the senses so that the brain is stimulated and retains the feeling of being human. "They even wear clothes because they want to hark back to who they used to be," explains Lehto.
But not everyone feels the same way. These new bodies grant people extended life, strength, speed, and a large group of Integrated people relish this more than being human. This burgeoning faction begins to stratify, forming a global military force called the Rayonne. Members of this group are set on a post-humanist trajectory and no longer desire to return to their previous flesh-and-blood lives. "They want to continue to evolve, and started to take on non-humanoid forms, turning into things that are far more monstrous than the humans they used to be," explains Lehto. "They begin to lobotomise and regulate those that they integrated, turning them into unthinking, irretrievable creatures." The Rayonne soon seize global control and begin issuing commands for natural humans to be integrated, by force if necessary, which, naturally, sparks a civil war. Some humans still agree to be integrated, on the condition they can become human again, but nobody actually knows for sure if their DNA is actually saved or not. So it's far from certain they'll ever be able to return to their human form.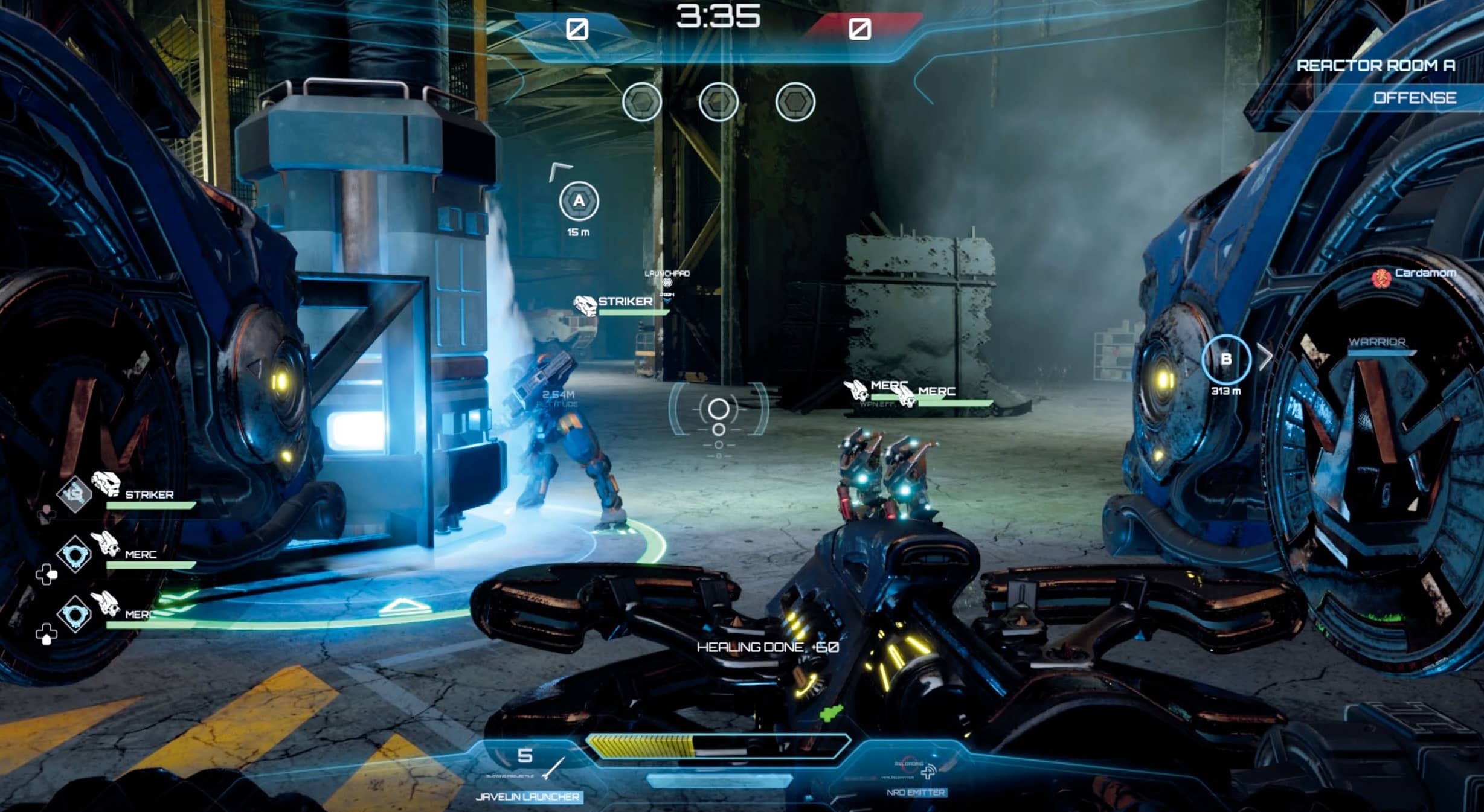 War machines
You can read up to 3 premium stories before you subscribe to Magzter GOLD
Log in, if you are already a subscriber
Get unlimited access to thousands of curated premium stories, newspapers and 5,000+ magazines
READ THE ENTIRE ISSUE
Christmas 2019