SCARLET NEXUS
Official PlayStation Magazine - UK Edition
|
Christmas 2020
Open up your mind to this futuristic 'brainpunk' action adventure
FORMAT PS4, PS5 / ETA 2021 PUB BANDAI NAMCO / DEV BANDAI NAMCO
For many videogame protagonists, success is all about mind over matter. For Yuito Sumeragi, however, the saying applies literally. In a world where a psionic hormone not only grants humans extra-sensory powers but also makes their brains delectable to monsters known as Others, life's hard for young psychic Yuito. Gifted in the art of telekinesis, he is recruited to the Other Suppression Force as part of humanity's last line of defence against the hungry horde.
Producer Keita Iizuka and director Kenji Anabuki describe Yuito's world as 'brainpunk,' as the setting's a society where technology involving the brain is far more developed and everyone's minds are always connected. The pair feel the term communicates the strangeness and danger of their setting.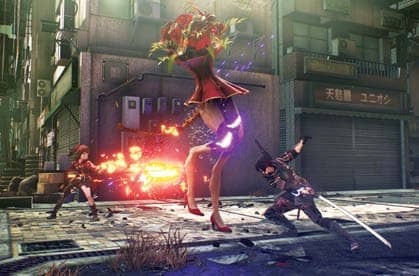 HEADS TOGETHER
Unlike Code Vein's soulsborne stylings, Scarlet Nexus' combat feels more character-action in flavour. Yuito can control particular objects within the environment and use them to his advantage. Even in this fantastical brainpunk world, a sense of realism was still important to the developers so larger objects have a real heft that's especially noticeable via the DualSense for the PS5 version. It means some objects take time to raise from the ground due to their weight, "giving good responsiveness and a sense of realism to the players," say Iizuka and Anabuki.
But whether Yuito is hurling boxes at baddies or using a lamp post to cut through a crowd, it all costs energy. The easiest way to refill his psychokinesis meter is by charging in with more traditional weapons like his sword. This means you've got to strategise, working together with your OSF teammates to ensure your most potent powers are coming into play. Hacking and slashing willy-nilly won't use up any energy and might be great fun but it will overlook unique advantages the environment or even your own team mates may be able to offer.
You can read up to 3 premium stories before you subscribe to Magzter GOLD
Log in, if you are already a subscriber
Get unlimited access to thousands of curated premium stories, newspapers and 5,000+ magazines
READ THE ENTIRE ISSUE
Christmas 2020