53 REASONS WHY IT'LL CLICK
Official PlayStation Magazine - UK Edition|July 2020
Still undecided about The Last Of Us Part II? We've got all the reasons you need to look forward to 19 June
01 ELLIE AND THE FOUR SEASONS
Like the first game, The Last Of Us Part II changes with the seasons. Trailers and hands-on time with the game reveal very different climates and environmental changes. It seems the world will reflect the mood of the story. Who will we play as? Who's the villain? Who lives and who dies? These questions will be answered when you play it on 19 June.
One big difference this time is technical: Naughty Dog is able to represent the different seasons even better visually because this game has been developed for PS4, late in the console's life cycle, and the developer understands the tech perfectly.
It seems that the game will begin in winter, time progressing as Ellie makes her way north to Seattle. Most of the traveling we've seen so far have had Ellie and her companions on horseback, riding through lush forests, golden fields, and deep snow. We'll go beyond ruined cities to see even more rural areas this time. In the wintry portions of the game, we've seen how Ellie leaves footprints and pushes clumps of snow aside as she moves, suggesting its possible enemies can use these tracks to hunt her down as she tries to avoid being detected by her pursuers.
02 HORSING AROUND
Horseriding returns and it looks like it might be a bigger feature this time around. In previews we've seen Ellie on horseback across multiple seasons and environments, trekking through green forests and white snow. Many years after society fell apart, is this now the predominant means of long-distance transportation?
03 WEATHER REPORT
Not only does the game take place during various seasons, but the weather effects are also some of the best we've seen on PS4. The weather in turn affects how Ellie has to wrangle with the environment, so she gets muddy as she crawls through the undergrowth.
04 GOLD STANDARD
You don't need us to tell you how much you're looking forward to the game, but it doesn't get more official than winning five 'most anticipated' awards since it was announced, and being nominated for more. Do games get more anticipated than this?
05 AMONG THE WEEDS
Ellie can take cover in patches of long grass, crouch to remain unnoticed or even lie prone in the weeds. Who needs waist-high greenery?
06 HAVE A LIE DOWN
Stealth has been improved, and you interact with the world in much finer detail than in the first game. You can also hold e to make Ellie go prone at any time, enabling her to stay below human enemies' line of sight and even to hide under trucks. The environment is your hidey-hole.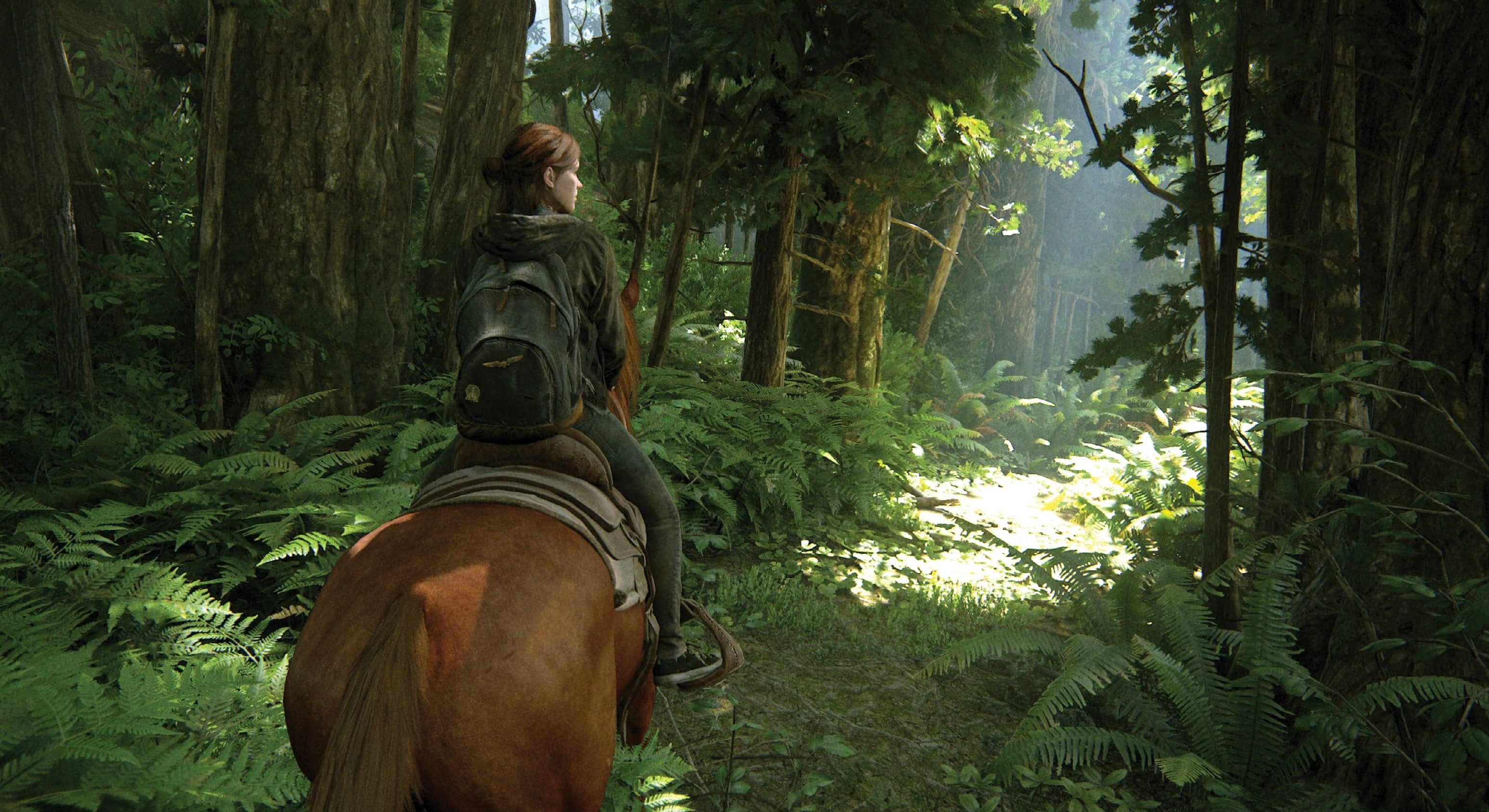 07 COLLECTOR HOARDER
No post-apocalypse is complete without collectibles to hoard. Over here we don't get the mega Ellie Edition of the game, but the Collector's Edition comes with a fantastic 12-inch statue of Ellie jamming on an acoustic guitar, plus a replica of her bracelet, a steelbook case, a 48-page mini art book, six enamel pins, an art print, and five stickers.
08 GUERILLA WARFARE
Even when you've been spotted you can lose your pursuers. While human enemies can communicate and investigate where they last saw you, figuring out where you might have gone next, they can be fooled so you can get the drop on them once again.
09 ERA-DEFINING
Coming at the tail-end of PS4's life, The Last Of Us Part II represents the cutting edge of the console's capabilities, bringing together everything Naughty Dog has learned over the years, and it looks beautiful.
10 A SOLO ADVENTURE (FOR NOW)
Plans for multiplayer (which features in the first game) were scrapped in favour of refining Ellie's adventure. Coming in at a whopping 100GB file size (double that of the first game), this is going to be a epic journey crammed with detail. It remains to be seen if multiplayer could turn up as DLC or be expanded into its own project down the line.
11 FUNGAL INFECTION
Years after the events of the first game the brain-devouring cordyceps fungus is still a major threat, and the Infected are just as lethal as the physically healthy cult members. Since the first game the infection has evolved to create Infected that are even deadlier: faster, more resilient, and with brand-new mutations. But how else has it evolved? Does it have new ways of infecting hosts? Will Ellie remain resistant? Nature finds away.
12 EL' OF A GAME
Building on the approach taken by the excellent (and heartbreaking) Left Behind DLC for the first game, Part II is all about exploring Ellie as a character, and seeing how she's been shaped by this world and her experiences. But can this possibly be a positive thing? And how has Ellie in turn affected the world? This sequel is ambitious in its world-building, so you'd better expect some surprising twists in the storyline.
13 BANG BANG
Ellie's arsenal of guns can easily drop enemies provided you have enough ammo. But those unsilenced blasts will alert nearby enemies – especially Infected like Clickers. The bow's a great alternative for the silent but deadly arrow headshots. Take a bow.
14 YOU WOUND ME
An injury gauge keeps track of how beaten up Ellie is, though serious wounds have more of an impact than simply knocking points off a health meter. Get an arrow in the shoulder and you'll need to deal with it, taking time to pull it out with u. But do you have time to get to cover first?
15 HEART EYES
Most of the early-game sections we've seen revolve around Ellie and her new lover, Dina, another resident of the Jackson settlement. We'll follow them throughout their early runs for supplies in areas around the settlement, and get into trouble in the process, their connection visibly deepening as we play.
But this sweet romance is juxtaposed with relentless hatred from a new faction. We've seen Ellie dealing with cult-like enemies. She must crawl in the mud to take out both humans and the Infected. She's fuelled by hate, on a revenge quest. This makes us nervous about what fate might have in store, not just for Dina, but also the rest of the Jackson community. We're going to see some tender moments for Ellie beyond what we saw in The Last Of Us and its Left Behind DLC, but we're also going to see this world get grimmer than it ever has before. Bring some tissues – the crying kind.
16 BLOODY MURDER
You can read up to 3 premium stories before you subscribe to Magzter GOLD
Log in, if you are already a subscriber
Get unlimited access to thousands of curated premium stories and 5,000+ magazines
READ THE ENTIRE ISSUE
July 2020