Wolcen: Lords of Mayhem First Impressions
GameOn Magazine|Issue 126 - April 2020
Daniel looked at Wolcen.
The action-RPG genre has always been something of a niche genre, dominated largely by a select number of titles, each with their own dedicated fanbase, such as Diablo, Path of Exile, and Torchlight. Wolcen: Lords of Mayhem, developed and published by the aptlynamed WOLCEN Studio, stands out as a bold new attempt to break through the stagnant market and offer players something different.
When Wolcen first kicks off, you're given the option to either play online or offline. Now, this could have been fixed by the time of posting, but as of now, the developers have stated that, bizarrely, progress between the online and offline components will not be shared. If you played part of the campaign solo in offline mode, but then jump over to the online co-op mode, any progress, including levelling up, with that character in the online mode will not transfer to the offline mode featuring that character.
Now, in 2020, I have absolutely no idea why any action-RPG game that features both online and offline play wouldn't allow players to transfer character progression between online and offline play. Blizzard has been supporting this functionality in Diablo for at least a decade by now, and even other relatively small action-RPGs have enabled this feature. If you're going to allow online coop in your action-RPG game, why would any developer not develop the framework upon which nearly every other action-RPG is designed around?
After this point, the next thing you'll see is the character customisation process, although I strongly hesitate to use the word process here, as that would imply there is at least some effort on the developer's end to allow the player to make it a true transformative process. Instead you have a simple choose your gender option, followed by eight or so eye colour choices, maybe 10 or 12 skin colour choices, and about a dozen hairstyle options. The only option that gives you more than a handful of options is the hair colour palette. Although given how easy it is to implement a hair colour selection option, I would think this is a basic requirement for any RPG.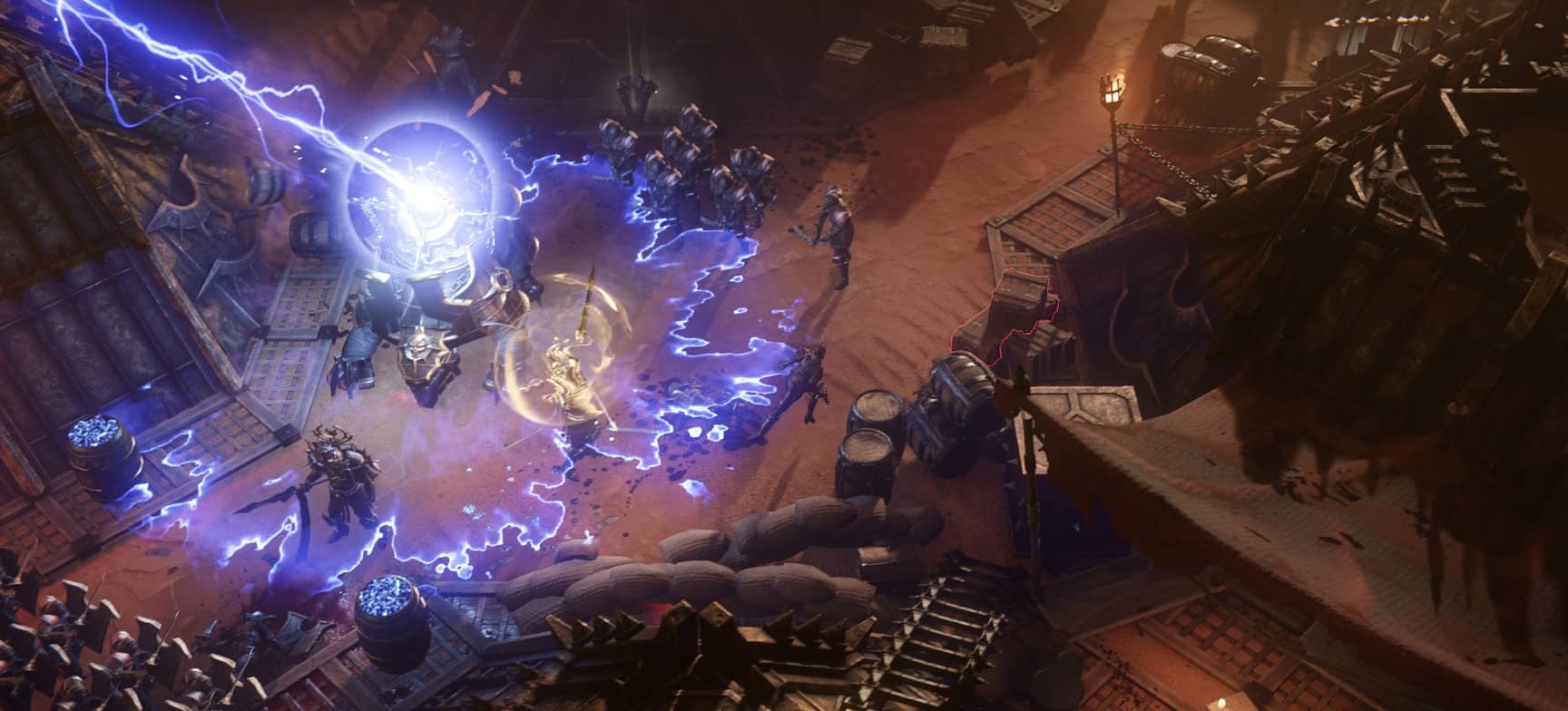 When going back to gather screenshots of Wolcen's character creation process, I decided to have a bit of fun with the albeit limited toolkit, to see just how beautiful a specimen I could create given the resources at my disposal. Suffice it to say, the final result was a masterpiece.
The story for Wolcen is a mixed bag. While the initial premise is fairly well executed, many of the characters tend to rely primarily on tropes rather than meaningful character development. Since this critique is intended to be spoiler-free, suffice it to say many familiar videogame tropes come into play, such as the "princess is in another castle" trope. This specific trope is done to death in many instances throughout the campaign, with the result that it doesn't necessarily build up drama, so much as just build up resentment due to its frequent occurrence. Other tropes, such as the "longtime ally turns into enemy" trope, get brought up too, and can likewise be borderline cringeworthy. If you're the kind of person put off my trope-driven storytelling, this game will definitely cross into that territory for you.
You can read up to 3 premium stories before you subscribe to Magzter GOLD
Log in, if you are already a subscriber
Get unlimited access to thousands of curated premium stories and 5,000+ magazines
READ THE ENTIRE ISSUE
Issue 126 - April 2020