Disintegration
Our love affair with Halo began two decades ago, and it's been one since the flame dwindled. Playing Disintegration, though, feels like a fresh breakup at that point when everything reminds you of your ex.
There might be a bit of confirmation bias at work here: after all, we knew about the involvement of Bungie veteran Marcus Lehto going in. Nonetheless, the connections are hard to ignore.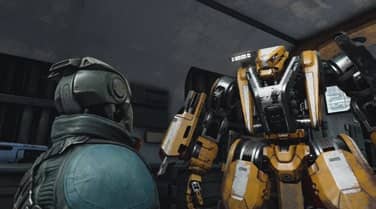 It's right there in the face of Romer Shoal, the bucketheaded robot hero who looks as if Master Chief has been on the Atkins in an effort to squeeze into his new racing jacket. And in the scenery too, which features a lot of the same Pacific Northwest touchstones as Bungie's alien worlds – in this case, because the game is actually set there, along with futuristic versions of Arizona and Iceland. We'll always be a sucker for skyboxes that mix mountain ranges with sci-fi superstructures, and for plasma weapons that arc lazily through the air. But the parallels run deeper than just these trappings.
Lehto was there for Halo's transformation from realtime strategy game to system-selling console shooter. Disintegration has gone through much the same process, but this time, it got stuck halfway through. The result is part first person shooter, part realtime strategy and part dogfighting vehicle combat game. As Shoal, you pilot a gravcycle that hovers a few feet above the ground, trading shots with enemy units and issuing orders to a squad of four allies with robotic boots firmly on the ground.
You can read up to 3 premium stories before you subscribe to Magzter GOLD
Log in, if you are already a subscriber
Get unlimited access to thousands of curated premium stories, newspapers and 5,000+ magazines
READ THE ENTIRE ISSUE
September 2020