Collected Works Eric Chahi
Edge|December 2019
The Another World dev looks back on a career that began before he'd even left school.
Éric Chahi had an early start in games. When he was just 15, he made two games, Frog and Carnaval, for the Oric-1, a British-made computer that was briefly a competitor to Sinclair's Spectrum. A family friend introduced him to the machine's distributors; he showed them the games and an offer was made: 2,500 Francs (then around £250) or some gear. Chahi took the gear – a printer and two joysticks – and his career began in earnest. While he's been in and out of the spotlight over the intervening 35 years, he's never really stopped making games. Here, he reflects on a long, and remarkably varied, career.
LE PACTE
Developer Éric Chahi Publisher Loriciels Format Amstrad CPC Release 1986
Le Pacte was really the transition point from school to a professional career. I decided to quit school when I was 19. For all my previous games, sales had been okay, so I did a simple calculation: if instead of doing one game per year I did four, I could make a living from creating games. But I spent a whole year on Le Pacte. It didn't sell so well, but the publisher, Loriciels, was really excited about it, and the game is special for me because it was the first time I tried to create a mood, or ambience.
It was inspired by the Amityville house – it was a fantasy horror game about a paranormal investigation, and it had many original elements. For example, there were spirits, and to make a spirit appear you had to shoot a picture with a kind of Polaroid camera, and then the picture would show you the demon, and the Polaroid would burn, but the way it burned… You know Conway's Game Of Life? I used that algorithm to create the propagation of fire. This was my first step into simulating stuff. Also, the help aspects took the form of a seance: you had glasses and they moved to letters, so you could ask spirits for answers. But unfortunately the game didn't sell, and for one main reason – the box was black, absolutely black, with no photo, just the title in blood-red font. So most people in the shop, they'd pick up the box… very intriguing, but what is it? Later the publisher realised that maybe something was wrong, and they added a sticker with photos, but it was too late.
DANGER STREET
Developer Éric Chahi Publisher Chip Format Amstrad CPC Release 1987
PROFANATION
Developer Éric Chahi Publisher Chip Format Amstrad CPC Release 1987
These two games… I would like to dig a hole one kilometre deep and cover them up forever! But there's a fun story behind them. They exist because of another game that was very ambitious. It was a game that created games. Imagine you have a kind of animated machine with a little slider button, and you'd like a game that's more adventure or more action-based, within a certain kind of universe, etc – you'd press this button and it would generate a game for you. So I wanted to make a game generator, and the publisher Loriciels said, 'Well yeah, that's a cool idea'. But they didn't want to give me any money for it. So I messed up, it was too ambitious, and finally after six months of work it was going nowhere – I would never have finished it. I decided to use some code I'd created for this game to make two smaller games, Danger Street and Profanation. They were destroyed by the critics, and I said, "Never do that again."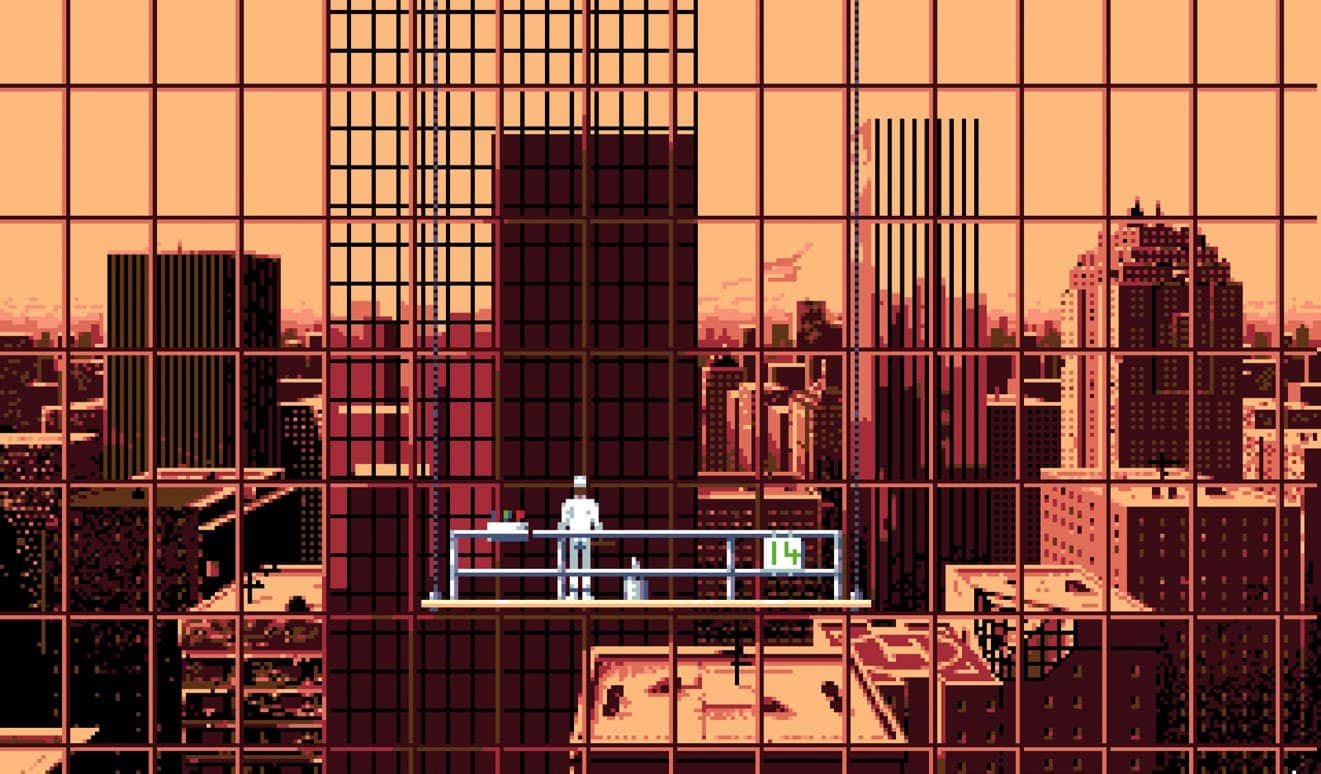 FUTURE WARS
Developer/publisher Delphine Software Format Amiga, Atari ST, MS-DOS, NEC PC-9801, Sharp X68000 Release 1989
It was a very special time in my career because I'd lost a bit of self-confidence. It was the end of the 8bit era, the beginning of 16bit with Atari and Amiga. And I wanted to create a game for the Atari, a roleplaying game, but I had a lot of trouble finding the right tool to program with. I wanted to switch to C language, but the compilation was terribly difficult because I would make mistakes but the compiler wouldn't tell you exactly what the mistake was. So I felt like I couldn't code again. A company, Chip, asked me to join their team as a programmer, and I said, "No, I want to join your company as a graphics artist," because I was doing both and graphics really pleased me. I was a big fan of painting, illustration and comics. And so I focused on graphics for one year at this company, and I met other programmers who said, 'This tool is cool to program with on Amiga'. I increased my knowledge of programming for this 16bit future. And then I joined a company, and for the first time and last time, I had a salary. Before, it had all been contract publishing.
You can read upto 3 premium stories before you subscribe to Magzter GOLD
Log-in, if you are already a subscriber
Get unlimited access to thousands of curated premium stories and 5,000+ magazines
READ THE ENTIRE ISSUE
December 2019